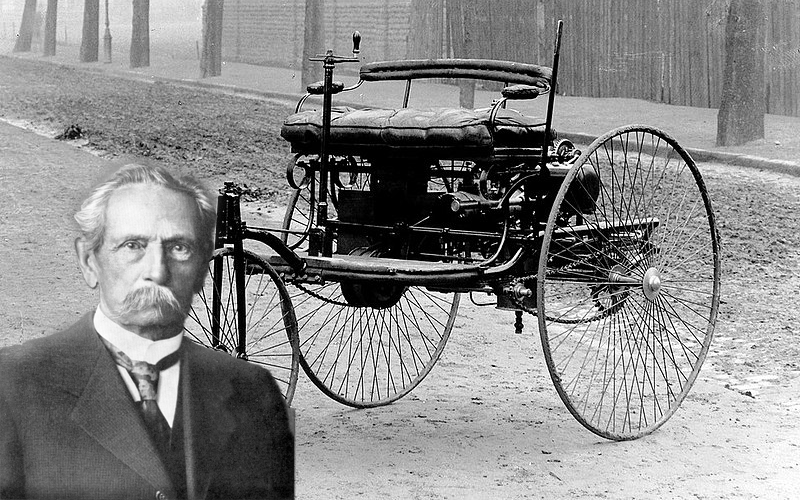 Carl Benz was a German engineer and inventor, born on November 25, 1844, in Mühlburg, which is now part of Karlsruhe. He developed a passion for engineering and mechanics at an early age, and after studying engineering at the Polytechnic University of Karlsruhe, he worked as a draftsman for a locomotive manufacturer before establishing his own company in 1871. Benz's most notable achievement came in the form of the first scratch built gasoline-powered automobile, the Benz Patent-Motorwagen, in 1885. This vehicle featured powered by a single-cylinder engine, producing less than one horsepower.
Benz introduced the world's to his gasoline-powered automobile with limited fanfare. However, his wife and primary financier Bertha attracted much publicity after she took it for a journey with her sons in 1888. The road trip, the first of its kind, covered 65 miles, and was undertaken without Karl's knowledge. In any event, the drive helped boost sales and resulted in numerous orders. This invention revolutionized transportation and paved the way for the modern automobile industry. During the last years of the nineteenth century, Benz was the largest automobile company in the world with 572 units produced in 1899.
Carl Benz achievements
Benz's contributions to the auto industry were significant and far-reaching. He was a pioneer in the field of engine design, and many of his innovations, like the carburetor and the clutch system, are still in use in automobiles today. Additionally, he was a philanthropist and a supporter of education, founding the Carl Benz Academy in 1909, which provided vocational training for young people in his hometown of Ladenburg.
Carl Benz, also spelled Karl Benz in some instances, passed away on April 4, 1929, in Ladenburg, Germany, at the age of 84. This is just three years after Mercedes and Benz joined forces. His legacy as a pioneering inventor and engineer in the auto industry lives on today, and his name is synonymous with innovation and excellence in the world of automobiles.