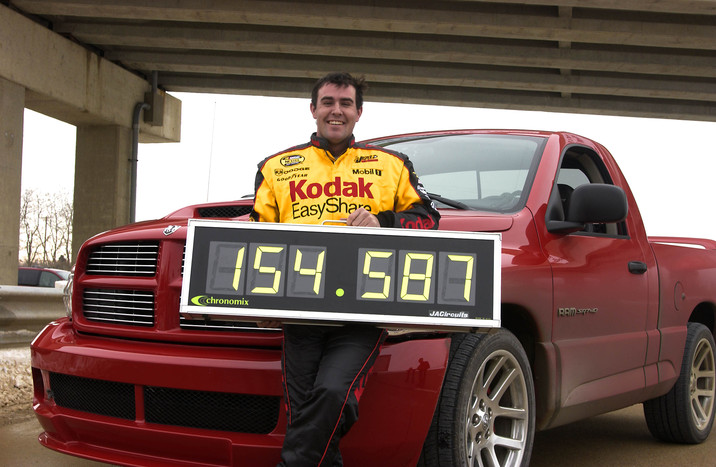 On this day in 2004, the all new Dodge Ram SRT-10 made history as it claimed its place in the Guinness Book of World Records as the "World's Fastest Production Pickup Truck." Fresh off the assembly line, the Dodge Ram SRT-10 unleashed its Viper V-10 power, proving its dominance with a two-lap, both-directions average speed of 154.587 mph over a "flying kilometer" on the 4.71-mile oval at the DaimlerChrysler Proving Grounds in Michigan.
The record-breaking run was certified by both Guinness World Records and the Sports Car Club of America (SCCA), setting the bar higher than ever before. The previous record was 147.54 mph, set by the Ford SVT F-150 Lightning, before the Dodge Ram SRT-10 even went into production.
Driving the Ram SRT-10 to this historic moment was Brendan Gaughan, a six-time winner in a Dodge Ram in the 2003 NASCAR Craftsman Truck Series. "I've driven some fast trucks in my time, but setting a Guinness world record is an experience like no other," he said.
Development of the fastest production truck
The Dodge Ram SRT-10 is a product of the former DaimlerChrysler Performance Vehicle Operations department. Led by Dodge Viper and Plymouth Prowler engineers, the truck underwent extensive wind tunnel testing. Following a 2002 NAIAS debut, production didn't begin for about two years, starting with the 2004 model year.
"We set out to create the ultimate performance truck and we did just that," said Dan Knott, Director of Street and Racing Technology (SRT). "With 500 horsepower, sports car-like handling, world-class braking, and race-inspired design appointments, the Ram SRT-10 is the ultimate – and fastest – performance pickup."
Guinness World Records' research team member, Hein Le Roux, traveled from London to witness the record-breaking run and officially recognize the achievement. "People aren't too surprised when they hear about expensive super cars or race cars setting speed records," he said. "But few people expect a standard production pickup truck, which they can drive straight off the dealer lot, to be capable of this sort of speed. That's what makes this such a great Guinness World Record."
By the time production ended following the 2006 model year, just 10,143 trucks had been built. This figure includes both regular cab 2-door trucks and the quadcab versions.
Dodge Ram SRT-10 for sale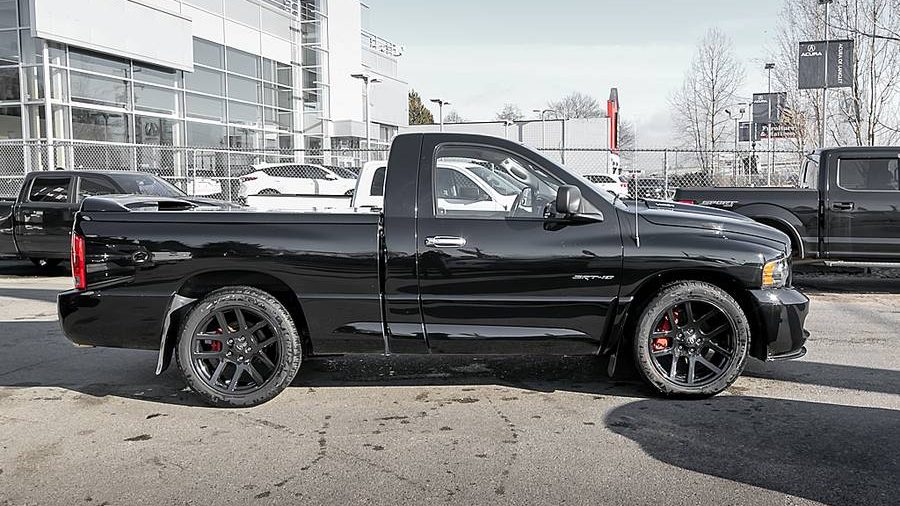 It's hard to find a Dodge Ram SRT-10 for sale, but if you do, expect to pay a hefty price. The one pictured above has its V10 mated to a six speed manual transmission. This super truck has only traveled only 24,000 miles since leaving the factory, too. Appearing to be in pristine condition, this rare truck has an asking price of $66,888 on Craigslist. However, the ad is from British Columbia, so that is probably Canadian dollars. That's about $50,000 in USD.