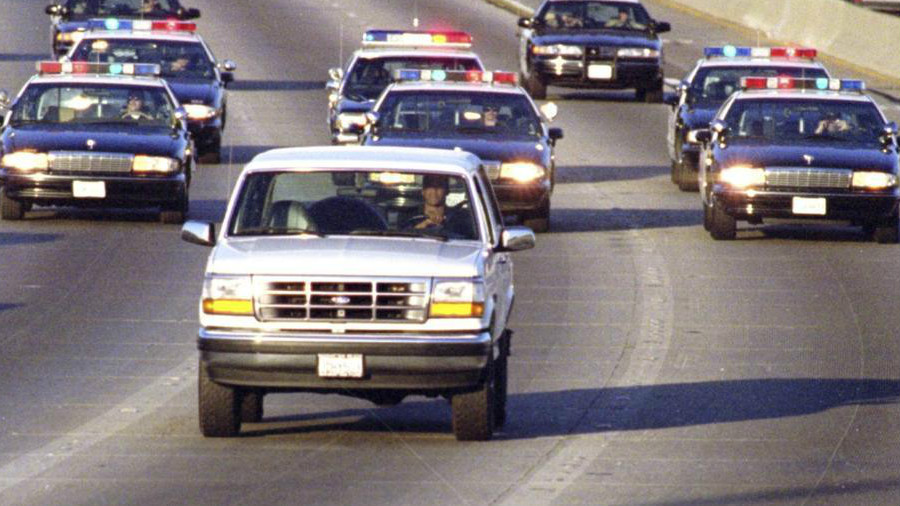 It was this day in 1994 that a white, 1993 Ford Bronco went stampeding, rather slowly, down Interstate 405 in Los Angeles with Al Cowlings at the reigns and OJ Simpson riding along. More than 90 million people watched live on television as police gave chase. Simpson, wanted in connection with the June 13, 1994, murders of his wife Nicole Brown-Simpson and her friend Ronald Goldman, sent a suspected suicide note to his defense lawyers the day he was to turn himself in. This resulted in an all points bulletin requesting Simpson's apprehension. 
At about 6:20 that evening a motorist called police saying he saw Simpson riding in the white Bronco in Orange County. A responding officer made contact with the Bronco, but Cowlings told the officer to back off because Simpson sat in the backseat with a gun pointed at his own head. More than 20 police cars soon joined the slow speed chase down the highway, along with 9 helicopters. Major television stations interrupted planned programming to broadcast the chase. There were so many signals in the air that footage from one station would broadcast on another station accidentally.
The chase ended around 8 p.m. at Simpson's estate. Before surrendering he demanded that he be able to go inside to talk with his mother. The police allowed this to happen. Inside the Bronco police found a loaded .357 Magnum, a passport, $8,000 in cash and other various items that could potentially be used to make a get-a-way. After a high profile trial, a jury found Simpson not guilty. However a civil case did show he was "responsible" for the murders. As a result, the court awarded the victim's families upwards of $30 million. 
The History of the OJ Simpson Ford Bronco
It should be noted that there were two white Bronco's involved in this case. Simpson had one that belonged to Hertz, of which he was a spokesperson for up until the chase. That Bronco was found at Simpson's estate with blood from Brown and Goldman. It was used as evidence and later destroyed. Al Cowlings owned a separate white Ford Bronco, the one in which the chase took place. Interestingly enough, that Bronco was parked uncovered from 1995 until 2012 in an LA parking garage without moving more than 20 miles since the chase. It seems people didn't even it was THAT Bronco. The Bronco has now been in and out of museums and is reported to have just over 35,000 miles on it. It is currently in possession of three investors. They rent the Bronco out and are open to selling, when the price is right.