The Great Train Robbery took place on this day in 1963 between Glasgow and London at Bridego Railway Bridge, Ledburn, near Mentmore in Buckinghamshire, England. A 15 person gang led by Bruce Reynolds tampered with line signals to halt a train before entering the Royal Mail HVP car, beating the engineer and collecting £2.6 million, an equivalent of £49.1 million or about $65 million USD today.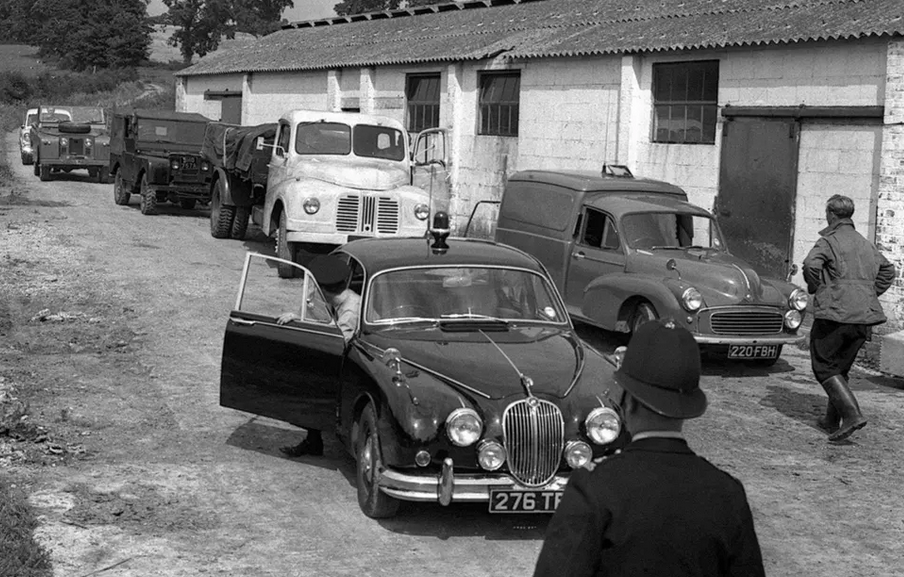 The attack was precisely planned and executed by Gordon Goody, Buster Edwards, Charlie Wilson, Roy James, John Daly, Jimmy White, Ronnie Biggs, Tommy Wisbey, Jim Hussey, Bob Welch and Roger Cordrey, as well as three men known only as numbers "1", "2" and "3." A 16th man, an unnamed retired train driver, was also present at the time of the robbery. They received assistance from Patrick McKenna, who provided inside information about the cargo of the train and its schedule.
The HVP, Highly Valuable Packages, carriage was the second car in the train. The robbers detached the remaining cars and moved the train forward to the point where they could unload the contents of the HVP into their truck. The robbers opened the HVP, which was a reserve car and not fitted with current security measures, and made the staff inside lie face down. The engineer and signalman were also handcuffed together and placed in the car. The gang loaded the money into an Austin Loadstar truck and made their getaway using that vehicle and two Land Rovers. They drove to a hideout at Leatherslade Farm, a property purchased by the gang two months earlier. There, they divided the money into 16 shares of approximately £150,000 each (about £2.65 million/$3.46 million today). Police eventually at least 10 of the gang members and several associates.
Editor's note: This is an incredibly in depth and long story, with much publication. I highly recommend you read up on this story for a full version. It really is fascinating. Here's a good place to start.