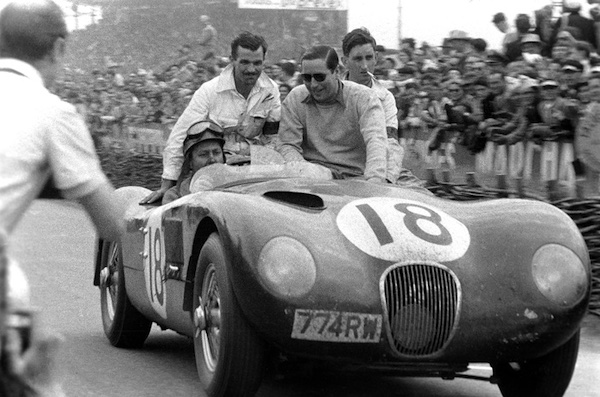 One of the most fantastic tales in auto sports history was born on this day in 1953 when British racers Tony Rolt and Duncan Hamilton won the 24 Hours of Le Mans in a Jaguar C-Type, drunk. That's the legend, anyway. The story goes that Hamilton and Rolt had been disqualified from the race before it began due to practicing with the wrong number on their vehicle. Figuring they would no longer be busy for the next 24 hours, they headed to a local waterhole. After a few pints, Jaguar team manager Lofty England found the boys at the bar and let them know he had got them reinstated in the race. So they stumbled back to the track and off they went. As it would go, 24 hours later, they won.
The tale is up for a bit of debate, with Hamilton loving to share it. However, it may not be all true. You can read a more complete version of the story here, via Porter Press. True or not, don't drink and drive, please. One thing that is true, Rolt escaped Nazi camps on multiple occasions during World War II. You can read more about that in the above article too.
The inaugural 24 Hours of Le Mans took place in June 1923. This first of its kind automobile endurance race, held in Le Mans, France, hosted 33 racers when the event began. All but three would still be driving when the race came to an end after 24 hours. The winners of the first 24 Hours of Le Mans race were Frenchmen André Lagache and René Léonard, who drove a Chenard-Walcker Sport. They completed 128 laps, while second place finished at 124.