American automotive engineer and industry executive John Z. DeLorean passed away on this day in 2005 at the age of 80. While he is most famous for founding the DeLorean Motor Company, which produced the DMC-12, he worked for a number of other automakers prior to starting his own company. After receiving a degree in engineering, he sold life insurance for a stint. He then enrolled in Chrysler's master's in automotive engineering program. Upon his graduation in 1952, the automaker offered him a job.

Less than a year after joining Chrysler he would move to Packard where he made substantial improvements to the company's new automatic transmission. This effort gained him notoriety in the auto industry, causing him to catch the eye of numerous veteran executives. In 1956, as Packard merged with Studebaker, a new job came his way. General Motors VP of engineering Oliver K. Kelley offered DeLorean the option at working at any of GM's five divisions.

John DeLorean joins Pontiac
He chose Pontiac, where he signed on for an annual salary of $16,000 (approximately $150,000 today). By 1961, after working as the assistant to chief engineer Pete Estes and Pontiac general manager Semon "Bunkie" Knudsen, DeLorean was promoted to division chief engineer. In this role he led the development of the 1964 GTO, widely considered the first muscle car. In 1965, at age 40, he became the youngest division head when he was promoted to head of Pontiac. From there he would earn credit for finding Pontiac's brand identity as a performance leader, especially with the introduction of the Pontiac Firebird and Grand Prix.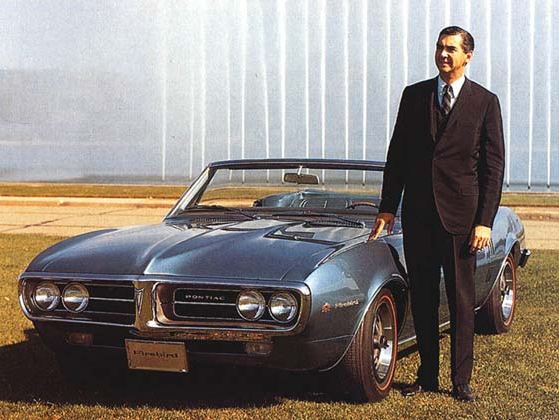 When he moved to Chevrolet in 1969, he was already making an impact in pop culture. His massive salary allowed him to invest in the San Diego Charges and New York Yankees. He also kept a close circle of celebrity friends and led a lifestyle that caused him to clash with fellow GM executives. President Ed Cole, on the other hand, trusted him to get things done. DeLorean didn't disappoint, that is until he decided to start his own company in 1973.
Founding DeLorean Motor Company
DeLorean Motor Company began development of a two seat sports car, with a prototype first shown in the mid 1970s. When production of the company's sole car, the DMC-12, finally began for the 1981 model year, it received mediocre reviews. A national recession certainly didn't help its sales. By 1982 more than half of the 7,000 cars manufactured at the time remained unsold.
Facing financial difficulties, DeLorean allegedly agreed to fund a cocaine deal worth about $24 million. It turned out to be an undercover sting operation and DeLorean found himself in cuffs. He defended himself, citing police entrapment, and eventually received a not guilty verdict. Unfortunately, the trial and accompanying press effectively ended his automotive career. Also coming to a close: the assembly run of the DeLorean, of which around 9,000 units left the plant.