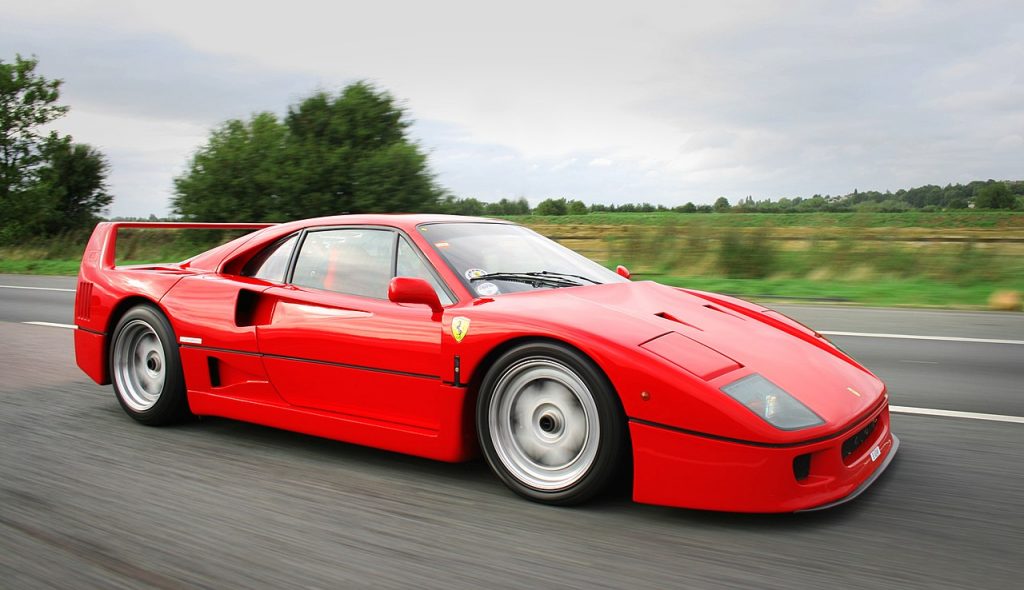 When the Ferrari F40 made its public debut on this day in 1987, 89 year old Ferrari founder Enzo Ferrari offered an impassioned speech. He proclaimed, "A little more than a year ago, I expressed my wish to the engineers. Build a car to be the best in the world. And now the car is here." 
The F40, built to commemorate Ferrari's 40th anniversary, was the last Ferrari approved for production by Enzo himself. It had no radio, no electric windows or power seats, and certainly no cup holder. What the no frills Ferrari did have was sleek lines and a whole lot of speed. Topping out at an unofficial 201 mph (321 km/h), it was the first production car to break the 200 mph mark. Between 1987 and 1992, when production of non-racing models was halted, approximately 1,315 Ferrari F40s left the factory floor, nearly 1,000 more than planned. Of those, only 213 were imported to the United States when new.
The F40 retailed for about $400,000, which was nearly five times more than its predecessor, the 288 GTO. For the price you got a mid engine supercar powered by a 2.9L intercooled V8 that pumped out 471 horsepower at 7,000 rpms. A 5 speed transmission connected the power to the rear wheels. All of this was wrapped in a body crafted by Leanardo Fioravanti and Pietro Camardella of Pininfarina. The design featured Kevlar, carbon fiber and aluminum panels to increase strength and decrease eight. Aside from moderate air conditioning, the interior of the cars were quite bare. The first 50 didn't even have roll down windows.

Test results from Car and Driver put the top speed of the car at 197 mph with a zero to 60 time of 4.2 seconds. Ferrari offers a different version of events. The manufacturer listed a top speed of 201 mph and a zero to 100 km/h (62 mph) of 4.1 seconds. Pretty good for a car that gets an average of 13 miles per gallon and was designed and built in barely a year.