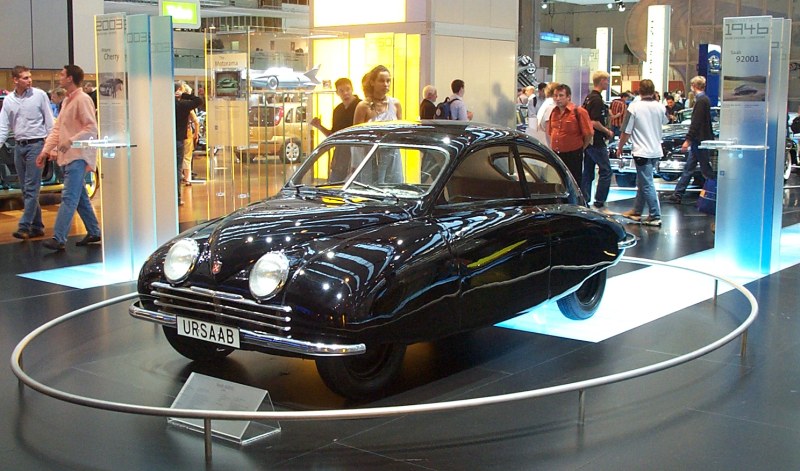 On this day in 1947, Swedish airplane manufacturer Saab AB introduced the press to their first prototype automobile at the company's headquarters. It became known as the Ursaab, which translates to "Original Saab." This vehicle led to the first production Saab in 1949, the Saab 92.
Let's back up. Saab AB had been producing warplanes for WWII, but launched an automobile design project in 1945 code named X9248. Later it became known as Project 92, as this was the next production vehicle following Project 91, a single engine trainer aircraft. Saab desired to produce a vehicle that would compete with the small German vehicles, such as those from Opel and Adler.
Development of the Saab 92
A 16 person team was assembled to design the vehicle — but none of the engineers had experience with automobiles and only two had driver's licenses. After studying vehicles from a junkyard and gathering intel on the manufacturing process the team spent years developing their own vehicle The outcome of their project, the first of four prototypes built prior to the production Saab 92, was a front wheel drive vehicle that originally used a DKW 18 hp, two cylinder, two stroke engine attached to a DKW gearbox. An internally designed engine and transmission soon the borrowed components. The team put 330,000 miles on the car during test drives, proving the vehicle worthy of production.
The introduction of the Saab 92, which went into full scale production in December of 1949, saw the company enter the automotive marketplace for the first time. A majority of the first run of the 92 received green paint, as the company had much surplus war paint that they needed to use up. The vehicle remained in production until 1956. The Ursaab is currently on display at the Saab Car Museum in Trollhättan.