The legendary, yet often ridiculed Zastava Yugo began to move down a Yugoslavian assembly line on this day in 1980. While the car may not be looked upon unfavorably due to design, safety and performance issues, it caused quite a stir when new, both domestically in Eastern Europe and abroad. See, Zastava began life as a Yugoslavian arms company in 1853. So if you mocked their cars, they'd simply show you to a backroom and convince you to take it back with a variety of other Zastava products. Joking aside, the company began producing vehicles in the 1930s and manufactured Ford trucks for its Army under license during WWII. After the war it produced Willys Jeeps under contract for civilian and government use until 1950.
Being no stranger to borrowing designs, it comes as no surprise the Yugo is not an entirely new car. It is based off the Fiat 128. It featured a shortened wheel base and a unique body, all powered by the 128 engine that pushed the car up to 90 miles per hour. Until 1985, the cars rolled out of the plant in a rather bare bones format, suffering from a lack of pretty much everything. However, after the mid 1980s, Yugo quality truly began to improve and they even received their fair share of accessories, such as a rear defrosters!
1985: The Yugo Launches in the USA
The same year that the Yugo started receiving all the creature comforts, International Automobile Importers, a company founded by Malcolm Bricklin, began to bring them stateside. The cars destined for the United States received tuned engines and emissions controls to meet rigid government regulations. A hardcore marketing campaign advertised the Yugo, priced at $3,990 (Around $10,000 in 2022), as an good alternative to a used car or the perfect second vehicle for any wealthier family.
In that first year, only 3,895 American buyers purchased the a Yugo. But things soon began to shift. By the end of 1986 more than 35,000 had been purchased, and it kept getting better. In 1987 five different Yugo models could be had, including the upscale, if you can call it that, Yugo GVX. It featured a 1,300-cc engine, five-speed manual transmission, a plush interior, ground-effects package, alloy wheels, and rally lights. The offering helped bring the best US market year for Yugo with 48,812 sold. Then communism began to crumble and Yugoslavia with it. Quality soon became a major problem and despite offering a convertible in 1988, sales slipped drastically. In 1992, the final year of US sales, only 1,412 units left dealership lots. While that may seem like the end of Yugo history, it's truly far from it.
The End of Yugo (1991 – 2008)
By the end of the 1980s, Yugoslavia was on the brink of a disintegration that many anticipated under the leadership of Josip Broz Tito. Because the Yugo was built as a "Yugoslav" car, with political problems and Yugoslav Wars breaking out in 1991, this had direct implications for the company at Kragujevac: production slowed down and the supply of parts was interrupted. Most of the plastics and the interior came from Croatia, while the alternators and electrical equipment came from Slovenia. With the start of civil war, economic and transportation ties were broken, resulting in shortage of most parts coming from the two seceded republics. The seats and rear trunk-struts came via Kosovo which also underwent a period of turmoil. The disintegration of the Yugoslav federation suddenly had supplies dry up at Kragujevac and production rates declined steeply.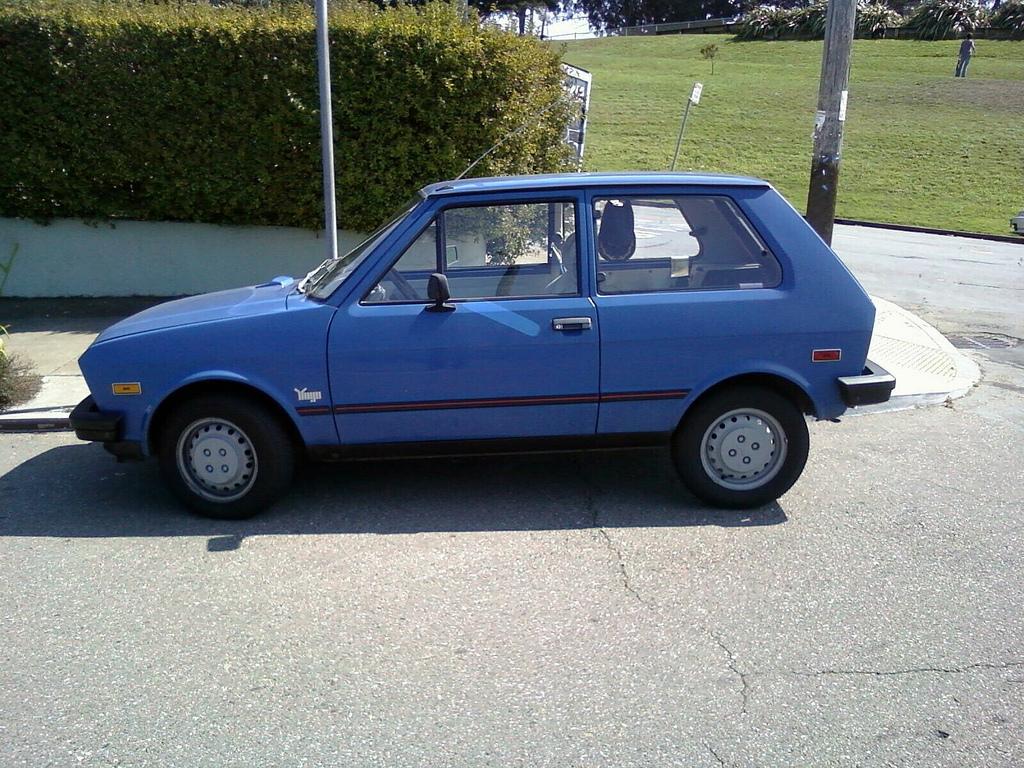 Zastava continued to produce vehicles for the Yugoslav and European markets until exports were limited by sanctions imposed by the United Nations in the 1990s. When the political instability in Yugoslavia intensified in early 1992, Zastava was forced to stop exports.
Though the sanctions did not go into effect until May 1992, Yugos built between June 1991 and early 1996 seemed to be made of "leftover" parts. According to some remarks, a car may receive a blue dashboard and a brown steering wheel. Or seats may be mismatched in color. Or a car would end up with an "American" instrument cluster with speeds printed in MPH rather than km/h.In some extreme cases, the car would come with different interior panels and a steering wheel from another Zastava product, such as the Zastava 750. When exports to United States (and the rest of the world) stopped, a number of federalized Yugos remained in the factory's parking lots. Many people received these "American" Yugos instead of the European ones.
When Yugoslavia broke apart in the early 1990s, production rates fell drasitcally. Numbers dropped to 14,000 in 1992, 7,000 in 1993 and 1994, and 9,000 in 1995.
1996 to the end of Yugo production
In 1996, when sanctions against Serbia and Montenegro were lifted, production rates slowly increased. Factory problems began agaon when it was put out of production in mid-1999 as a result of war with NATO. During Easter 1999, the Zastava factory in Kragujevac was targeted by NATO forces during the Kosovo campaign, and whilst severely damaged, did not close.
In 2000, the car received a new front fascia with new bumpers, rear spoiler, a redesigned dashboard, and seats. The latest changes were in 2007, with the introduction of a new instrument cluster. With the 794,428th and final car, Yugo production ended on November 11, 2008. Around 250,000 of those were exported to various countries, with the US selling 141,651.
Since the end of Yugo production
Years after its demise, the Yugo is still a common sight in Serbia. Almost 60,000 of them are still in use, many having been built in the 2000s. Parts are still readily available at most auto-parts stores and in scrapyards across the country. They are also common in North Macedonia and Montenegro. However, Yugos are rare in other former Yugoslav republics, particularly in Croatia and Slovenia. This is because many ended up back in Serbia in the early 2000s. It is believed most of them remained in good shape despite their age.
In the United States, few Yugos are left in service. This likely because of international sanctions imposed on Yugoslavia in the early 1990s, which limited the supply of spare parts. The United Kingdom has 14 Yugos left that are still on the road as of 2022.