What's black and tan and white all over? This black 1934 Chevrolet with tan interior and white bird **** all over it. Lucky for you, it's all included in the sale of this barn find Chevy. Located on Craigslist near Bozeman, Montana, you can have the honors of yanking it out of its resting place if you fork over $7,500. Not a bad price to pay for a lovely piece of Depression era Americana. Taking into account where it sits, you get the sense this car was once a proud farmer's Sunday driver until it became a Monday beater. Luckily the owner never put out to pasture as it aged and instead allowed to hibernate as migrating birds nested above it for generations. Oh, if birds could talk. Are there parrots in Montana? Squak, Polly want a Chevy.
Chevrolet Master or Chevrolet Standard Six
In 1933 Chevrolet launched the Mercury Standard as their low priced model, but dropped the Mercury name the next year. (Can you spot the Mercury in pictures in this post?) Ford must have liked it enough to swipe it, as the Mercury lineup would debut just six years later. In any case, the more expensive Chevy of the era was the Master. Both looked similar and could be had in a variety of body styles, both two and four door, however the Master rode on a longer wheelbase and had subtle differences in the shape of its fenders.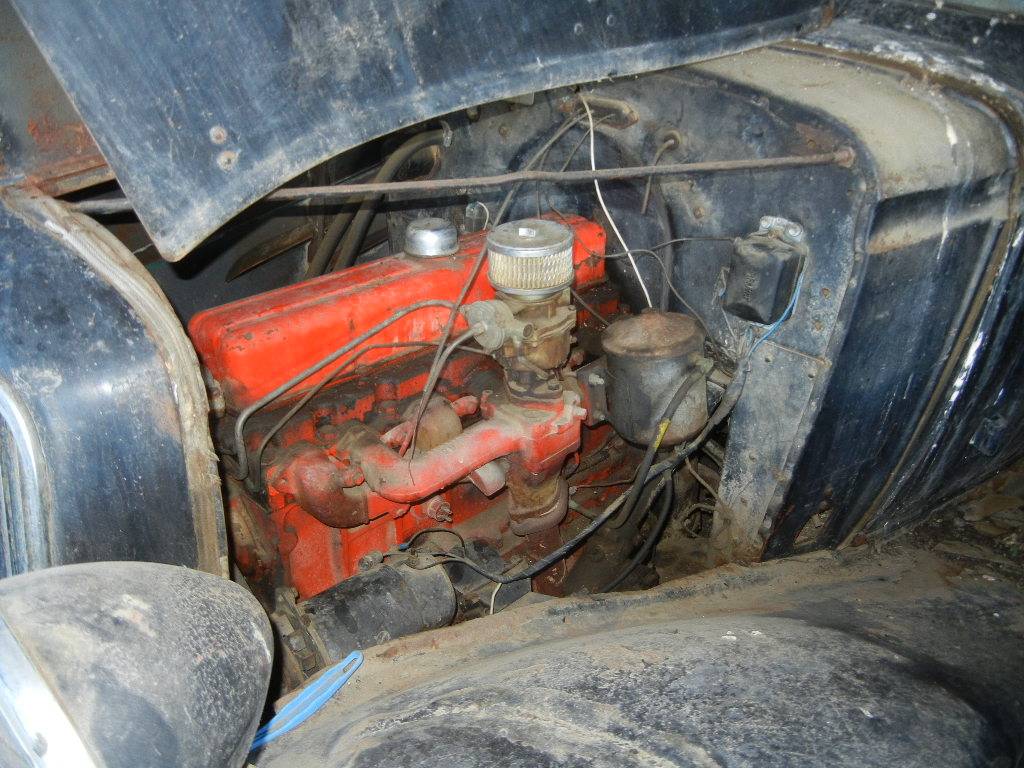 Although the seller does not claim this to be one or the other, one of the easier ways to tell the difference between 1934 Chevrolet models is the location of the dash. The cheaper Standard has a center mounted instrument cluster, while the gauges of the Master sat behind the steering wheel and had a glovebox in front of the passenger seat. So viola, here's a Chevy Standard Six. Why the six? Because a Chevy Stovebolt Six sits under the hood, of course.
1934 Stovebolt Six
There is still an engine in this car, but given this classic car for sale on Craigslist has the shortest description ever, there's no telling if its original or not. Judging by the one picture, it does appear to be a period correct Stovebolt Six, Chevrolet's trusty straight six that first appeared in 1929. In 1934 an anemic 181 cubic inch powerplant gave the Standard 60 horsies to work with. This gave it a top cruising speed of around 65 miles per hour. The Master would have put out 80 with its upgraded 207 cubic inch engine. There's no telling the condition of this example's engine, but here's what we do know, it's red. It's also, assuming originality here, connected to a three speed manual transmission.
1934 Chevrolet Interior & Exterior
I've got to imagine this car was in pretty good shape when it was banished to the corner of this shack. The tears in the interior are surely the work rodents over the years. Yet, the seats don't look to be horrible, and could potentially be fine for cruising if you're all about fixing the mechanicals and driving it as is. However, you're probably going to want to tear that headliner out of there. The rest of the car appears fairly complete from what can be seen. The instrument cluster is present, but I wonder if this has an optional heater or clock. I am not seeing a radio, which would have been a fairly fancy add on at the time of purchase. Last but not least, don't let your foot get stuck in the hole in the floor.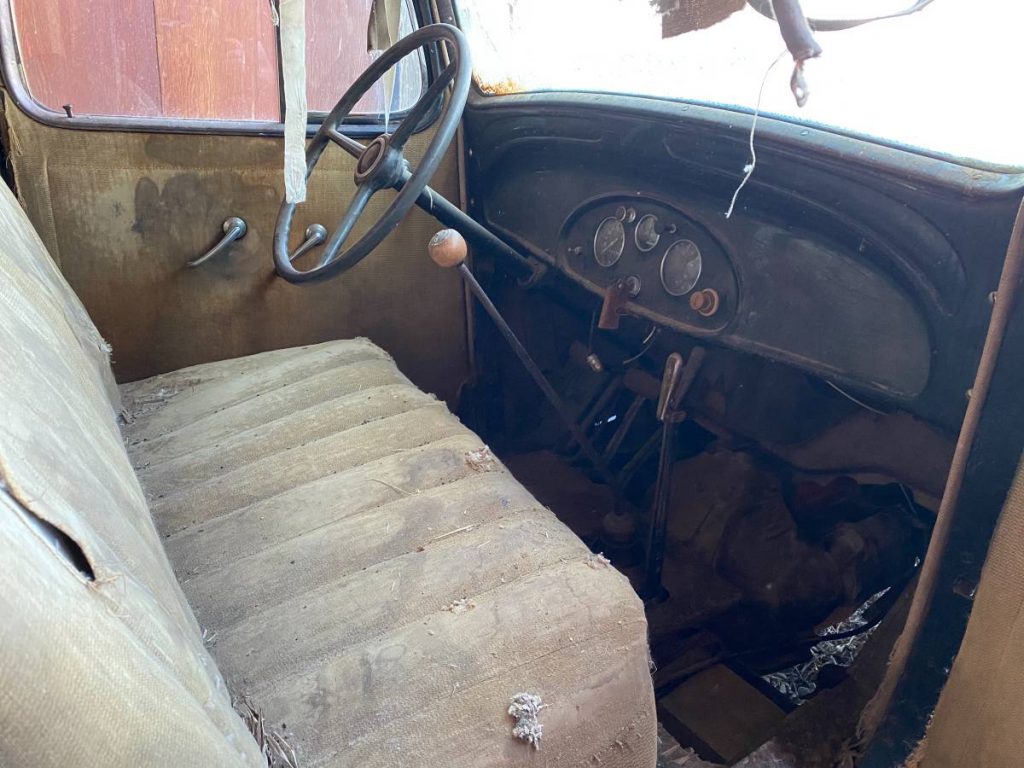 Coming across a car like this in person is much more breathtaking than finding it on Craigslist. Still, there's something mesmerizing about an old car covered in dust, even in photos. This one is unfortunately covered in a bit more, you know, the birds. Beyond that, there does appear to be some surface rust here and there, but it really doesn't look all that bad. A hot bath could do this old car well.
Hot Rod or Restore this 1934?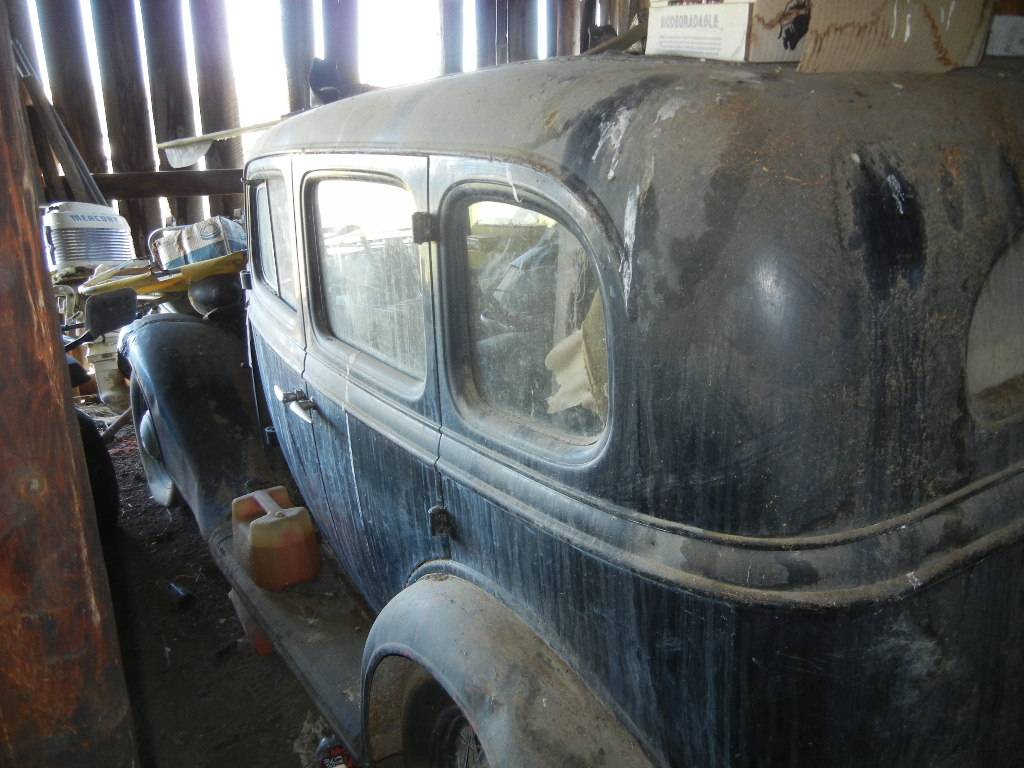 As for the rest of this 1934 Chevrolet barn find for sale, the brakes, suspension, electrical and all that, it's a mystery. But it does have a clean title! With an asking price of $7,500, I wouldn't be surprised if you could trailer this old Chevy home for under five grand. For some, it's a fantastic 1930s restoration project, for others its a perfect Craigslist hot rod for sale. In any case, it'll be awesome to see this once glorious farmer's car get a second chance at delivering eggs to the market.