The old adage "Win on Sunday, sell on Monday" is linked to the early days of NASCAR when American automakers found success on the racetrack equated to sales on the showroom. Among the first large car companies to build a car almost specifically to dominate NASCAR was Hudson. It's entry to the field was the 1951 Hudson Hornet, which debuted on this day in 1950. The cars soon dominated the league, all starting with a win in its first entry, the 1951 season opener at Daytona. Marshall Teague drove his Fabulous Hudson Hornet to victory over 54 other cars. The Hornet soon began capturing checkered flags and championships over and over again.
Several engineering feats helped the Hornet conquer the track. Among them, Hudson's step down chassis design that allowed for a lower center of gravity that improved handling. Every car in the production run for the 1951 through 1954 model year received a high compression, 5 liter inline six dubbed the H-145. The 305 cubic inch engine produced 145 horsepower, but in the hands of Teague and other NASCAR elite, they could tune the engine for more. Teague himself claimed he could hop up the car, pushing its top speed to 112 miles per hour.
Hudson Hornet History
The Hornet's success on the track resulted in more than 44,000 sales in 1951. The good times kept on rolling. Hudson went on to win 27 of the 34 NASCAR Grand National races in 1952. The next year it captured 22 wins of 37 races. In 1954 it dominated again, taking home 17 checkered flags out of 37 races. Unfortunately, the success would not be enough to save Hudson. A merger with Nash in 1954, the final year of the Hornet, created American Motors Corporation and Hudson production in Detroit ended. The name would carry on through 1957 before disappearing completely.
Hudson in NASCAR
Before being put out to pasture, the Fabulous Hudson Hornets made history in many ways. Beyond Teague winning the season opener in 1951, Herb Thomas would win the championship in a Hornet that year too. He'd win again in a Hornet in 1953, making him the first repeat champ in NASCAR. While the car didn't seem to monkey around, driver Tim Flock sure did. He won the 1952 championship in Hudson Hornet with a part time co-pilot named Jacko Flocko – a Rhesus monkey.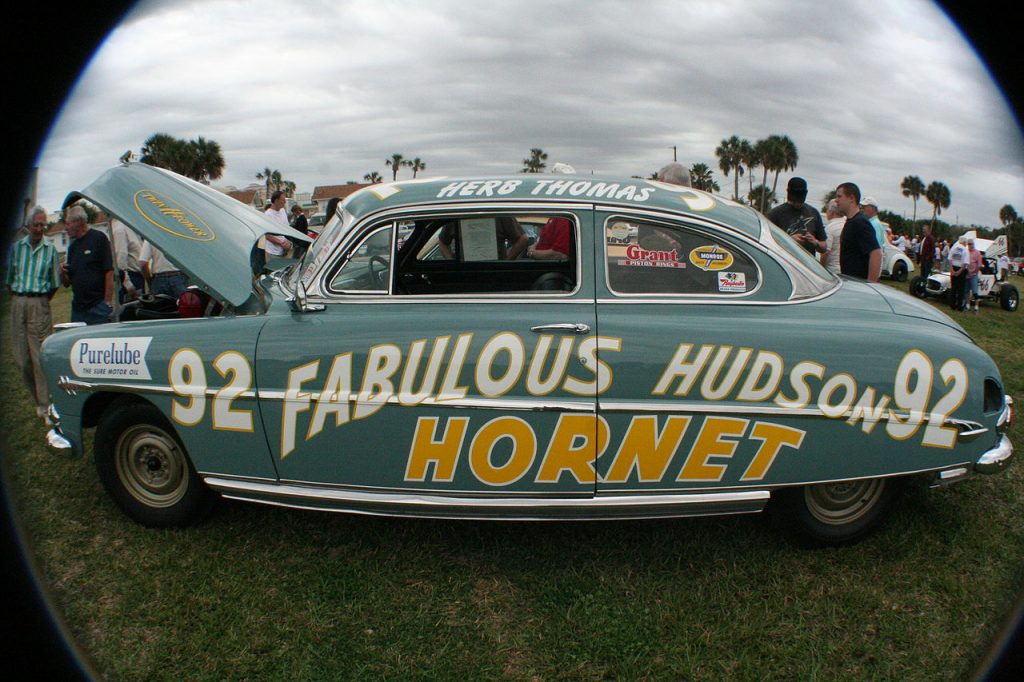 While Hudson the automaker ultimately failed, it lives on today in the form of a beloved animated character, Doc Hudson of the "Cars" film franchise. Doc Hudson was originally voiced by Paul Newman and was based on the career of Herb Thomas. It remains a lasting legacy to the automotive history of Hudson and the early days of NASCAR.