It's rare to drive a car in pristine condition for under $10,000. Even rarer if the car is three decades old. Though perhaps the rarest of all is driving off a dealer lot in a like-new 1988 Buick Electra Park Avenue for $6,000 in Lynnwood, Wash. Perhaps that's on occasion that should stay rare. But it's hard to hate this car. It looks like it has 20 years left in it and a true time capsule is worth celebrating no matter the type of car, right?
Squishy Buick Seats
Sporting tan on tan on tan, this Electra looks like it should be parked outside a country club. Look at those whitewalls. It's… scary to imagine how old those tires might be. Beyond the aged tires, finding a flaw on this car is nearly impossible. The reversed hinges on that hood are downright innovative for an '80s American car and the Buick logo serves to remind you of the choice you made every time you pop the hood and sit in the driver's seat. It's not hard to imagine why that didn't catch on for creating brand loyalty.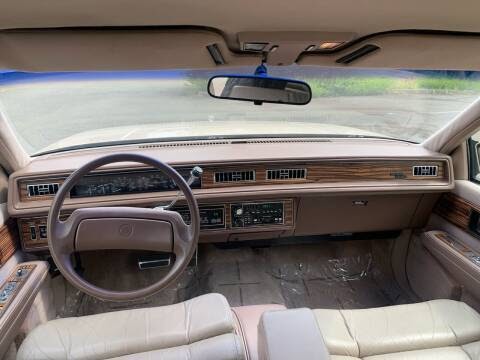 Inside, the tan continues with a sweeping dash inlaid with horrific wood paneling interrupted by a protruding brown steering wheel. I'd like to meet the dealership employee that carefully placed protective plastic on the carpet of this car and shake their hand; this car deserves special treatment. The leather seats look comfortable like grandma's couch and show absolutely no tears. How would they? The upholstery is probably half an inch thick. 
Did a 1988 Buick have a Reversed Hinged Hood? Yes.
Only one photo shows off the engine and the seller describes the Electra's V6 as "bulletproof". Considering this is probably the last Electra of any decency in a tri-state radius, you can decide if you believe that description. Mileage is high for the price but low for the type of car. Despite the odometer nearing 150,000, it'd be easy to believe it had one less zero, given its overall condition.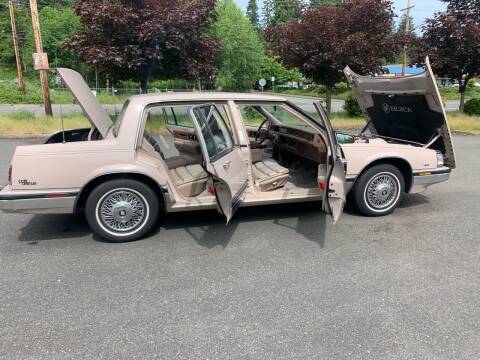 These cars were designed to be tossed aside and this one happened to make it out of the recycle bin, likely by hiding in a garage for decades. A car that is simple to repair with components from over the parts store counter sounds like a godsend. 
This certainly isn't the most exciting classic or the coolest, in fact it's close to the bottom of the list on both counts. But given enough decades, malaise may become ironic cool. It certainly did for the Fox body Mustang. This Buick is begging for someone to lowball this dealer, drive off the lot and enjoy a piece of history forgotten by most for a decent price. Among the right crowd, this example could be a stunner.