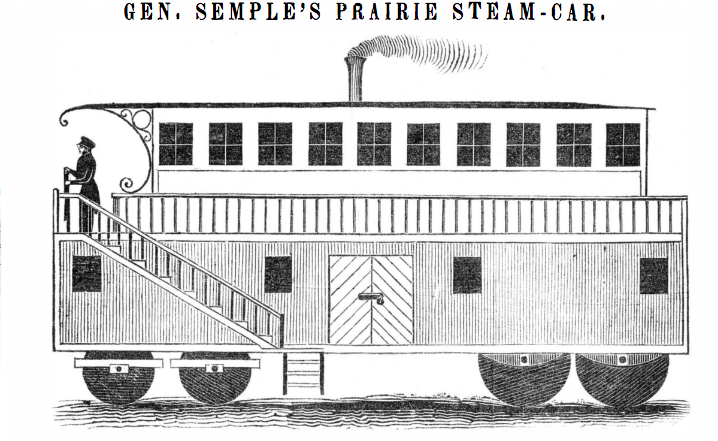 While better known for his political and judicial career, James Semple, born on this day in 1798 in Kentucky, is also recognized for building one of the world's first automobiles. His journey begins far before he took the wheel of the crude steam machine. After a stint in the Army that began at age 16, he returned to Louisville where he studied law. After being admitted to the bar he moved to Illinois in 1827. He would rise through the ranks, holding a variety of high level positions in Illinois, including Speaker of the Illinois House of Representatives, Attorney General of Illinois, and being an associate justice of the Illinois Supreme Court. He would later become Chargé d'Affaires to New Granada, before being elected to the United States Senate in 1843. It was while serving as a senator he began working on his experimental vehicle.
After the Illinois railroad failed in the early 1840s, in part due to the cost of tracks and poor track construction itself, Semple found himself inspired. He came up with a new concept, a steam locomotive that required no tracks, although he wasn't the first to build such a vehicle. Starting in 1842 he began to carefully study Illinois' two abandoned locomotives and worked with steam engineers to develop his vehicle that would become known as the Prairie Car. It would roll on broad wooden cylinders that could support the heavy vehicle and its engine. However, building an engine was out of the question given Semple's meager budget and lack of investment from outside parties. He decided to repurpose the abandoned steam trains.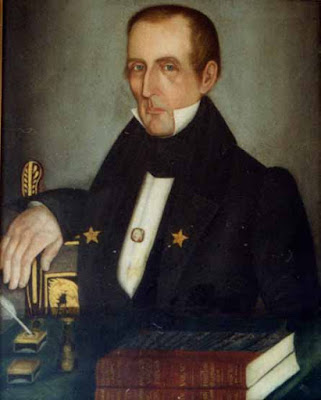 Adding power to the James Semple steam car
After building the chassis of his Prairie Car he hooked it to a team of mules and had them pull it to the site of the abandoned train in Springfield, Illinois. He eventually got it rigged up and to his delight found that the contraption actually worked. However, it proved much too large for any practical use. A redesign ensued, leading to a vehicle that was nineteen feet long, eight feet wide and rode on wheels with a four foot diameter. The entire vehicle consisted of basic parts, including a boiler, smokestack, coal bin, drive pistons and wheels. It was controlled by a captain that stood at a large wheel, similar to that of a ship.

Semple founded the Illinois Transportation Company in 1847 and again sought investors, but his new vehicle had yet to move an inch on its own. Just one person, Commodore George DeKay, took interest in the contraption. With his financial backing Semple finished the vehicle and in 1848 demonstrated its capabilities. On multiple occasions nearly a dozen people rode on the machine and in one instance the vehicle cruised through a muddy prairie without issue.
Semple's Folly
Despite building a capable vehicle that may evoke images of Wild Wild West, it failed to attract any further investment. Things took a turn for the worse when DeKay suddenly died and the money for the project dried up. The final run of Semple's Prairie Car was to be from Edwardsville to Springfield, but he never made it. Just outside of Carlinville the vehicle fell into a whole, damaging one of its axles. The heavy beast of a machine was abandoned, like the steam engines that inspired it. Over the years the chunk of steel became known as Semple's Folly.
While that was the end of Semple's automotive dreams, he found success in other ways. Six years after leaving the Senate, in 1853, he founded the town of Elsah, Illinois where he offered free lots to anyone who built a house with stone purchased from his quarry. He also ran a distillery and mill. Later he would serve as the postmaster. Unfortunately, he never had a mail truck that didn't require a horse. He passed away in the town in 1866 at the age of 68.
Thanks to this article written by Bill Nunes for the Digital Research Library of Illinois History Journal.