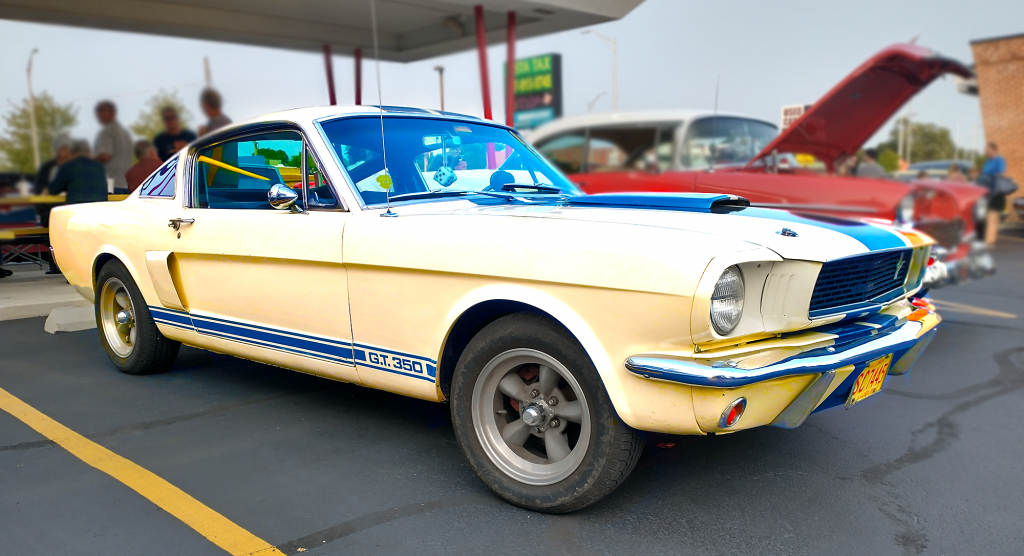 The racing circuit changed forever when sales of the 1965 Shelby Mustang GT350 launched on this day in 1965. The Shelby GT350 was based off of 1965 Ford Mustang fastbacks that originally left the San Jose Assembly Plant with a 271 HP 289 V8 and a 4 on the floor. Carroll Shelby had the stock vehicles shipped to Shelby American in Venice Beach, California, and later at Los Angeles International Airport, where his team would first strip the cars of weight. Shelby then added performance upgrades, such as high-riser intake manifolds, a four barrel carburetor and custom exhaust headers, boosting horsepower to 306.

In 1965 Shelby built 562 GT350s, all painted Wimbledon White with Guardsman Blue stripes. In 1966 the cars received updates to attract more general consumers, opposed to strictly track racers. The 1966 GT was available with optional rear vent windows and back seats, and came in an array of colors. Additional changes included a functional hood and rear brake air scoops and a 3 speed automatic transmission was made available. Production of the first generation of Shelby Mustangs, including the GT350 and GT500 would last through 1971.
Shelby Mustang GT350 Barn Finds
As Shelby Mustang became some of the most desirable muscle cars of the 1960s and '70s, Ford capitalized on the trend with a second generation released in 2005. This era included a new GT350-H, a black and gold version only available through Hertz rental cars. This of course paid homage to the original GT350-H rent-a-racers of the 1960s, many of which became the victim of illegal engine swaps. This roadside sighting of a first generation Shelby GT350-H doesn't quite fit the bill, but barn find Shelby Mustangs continue to pop up. Be sure to ask your neighbor what they're hiding in their garage.