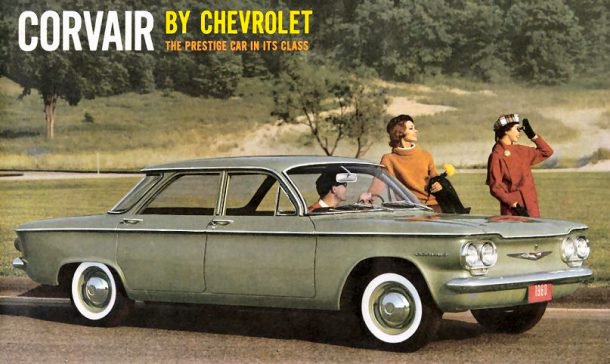 Chevrolet introduced the only mass produced, air cooled, rear engined American car to the public on this day in 1959. Targeted at buyers of small imports such as the VW Beetle, the Chevrolet Corvair aimed to be an affordable commuter. It hit the market along side other small American cars for 1960, such as the Falcon and Valiant. It no doubt stood out from the crowd. Aside from its unusual running gear, the Corvair lacked tail fins and had a front end with no grille. These design elements, or lack thereof, dissuaded many buyers. The Corvair received a faux grille in later model years to appease the market.
Ed Cole led efforts to bring the Corvair to market. He even made the cover of Time Magazine, along with the car, just days after it debuted. Though it won Car of the Year for 1960 from Motor Trend, the Corvair became the center of an automotive safety controversy five years later.

Ralph Nader's book Unsafe at any Speed ripped apart the Chevrolet Corvair for its accident prone suspension design. Despite the bad press, Corvair coupes, convertibles, wagons, sedans, trucks and vans continued to roll off assembly lines through the 1969 model year.