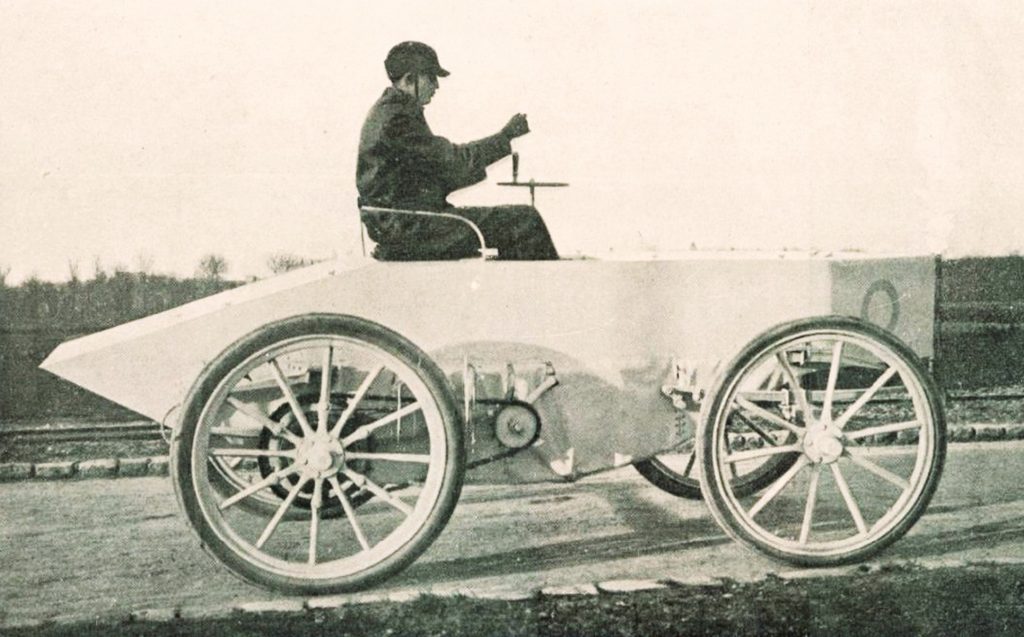 Count Gaston de Chasseloup-Laubat of France set the first official automobile land speed record on this day in 1898 when he completed the flying kilometer in an electric Jeantaud in 57 seconds, an average speed of 63.13 km/h (39 mph). The record was set during a competition in France hosted by a relatively new magazine, La France Automobile. The record would kickoff a fierce speed contest between Chasseloup-Laubat and another car builder and driver, Camille Jenatzy of Belgium.

Between January and March of 1899 the two battled for the highest speed and Chasseloup-Laubat remained victorious. His reign as the speed king would come to an end on April 29, 1899 when Jenatzy crossed the 100 km/h mark in his torpedo-shaped electric car dubbed La Jamais Contente. His run that day earned an average speed of 105 km/h (65 mph), a record that would stand in France for three years.

Chales Jeantaud designed the Jeantaud that Chasseloup-Laubat drove to set the first official land speed record. He had long been a body fabricator for carriages, but starting in 1881 he began building electric vehicles. He would continue to build vehicles in France under the Jeantaud marquee until 1906.
Current Land Speed Record
The current land speed record sits at 763 miles per hour, set by Andy Green in Thrust SSC in 1997. He has hopes of breaking that record, and 1,000 miles per hour, in the all new Bloodhouse LSR, a project that has been in development since 2008. The vehicle aims to produce more than 135,000 brake horsepower using a jet engine and a rocket boost.