If you're unfamiliar with the Tucker story, start here. If you're aware, you probably know that just fifty complete Tuckers left the Chicago assembly plant, plus the original prototype, before operations seized on March 3, 1949. Incredibly, 49 of those 51 cars have survived to date. Of the two that didn't make it, one is accounted for, burned and buried in someone's yard. The only unaccounted Tucker, #1042, supposedly ended up in poor condition along a Tennessee river, only to have a cop tow it to his house. Soon after, the cop got into a motorcycle wreck and ended up in the hospital for quite some time. During his stay, his landlord apparently towed the car off, perhaps to the crusher, but there is no official record. So to this day, #1042 is the only missing Tucker… or have I found it?
I've used Google Earth to find hoards of cars before, usually in my neck of the woods. However, when I caught wind that there was a three-headlighted car sitting in a small town somewhere in California, I knew I had to go for a long scroll. See what I did there? Armed with minimal info, I was able to narrow down the hunt to a rural community in southern California. What appeared to be a junkyard first caught my eye from above. From there, it was time to hit the ground running. I mean, I dropped that little yellow guy on the highway and started poking around in Google Street View.
I wouldn't classify myself as a treasure hunter, but certain missing cars do get my heart rate up. I've definitely thought about jumping in my car and crisscrossing the country in hopes of finding some automotive gold. Finding James Dean's Porsche would be a dream come true, but being on the path to a Tucker 48 has me all sorts of excited. I know I should probably cruise that way, but it isn't close. Alas, gas is expensive and I have a day job, so a little e-tour would have to do. And it did me well.
As I "cruised" down the highway, I came across a hoard of buildings dotted with cars. Seemed promising. Zooming in and out, a pink '59 Cadillac stood out. It headed a line of other vehicles, but the quality of imagery on Google made it hard to discern exactly what else was there. Luckily, someone uploaded a few detailed shots of the location.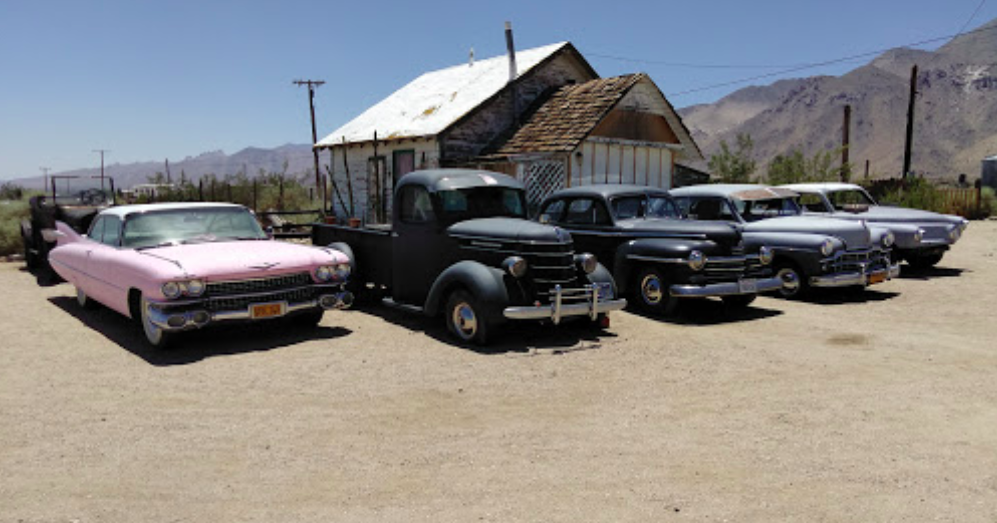 Is it a barn find Tucker if it's next to a barn?
Low and behold, sitting next to an early 1950s Chrysler product, is what appears to be a half-assembled Tucker 48. What a sight! This is obviously how Howard Carter felt when he stepped into King Tut's tomb. OK, probably not quite the same, but you get my drift. However, my work was just beginning. I had to know, could this car sitting in small California town be missing Tucker #1042?
I shared the above images in some online Tucker groups and got varied responses. Ultimately it was determined this is, sadly, not an original car. I learned it is a fascinating replica made of hand formed metal built on a 1950s Chrysler Corp platform. That makes sense given the other cars sitting around the area. A little more Internet sleuthing led me to the owner of the property and I was able to track them down. I reached out for comment about his unique build, but have yet to hear back. In any case, it was a fun hunt. Before you ask, I won't be sharing the exact location of this car, as I find it unlikely the owner would want folks snooping around in real life. What I do know, 1042 could still be out there somewhere!