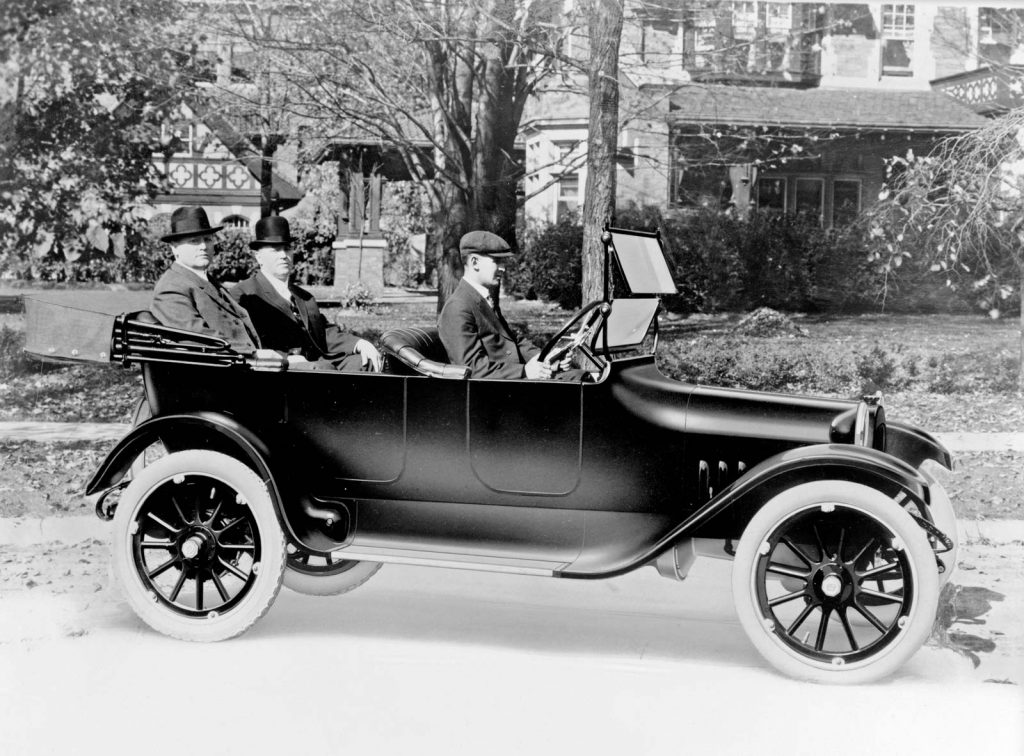 John Francis Dodge, born 1864, and his younger brother Horace were inseparable as children. As the two grew, so too did their bond. After moving to Detroit from southern Michigan, the pair spent their days in various machine shops, boilermaker facilities and at other manufacturing jobs. It soon became apparent that John had a knack for sales, while Horace was a gifted mechanic. After buying their way into a bicycle manufacuturing business, and then selling their shares three years later, the two set up their own machine shop in Detroit in 1900. They had perfectly positioned themselves to capitalize on the budding automobile business.
By 1902 they earned a contract to produce transmissions for the Olds Motor Vehicle Company. The pair received much praise for the quality of their products, and new orders began coming in from many automakers. The very next year they were offered 10 percent of a new car company to produce $10,000 worth of parts. The Dodge brothers accepted and began pumping out engines for the infant Ford Motor Company.
The Dodge Brothers work for Ford
For the next ten years John and Horace produced many Ford components, and John even held a VP role at Ford. The success of the Model T brought massive wealth to the brothers. They used some of their returns to build a new manufacturing facility in Hamtramck, Michigan in 1910. As the money continued to roll in, they dreamed up a new plan: their own car.
In 1913 John left the Ford Motor Company and the next year he and Horace debuted the first Dodge Brothers automobile. It had many unique features for the time, including a 12 volt electrical system, an all steel body and a 35 horsepower engine (the Model T produced 20 at the time). The brothers, who still owned a hefty chunk of Ford stock, eventually accepted a buy out from Ford for nearly $10 million. All in, they earned nearly $35 million off of their original $10,000 investment.
The Dodge Brothers at war
At about the same time that war ravaged Europe during WWI, US military action in Mexico against Pancho Villa also grabbed headlines. In 1916, during an operation in Mexico, Lieutenant George Patton led a group of soldiers in three Dodge Model 30s to conduct the first American motorized military raid. A firefight ensued at a ranch house and Patton's group killed three men. One was identified as Julio Cárdenas, one of Villa's most trusted subordinates.
Dodge would eventually ship nearly 13,000 cars and trucks to Europe to be used in World War I. The growing success of the company made John and Horace some of the wealthiest men in the world. Unfortunately, neither would live to enjoy their riches much longer.
John and Horace both contracted the flu and pneumonia during the 1918 pandemic, causing damage to their lungs. When John again caught pneumonia in 1920, he could not beat it. He died of the disease on this day in 1920. Horace then died of cirrhosis the following December. Some say Horace died out of grief, for he couldn't bear the loss of his brother.
Following the brothers' deaths, Dodge Brothers fell into the hands of their wives. They ultimately sold it in 1925 to an investment group for a record sum of nearly $150 million. The company again changed hands in 1928, this time coming under ownership of Chrysler. To this day Dodge remains in the Chrysler family, which all falls under the Stellantis umbrella.