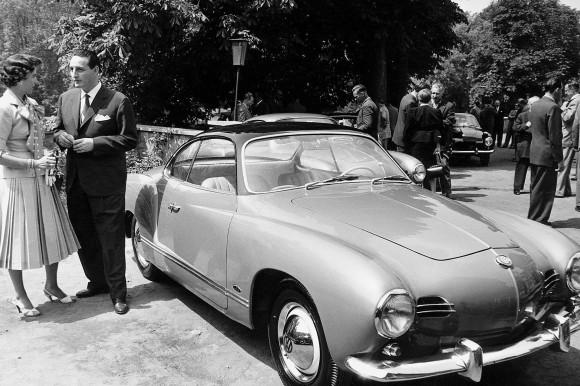 Volkswagen publicly introduced the production version of its new Karmann Ghia on this day in 1955 at the Kasino Hotel in Westphalia, Germany. The KG hit the market as a 2+2 sports car coupe, with a convertible version appearing in 1957. It combined the mechanicals and chassis of the Volkswagen Type 1 Beetle with styling by Italy's Carrozzeria Ghia and hand-built bodywork by German coachbuilding house Karmann.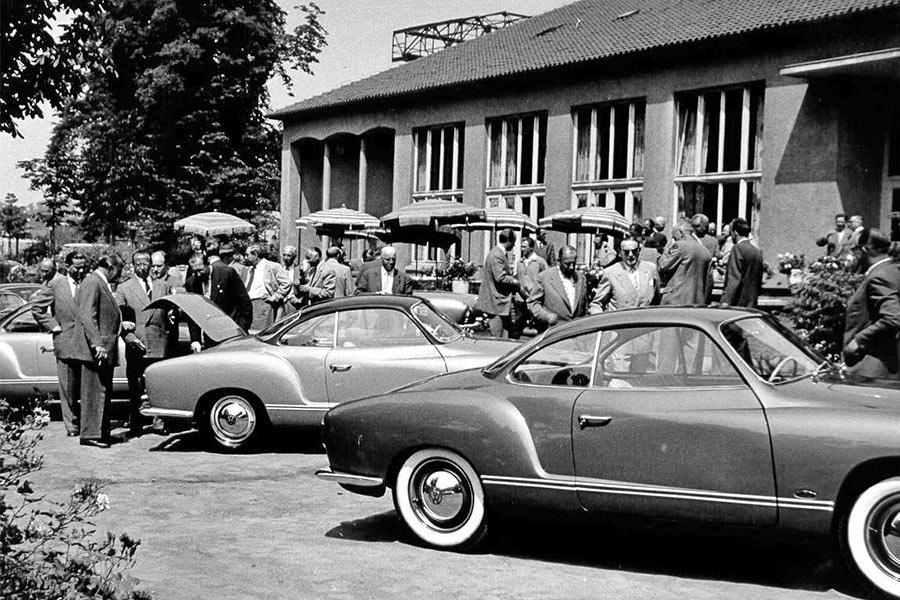 The Type 14 prototype, the KG's internal label, originally debuted at the 1953 Paris Auto Show as a styling experiment. It garnered enough attention that executives moved it toward production. When the final designdebuted at the Kasino Hotel, it received a grand welcoming. (Just look at these photos!) Full scale production began the next month and within one year more than 10,000 Karmann Ghias left dealer lots.
While the Volkswagen Beetle had a machine-welded body with bolt-on fenders, the Karmann Ghia's body panels were butt-welded, hand-shaped, and smoothed with English pewter. This labor-intensive process was more common at high-end automakers. This building method resulted in the Karmann Ghia's high price of $2,395 in 1955, compared to the Beetle which went for just $1,495 the same year.
In 1974, the final year of German production (1975 in South America), the rear seat disappeared on all US destined models. This was because of new laws in the United States that required seat belts. When production finally seized, more than 445,000 Karmann Ghias had left the assembly line. All were virtually identical to each other, aside from minor changes in styling and upgraded engines throughout the years. Support the restoration of the author's Karmann Ghia (below) with a donation here or via PayPal to @automotivehistory