Louise Smith, a pioneering figure in the world of motorsports, shattered gender barriers and blazed a trail for women in a male-dominated arena. As the first woman to be inducted into the prestigious International Motorsports Hall of Fame, her story serves as an inspiration for generations of female racers. From her humble beginnings in rural South Carolina to her groundbreaking achievements on the racetrack, Louise Smith's legacy continues to resonate with fans and aspiring athletes alike.
Early Life of Louise Smith
Louise Smith was born on July 31, 1916, in Barnwell, South Carolina. Growing up in a farming community, she developed a deep love for speed and adventure at a young age. As a child, she was fascinated by cars and would often help her father with mechanical tasks, sparking her interest in all things automotive.
In the late 1940s, Louise attended her first stock car race and was immediately captivated by the adrenaline-filled atmosphere. Undeterred by the male-dominated nature of the sport, she was determined to become a part of it. In 1947, at the age of 31, she entered her first race at the Greenville-Pickens Speedway in South Carolina.
During that debut race, Louise drove her husband's Ford coupe. However, when a fellow competitor noticed her petite frame behind the wheel, he jokingly remarked, "Looks like a woman's work." This comment became her calling card, and Louise embraced the nickname "The First Lady of Racing," a title that would later become a testament to her groundbreaking career.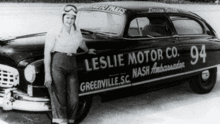 Breaking Barriers and Facing Adversity
As the first woman to compete in NASCAR, Louise Smith faced significant challenges. Many male drivers and fans were skeptical of her abilities and believed that racing was not a suitable pursuit for women. Nevertheless, she persevered, undeterred by the prejudices she encountered along the way.
Louise's tenacity and skill began to earn her respect within the motorsports community. She consistently demonstrated her talent on the track, securing multiple top-five finishes and earning the admiration of her fellow racers.
Louise's presence on the racetrack added a new dimension to NASCAR, drawing attention from fans and media alike. Her glamorous appearance and charming personality earned her the moniker "The Southern Belle of NASCAR," further solidifying her status as a trailblazer for women in motorsports.
Legacy and Hall of Fame Induction
Louise Smith's contributions to motorsports extended beyond her racing career. Her determination to excel in a male-dominated field inspired countless women to pursue their passions and break down barriers in various industries. Her impact on the sport and her role in promoting women's involvement in racing have left a lasting legacy.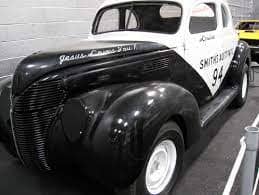 In 1999, the International Motorsports Hall of Fame recognized Louise Smith's remarkable achievements by inducting her into its hallowed halls. This historic milestone marked a pivotal moment in the acknowledgment of women's contributions to motorsports, forever cementing her place in the sport's history. Furthermore, she was the inspiration for the character Louise Nash in the Cars movie franchise.
Louise Smith's journey from a small-town girl with a passion for speed to becoming the first woman inducted into the International Motorsports Hall of Fame is a testament to her courage, determination, and unwavering spirit. Her achievements on the racetrack and her pioneering role in breaking gender barriers have left an indelible mark on the world of motorsports. Louise Smith's legacy continues to inspire generations of female athletes to dream big and defy the odds, proving that passion and perseverance can propel one to greatness.