May of 1973 was a deadly month at Indianapolis Motor Speedway, earning it the nickname Bloody May. It began on this day in 1973 when American race car driver Art Lee Pollard, Jr., died in an accident while running practice laps for the Indianapolis 500.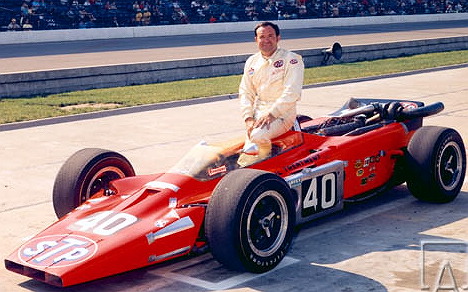 Pollard had clipped a wall, an impact that sent his car skidding into the infield grass. When he hit the green, his car dug into the soil and flipped. It slid upside down for several yards before flipping again and then catching fire. His injuries included pulmonary damage from smoke inhalation, burns to his hands, neck and face, and a broken arm. He was pronounced dead at Methodist Hospital as a result of his injuries.
Just after the green flag flew for the Indianapolis 500, Salt Walther suffered disfiguring burns in a fiery first lap crash. The wreck also left 13 spectators with injuries. A rain delay soon followed that would halt the race for a week, but the blood wasn't washed away.
During the restart of the race, Swede Savage, a driver of a Patrick Racing, died in a wreck. As that accident unfolded, Armando Teran, a mechanic for Patrick Racing, sprinted towards the wreckage. En route, a fire truck struck him in the pits, killing him.
The 1972-1973 racing seasons saw the introduction of higher octane fuel and cars that carried larger gas tanks. The modern racing machines also featured bigger wings and more horsepower, which resulted in qualifying times were upwards of 15 miles per hour faster than the year before. In 1974, new safety precautions went. in place to reduce the chances of accidents like those that caused the three deaths and numerous injuries during Bloody May. This included reducing fuel capacity from 75 gallons to 40. In addition, higher retaining wall mandates raised the barrier between fans and the tracks.