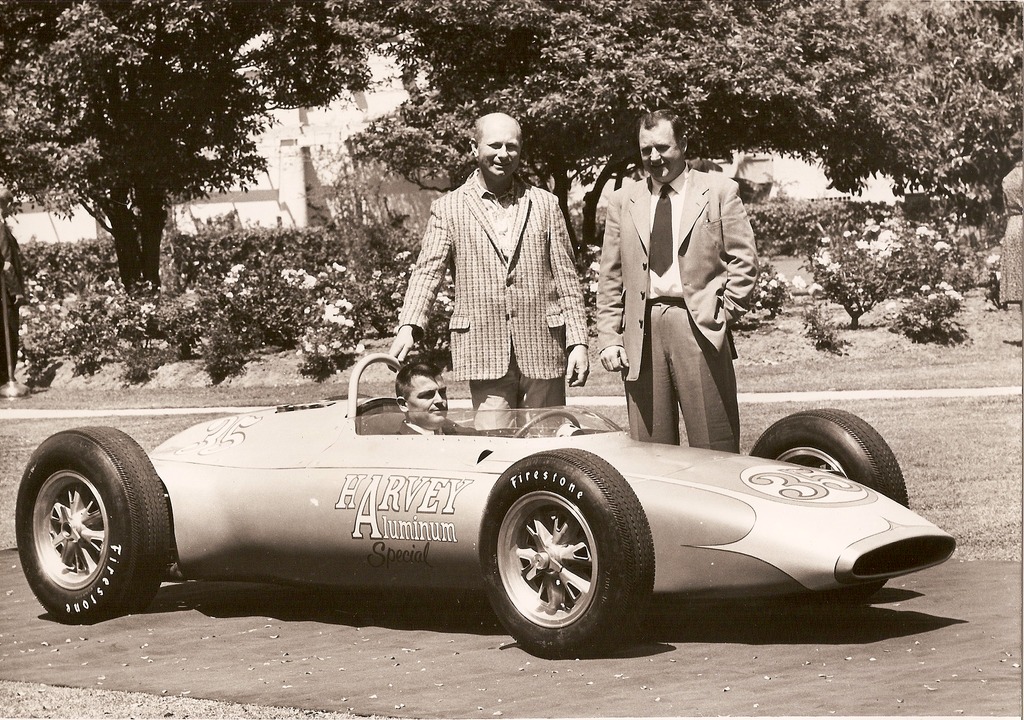 Marion Lee "Mickey" Thompson, born on this day in 1928, set more automotive endurance and speed records during his life than any person before or since. Among those feats: becoming the first American to travel 400 miles per hour on the ground. His journey to 400 mph begins in his native California, where he worked for the Los Angeles Times. During his time as a pressman in his early 20s, a new fad took over the SoCal streets: hot rods. Mickey became infatuated with them and speed.
Mickey was a active participant in the new sport, but not just from behind the steering wheel. He wrenched tirelessly to make his cars unbeatable. Mickey even had an oath to speed, exclaiming, "I hereby solemnly swear, to stand on the gas and leave all others in my dust, undisputed, forever, until the end of time."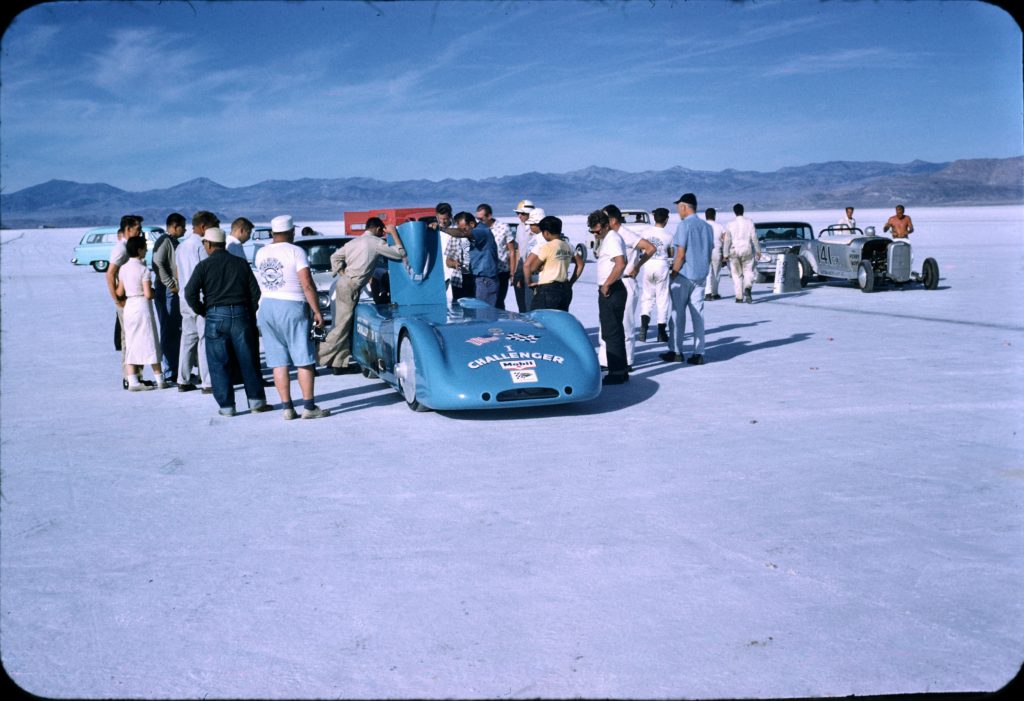 He wasn't kidding. In 1959, at age 31, Thompson debuted his Challenger I, a vehicle that tested the boundaries of automotive innovation. Packed with four Pontiac V8 engines and weighing in at more than 7,000 pounds, this was his ticket to ride. The car zoomed past 200 mph at Bonneville, then 300 mph. Then, during one run his oxygen hose malfunctioned, causing him to pass out at speed. Despite the scare, he set his sights on 400 mph. He just needed a little more horsepower.
Hitting 400 miles per hour
At the time, the one way land speed record stood at close to 403 mph. A British daredevile named John Cobb hit the mark in 1947 at the same salt flats. His car, the Railton Mobil Special, flew across the ground thanks to two W12 aero engines, each driving a different set of wheels. To match such a speed, Mickey equipped each of the Challenger's Pontiac engines with its own supercharger. After some tinkering, his team loaded the rig onto a flatbed and pulled it toward Bonneville behind a Pontiac Station wagon. It's unclear if it was a Bonneville model, but I've got a feeling…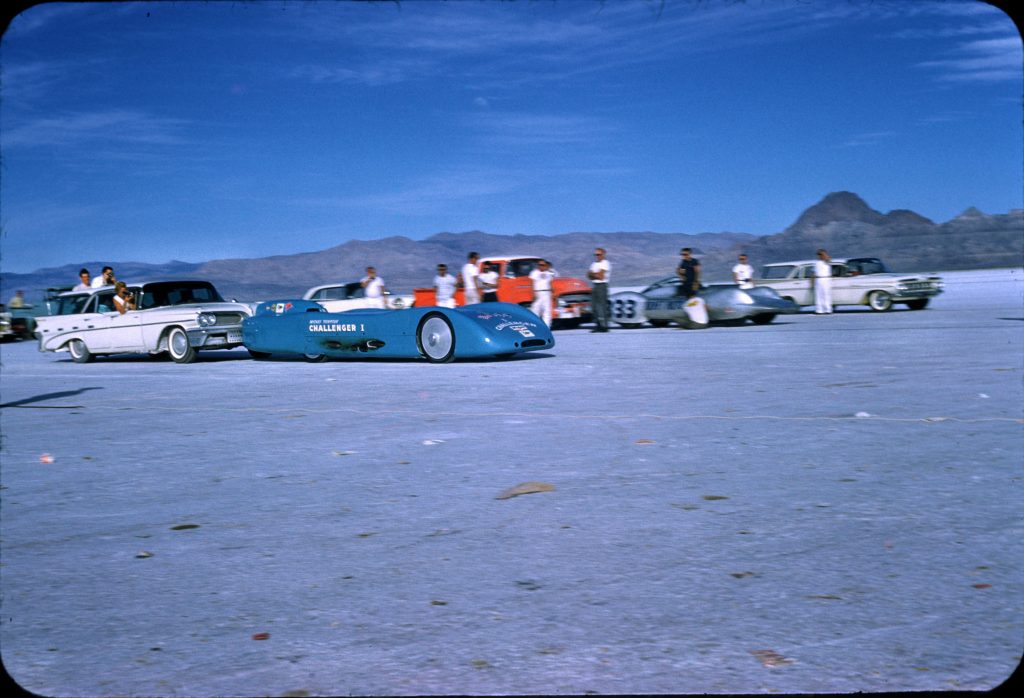 Once every nut, bolt and oxygen hose had been triple checked, the Challenger I roared to life. Mickey raced across the flats, hitting 406.6 mph in a one way pass. He had achieved what no American had done before, travel more than 400 mph without leaving the ground.
The later life and murder of Mickey Thompson
Having hit his mark, the Challenger I retired to a quiet life in storage. Mickey had bigger plans for the racing industry. By 1963 he began Mickey Thompson Performance Tires, which played a primary role in his innovative designs of Indy racers he rolled out throughout the 1960s. By the end of the decade much of his attention turned to the drag strip. Then in the early 1970s he became heavily invested in off road truck and motocross racing. While his business and entertainment ventures continued to grow through the 1970s and 80s, he wouldn't live long enough to fully enjoy the fruit of his own efforts.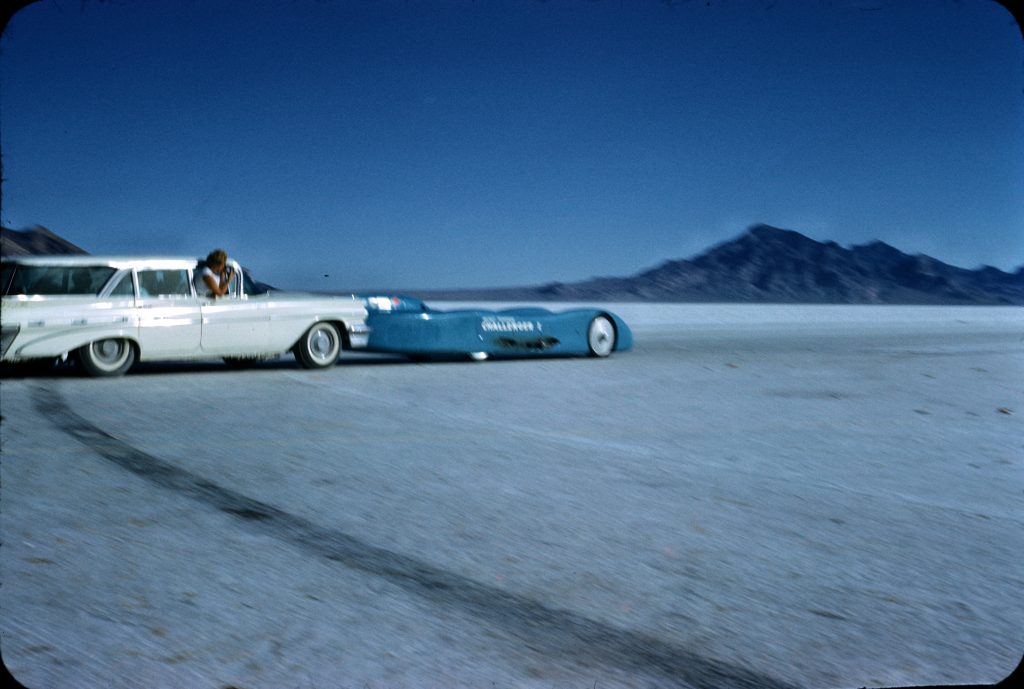 On March 16, 1988 Mickey Thompson and his wife Trudy were executed by two men in the driveway of their Bradbury, California home. Suspicion swirled around his former business partner Michael Frank Goodwin, who eventually left the country on his yacht. A conviction wouldn't come until 2007, when Goodwin received a life sentence for his role in orchestrating the slaying, although the actual gunmen remain at large. Mickey Thompson Tires & Wheels survives today and continues to build record breaking products.