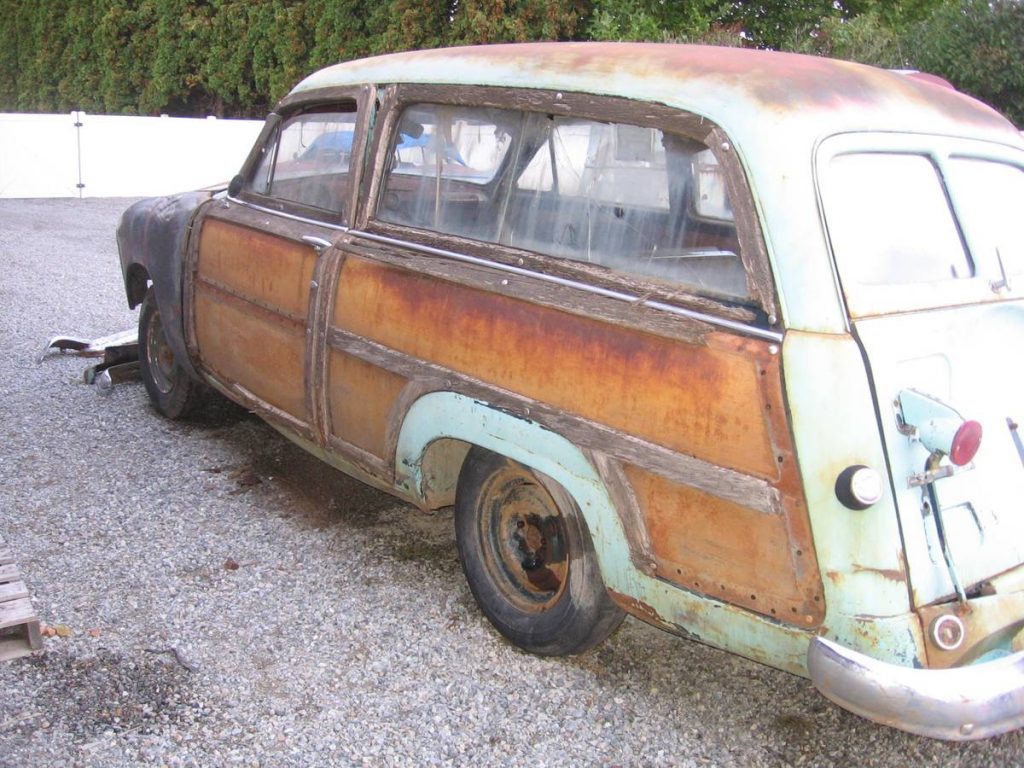 In the early years of Ford Motor Company, Henry Ford believed his car company should be self sustainable. He desired to build cars completely from the ground up. This meant mining ore, operating rubber plantations and growing trees for their wood to build Model T floorboards and other wood body parts. For the latter, Ford purchased some 500 wooded acres in Michigan, which provided a constant supply of lumber. That expansive forest would eventually become the source for complete bodies, birth the Ford woody wagons. Fast forward to 1950 and this Ford Woody Wagon, presumably a Ford Country Squire, rolled off the line. It's one of less than 23,000 built that year, still using real wood from Ford's forest. This example, badly in need of restoration, is found on Craigslist near Spokane, WA for $5,500.
If you're looking for a Ford woody wagon for sale, it's going to be hard to beat the price of this one, but for good reason. Lacking a motor and various other parts, this 1950s project car is likely destined to become a street-rod or other custom, which, is much better than the alternative (the crusher!). Despite it's obvious state of disrepair, this is a vehicle that deserves a second chance. Many parts remain intact, or at least present. Look! I see a steering wheel. Yet, the steering box is missing. Let's be honest, it probably needed to be replaced anyway.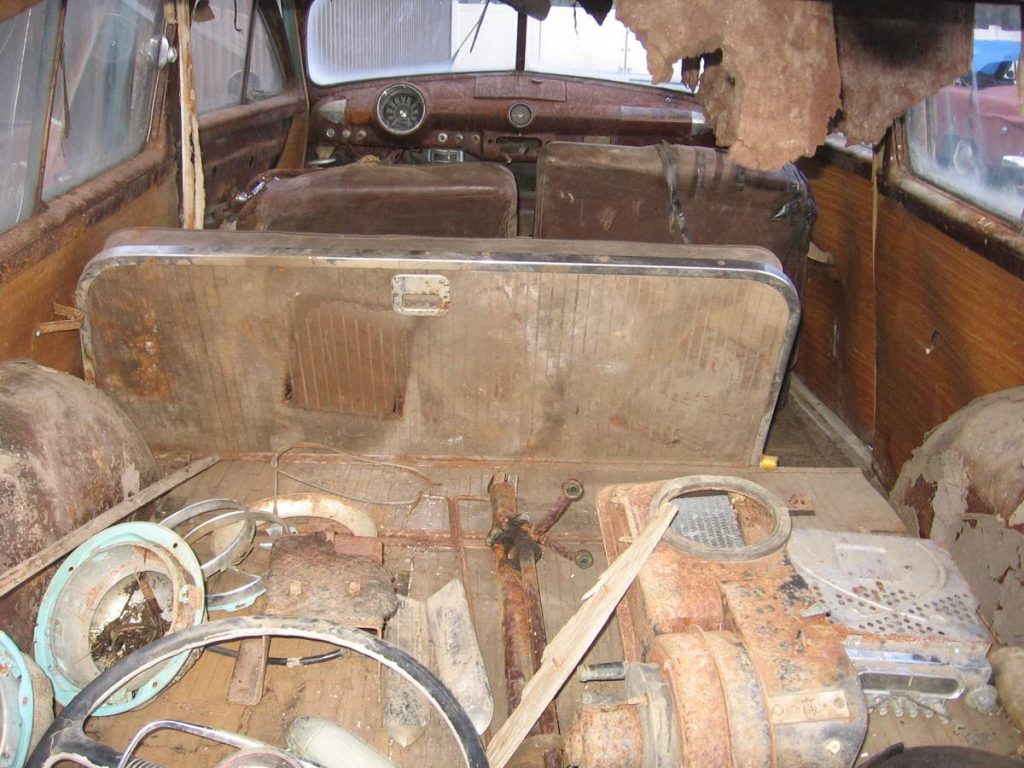 Ford Woody Assembly Process
The first generation Ford Country Squire wagons, built from 1949 to 1951 went through a major assembly process. The steel body first came to be at Dearborn before being shipped t the Ford Iron Mountain plant in the Upper Peninsula of Michigan. Here, the genuine wood body panels, produced from the local forest owned by Ford, would be installed. Then the body would be shipped to another Ford plant for final assembly, which included mounting the frames and adding the engine and drivetrain. As mentioned, this example is engine-free. When new it would have come with a 226 cubic inch straight six or a 239 Flathead V8. A three speed manual transmission would link the motor to the wheels.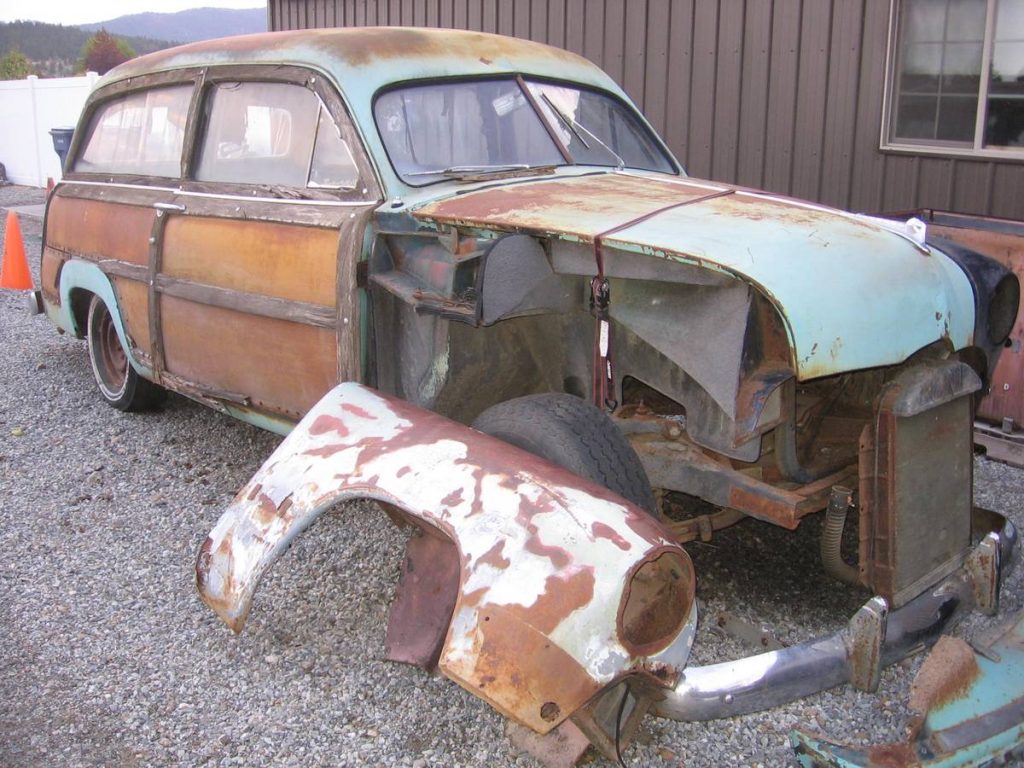 1950 Ford Woody Exterior & Interior
The outside of this old Ford shows promise, and by promise I mean there's a lot of work to do. While disassembled, it seems most of the body panels are there, including the all important wood ones. They'll surely need refinishing, if not replacement. The steel components haven't fared well either. Dings, dents and rust litter the vehicle.
The inside isn't much better. Actually, it's probably worse. Many parts seem to have disappeared and rust has settled all over. Luckily, despite its rarity, there are quite a few sources for parts for these cars, given the massive amount of post war Fords built. The wood door cards may be a bit tougher to locate, though there are several options on eBay. Do they actually fit? That's up to the buyer to find out.
If you're on the hunt for a very hands-on Craigslist project car, this Ford woody wagon should pique your interest. With restored and hot rod examples easily pushing $100,000, there's plenty of room to work with given the low asking price. Of course, it all depends on your personal skill set. That said, this is a car that can be enjoyed regardless of investment opportunities. "Woodn't" you smile if you could take the wheel of this thing?