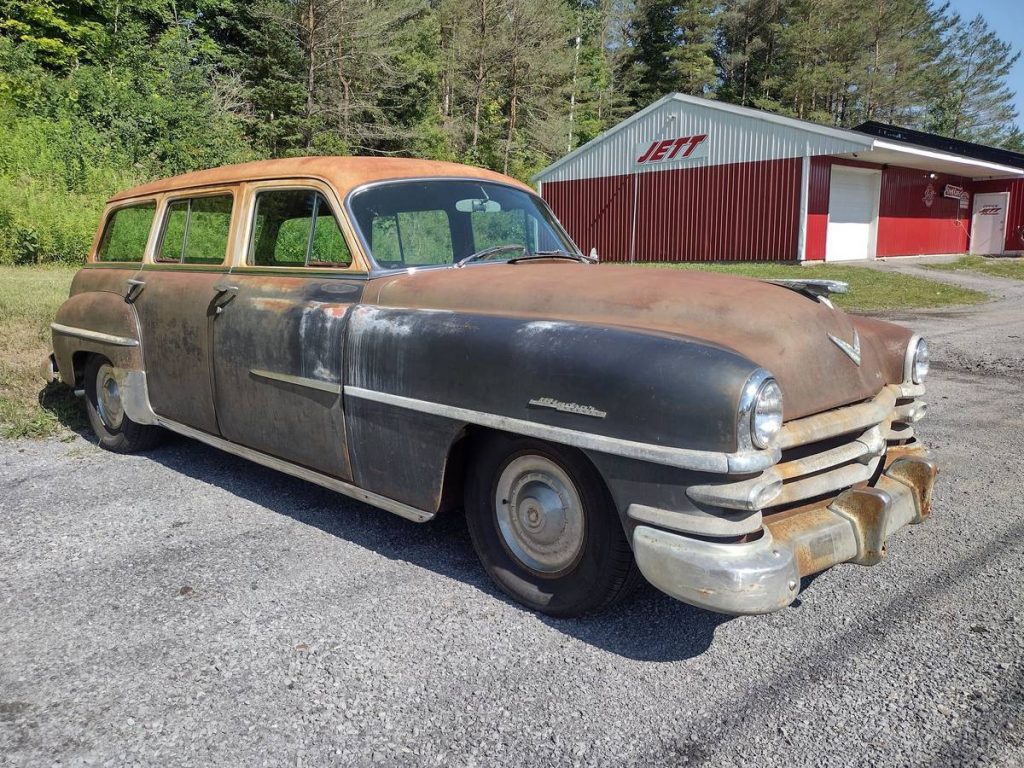 First introduced as a station wagon in 1941, the Town & Country nameplate from Chrysler has become a sought after badge in the collector world. In it's earliest renditions, the T&C featured wood paneling and luxurious interiors available with seating for either six or nine. Following WWII, the badge could be found on other bodies as well, including woodie sedans and convertibles. Starting in 1951, Town & Country chrome once again found its way onto wagons only. This 1953 Chrysler Town & Country hails from that era and is for sale on Craigslist near Syracuse. It can be yours for $9,995. Did we mention it has a hemi?
First generation Hemi V8
Chrysler introduced its first production V8, a 331 cubic inch model, in 1951 in the Town & Country. While marketed as the FirePower, unofficially it became known as the Hemi V8 thanks to its hemispherical combustion chambers and piston tops. This example is ready to power this wagon down the road. According to the seller the vehicle has been converted to a 12 volt electrical system (opposed to the original 6V) ad has a new alternator and MSD distributor. Connected to the Hemi is a Fluid-Matic automatic transmission.
It's sitting on new tires and the brakes have been overhauled, ensuring you can bring this 4,000 pound behemoth to a halt. The seller claims this car is ready to go, despite looking like it just rolled out of the junkyard. To be honest, I'm OK with that. Preservation is a great way to go cruise a classic without spending thousands on paint and bodywork.
Town & Country interior & exterior
Classic Chrysler, Dodge, Plymouth and DeSoto vehicles of the early 1950s shared similar aesthetics. However the excessive chrome on Chrysler products indicated they were top of the line. It seems all the pieces of brightwork are present, including the rear fender protectors which are often the first to go. While complete, it's no secret the car is sporting an ancient paint job and a bit of surface rust. Whether you want to perform a restoration or not is up to you, but this could be a great as-is cruiser.
The same can be said about the inside of the 1950s Chrysler Town & Country. It all appears to be there, but could use a refresh if that's what your into. That 60/40 folding rear seat sure looks comfy. Even the wood that makes up the rear storage area seems to be in great shape. Ah, the days before everything had to be wrapped in carpeting. Sure, there's a few blemishes here and there, but nothing that will prevent the new owner from enjoying this classic Mopar.
Yes, ten grand is a fair amount to spend on any Craigslist project car, but this could be a great daily driver classic car for the right buyer. Of course, in the eyes of some, this old beauty deserves a full restoration. I'm certainly not against that, especially given this is a great starting point. What would you do with this classic station wagon for sale if you brought it home?