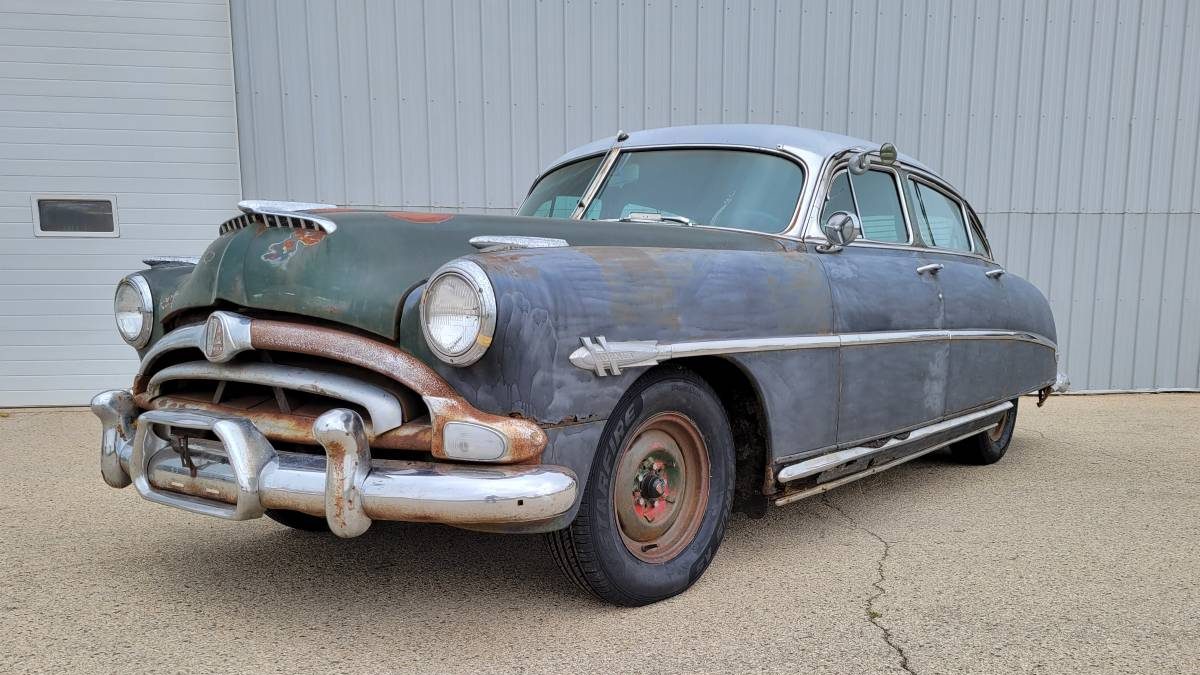 In October of 1951 Hudson introduced an all new car that would become an instant hit on the young NASCAR circuit. The Hudson Hornet, powered by a beastly inline six, would dominate the track and many credit its success with the birth of the saying, "Win on Sunday, sell on Monday." Well, it may be Friday when this post goes up, but this 1953 Hudson Hornet for sale is still selling. This four-door model presents well in its original form, but is ready for restoration (and then racing!). Although it's not currently running, what's impressive about this family race car is its price. This Craigslist classic car is currently listed for just $4,500 just northwest of Milwaukee. Find the link below. Is it worth it? Yeah. Oh, yeah.
1953 Hudson Hornet Exterior
First impression: stance! Thanks to its highly engineered step down chassis design, it is able to sit lower to the ground without sacrificing driveability or comfort. As we work our way around this barn find Hudson Hornet, it's easy to point out flaw after flaw. But in the eyes of many, especially in today's coveted all originals market, we just call that patina. It's the type of look you only get once from a car. The appearance of this one is prime for preservation. That's not to say it doesn't have its fair share of rust, but it appears relatively straight otherwise. If you can put a stop to the cancer and call in the clear-coaters, you could have an excellent cruiser on your hands. You know, once you go through the driveline.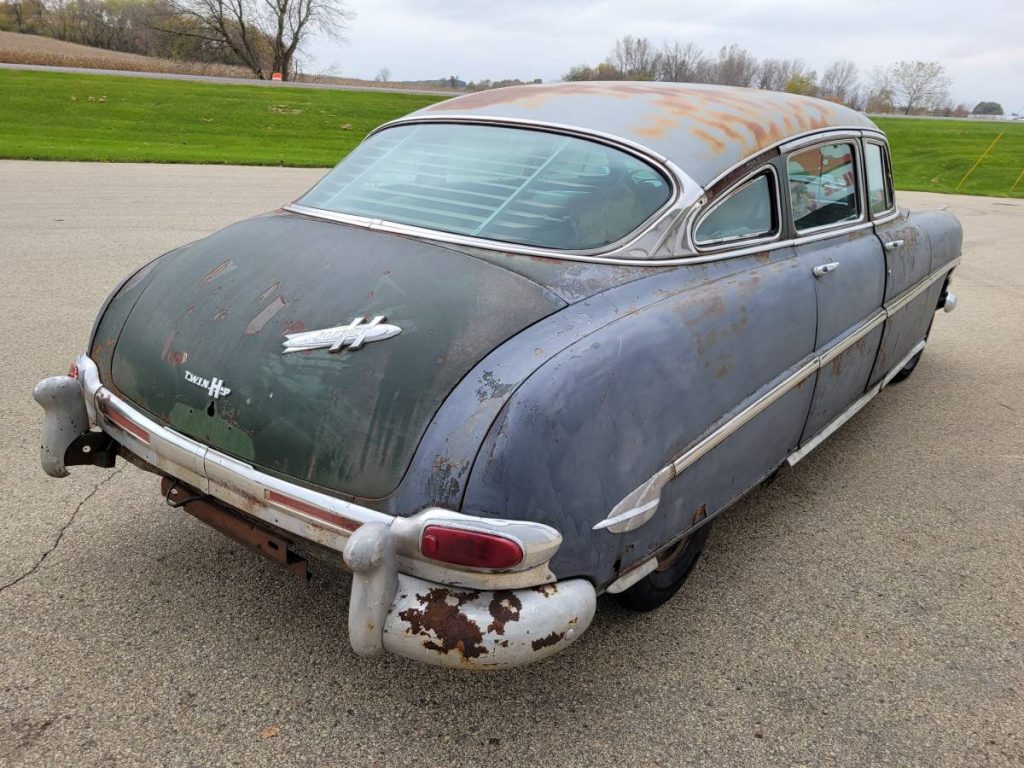 This Hudson is rolling on brand new tires, a major plus for a project car at this price point. There are several accessories included that aren't currently on the vehicle. Adding the Hudson sun visor and fog lights are going to add to the beastly presence of this car. It also comes with a pair of fender skirts, but to be honest, I am not sure how they work. The rear tires seem to sit tucked under the rear fender already, so perhaps I am missing something. Can someone fill me in on this in the comments?
Interior Analysis
Talk about options! This Hudson Hornet project left the dealer quite well equipped, but these days it's looking pretty tired. The Hudson upholstery is certainly going to need to be addressed, from the ripped seats to the worn door cards and carpets, but it appears relatively complete otherwise. It still contains a push button radio, split-back bench seat and weather control heater system. Don't miss the blinds on the rear window. The dashboard is also adorned by a clock, which seems to be easily confused for the speedometer that has a similar appearance.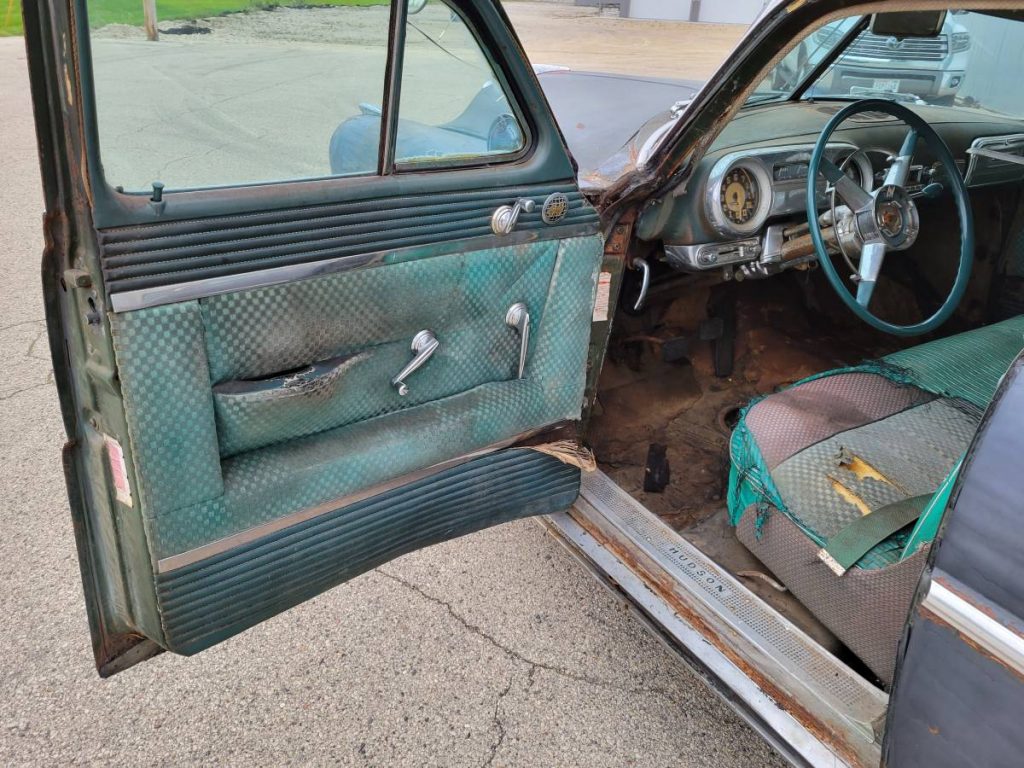 If originality is the name of the game, this is a great starting place for restoration or preservation. While I'm a cheerleader for keeping things facotry when possible, I wouldn't be surprised to see someone turn this into a led sled or other hot rod of sorts. It does need a lot of work, but only time will tell what happens to this 1950s classic.
Hudson Hornet engine
What's under the hood is why we're all here, isn't it? Hudson made a splash on the NASCAR track with the introduction of the Hornet in 1951 thanks to its powerful inline six. The engine remained 308 cubic inches through 1954, with the base model making 145 horsepower. However, this car is claimed to be equipped with the 210 horsepower 7X Hudson racing engine that features Twin H-Power carburetors and barrel-style air filters. The 7X Hudson Hornet engine was developed by NASCAR great Marshall Teague and Hudson engineer Vince Piggins, all to ensure first place finishes.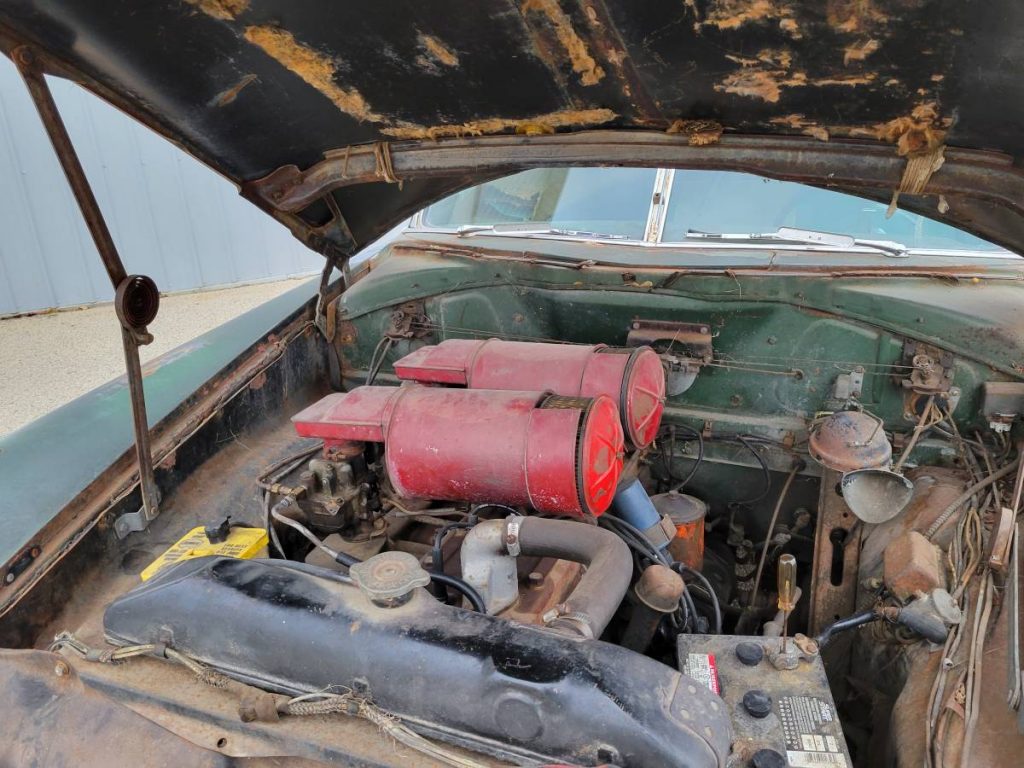 This engine has a larger bore and valves, a high compression head, a performance cam and dual exhausts. In this car, a 3-speed manual transmission with overdrive puts power to the wheels. The engineering did its job, pushing Hudson to 27 NASCAR Grand National wins in 1952, 22 wins in 1953 and 17 checkered flags out of 37 races in 1954. This Hudson Hornet for sale will be ready to win after a bit of work. What you win, car show trophies or races, is up to you.
Hudson Hornet for sale
If you're in the market for a Hudson Hornet project car, this is definitely one to take a closer look at. At $4,500, it's hard to go wrong. No doubt you've got quite a bit of work ahead of you. And if you're thinking, "But it has four doors!" don't forget about your friends. Everyone is going to want to be rolling with you in the awesome cheap classic car for sale on Craigslist. Whether you choose to build a NASCAR replica, Doc Hudson replica, a Hudson hot rod or do a full restoration, this car deserves to be back on the road. Can you give this Hudson Hornet for sale the help it needs?