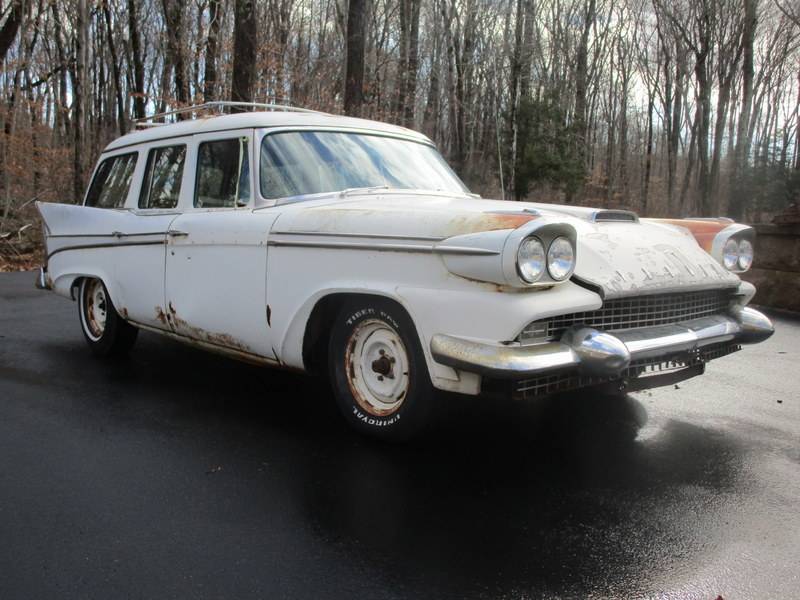 Oh, Packard, what may have been? One can only imagine all of the faux wood trim and bulbous curves that has been missed out on since Packard's demise. Giving us a final glimpse of hope from the once great marque is this 1958 Packard Station Wagon. Being just one of 1-of-159 made in Packard's final year of production, the company didn't even bother coming up with a unique model name. Though rare, this formerly glamorous automobile may look familiar. After about a quarter century in storage, it came out of the collection of Ron Hackenberger, better known for his Studebakers. He sent it under the gavel, along with about 600 of his other vehicles, in 2018, selling it for $5,500. It's been floating around the web ever since in what seems to be a never ending cycle of for-salery. Currently you can find it on Craigslist in Connecticut for $5,000. Believe it or not, that's about half of the buy-it-now price the original auction winner supposedly listed it on eBay for. Perhaps it was worth the wait after all? Was anyone waiting? No? Well, let's take a closer look anyway.
If you bought this new at the dealer, it would have had a sticker of $3,384, which is about $750 more than a Chevy wagon the same year. That may not seem like much, but it's about $10,000 in today's money. Remember though, Packard made luxury land yachts, not cars. Although none of the other high end American automakers produced wagons that year, or era really, someone at the dying Packard brand thought it a good idea. Was it? I mean, I like wagons, so yes. But really, no. However, in 1958, the only word to properly describe Packard would be helpless. In reality, the cars were just Studebakers with different badges. But wait! This ain't your average badge-engineered variant. Have you not noticed the headlight bezels? The additional fins? What's going on here!?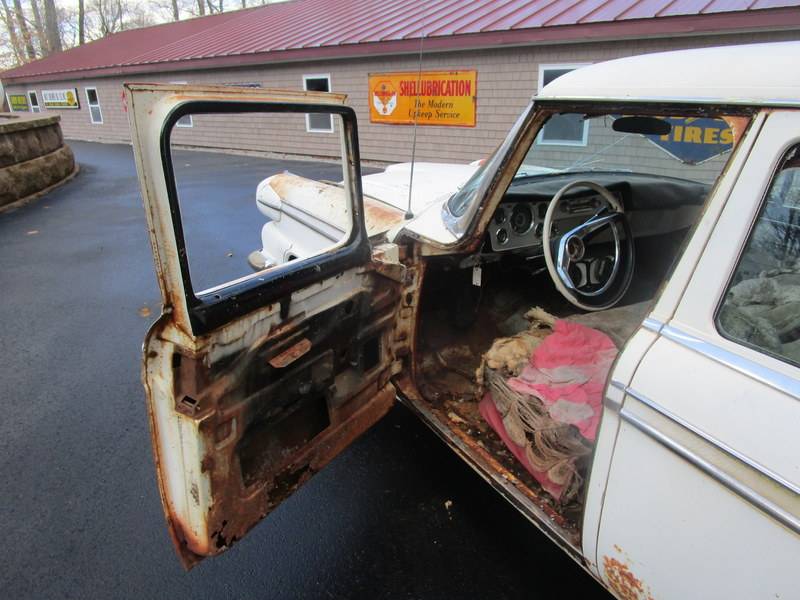 1958 Packard Wagon Condition
If you noticed something didn't look quite right, you're correct. In 1958 Packard used a few factory add-ons to try and dress up its underlying Studebaker skin. This resulted in the addition of a fiberglass hood, fiberglass front fascia and fiberglass fins. Those headlight bezels are metal, though, if that counts for anything. This so called beautification certainly illustrates just how dire the situation for Packard was at the time. But hey, it doesn't look half bad, but that does imply it isn't half good either. As for the rest of the body, what you see is what you get. There is rust all over, but the current seller claims the floors and the frame are solid.
The interior of this 1950s station wagon looks brand new. Just kidding. It appears one of those East Coast sharknados ripped this thing apart from the inside. Besides some dash components and the steering wheel, the rest appears worthless, so hopefully you know how to sew. Let me know if you want to borrow my classic singer sewing machine. Despite the poor interior condition, this wagon has some cool features, though what's factory and what's not isn't clear. It's equipped with AC, has a seat warmer and your arms and legs will be happy to hear about its power brakes and steering. The best news about this car? It runs!
1958 Packard Wagon Mechanicals
Under the fiberglass hood we find a running 289 Studebaker V8 topped with a four barrel carb. That's good enough for about 225 horsepower, assuming everything is tight, which, well… is it? Putting power to the wheels is a 3 speed Flight-O-Matic automatic transmission. Now, the seller says this car runs and drives, but they don't recommend the latter. Before jumping behind the wheel, you'll need a few important things, like brakes and exhaust. And a seat, probably. A bucket may do for now.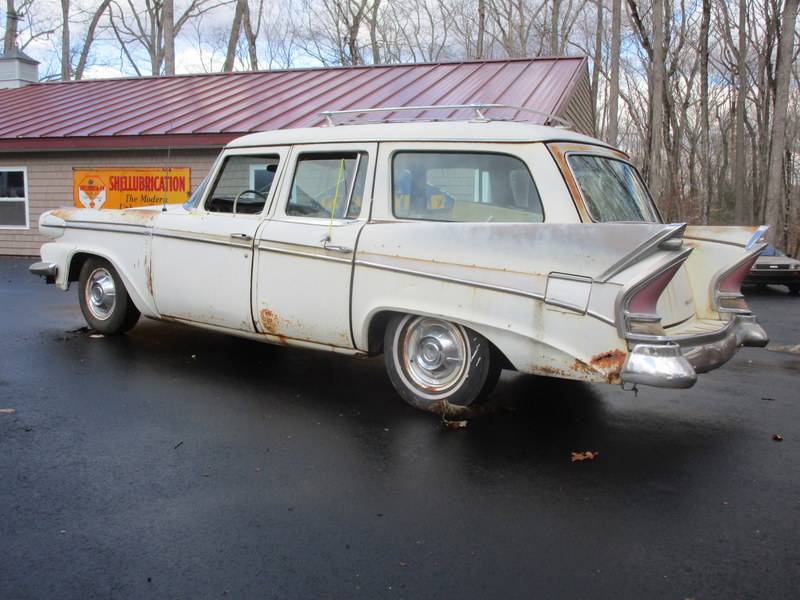 No doubt this car needs full restoration and it'll likely be nothing but a labor of love. However, should you take on this challenge, you'll have an amazing piece of automotive history on your hands when complete. In fact, it already is historic, being a last year Packard and an even rarer wagon. Heck, if you buy this wagon you might even become Internet famous. It's been featured on VanDerBrink Auctions, Bring A Trailer, eBay, Curbside Classics and now This Day in Automotive History! This may be the most famous Packard ever. OK, probably not, that title may belong to Old Pacific. But it's still cool! But is it cool enough to drop $5,000 on? You know, plus tens of thousands of dollars more to get this 1950s station wagon for sale back on the road.