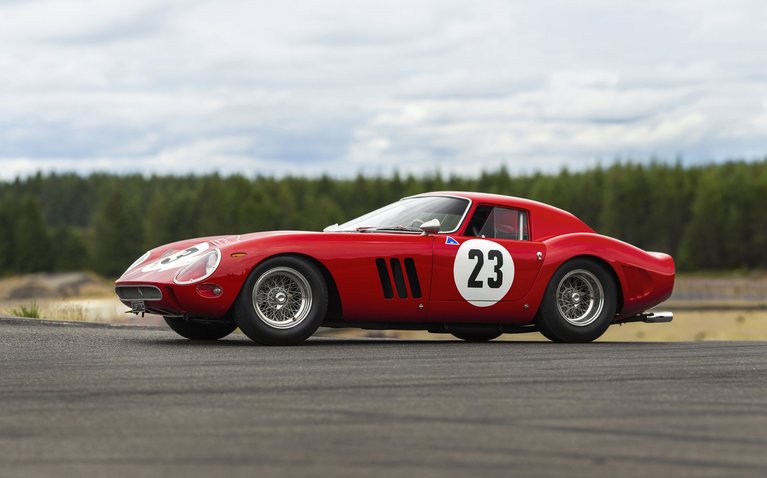 Monterey Car Week is host to a stream of automotive events that leave enthusiasts drooling every year. It's a week of shows, cruises and auctions that are capped off by the historic Pebble Beach Concours d'Elegance. With many of the week's activities geared toward the uber wealthy, it's no surprise that the shows and auctions attract the most prestigious automobiles to ever caress the pavement. It was on this day in 2018 that five-time Le Mans winner Derek Bell drove a 1962 Ferrari 250 GTO, chassis no. 3413 GT, up onto the block at RM Sotheby's Monterey auction. The applause from the crowd turned to sharp gasps when the auctioneer opened bidding at $35 million.
For nearly 20 years this 1962 Ferrari had been in the private collection of former Microsoft software lead and vintage racer Dr. Gregory Whitten. Often cited as the "holy grail" of the collector car world, this Ferrari comes with a decorated history. Chassis number 3413 GT was just the third of 36 of this model built by Ferrari. It had the privilege of being driven by, or rather, Phil Hill had the privilege of driving it in the 1962 Targa Florio. In the following years its steering wheel would also been grasped by the likes of Gianni Bulgari and Edoardo Lualdi-Gabardi, among other famed racers.
After acquiring the car in 2000, Whitten himself continued to race it. Over the decades the car has cruised courses around the world, all while retaining its original engine, gearbox and drivetrain. Having never been wrecked, 95 percent of its bodywork appears exactly as it did when it left Ferrari's Modena, Italy factory.
The originality, provenance and racing career of the Ferrari is undoubtedly impressive to any automotive enthusiast, and many people who are not. Of course, this car was far out of reach for most of the folks who enjoy a nice Sunday drive or a trip down the track. There were however, at few people willing to duke it out for this historic automobile.
It came down to three bidders vying for the car via telephone. As bids jumped in million dollar increments, the audience of car lovers and cocktail cruisers clapped and awed. After nearly 10 minutes of bidding the gavel finally fell at $44 million. Even without the sales premiums, which bring the final price to $48,405,00, this car smashed the previous world record. That record, oh, it was held by a different 1962 Ferrari 250 GTO.