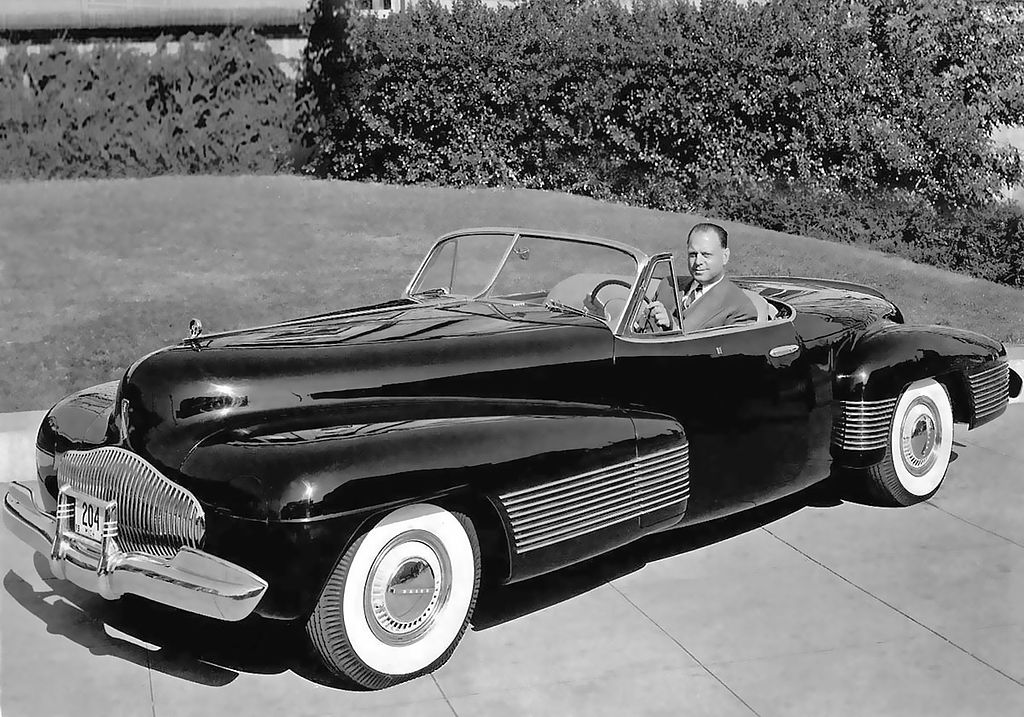 Automotive designer and executive Harley J. Earl, often referred to as the "Father of the Corvette," passed away on this day in 1969 at the age of 75. Earl began his automotive career when he dropped out of Stanford to join his father's coachbuilding business, Harley Automotive Works. There he learned the art of crafting custom car bodies, many of which were going to Hollywood's biggest stars at the time, including Tom Mix. After Cadillac dealer Don Lee purchased the business, he named Earl director of the custom body shop. Cadillac General Manager Lawrence P. Fisher would pass through the shop and witness Earl's talent.
While on a national tour of dealerships, Fisher observed Earl at work. He noticed how he used innovative design methods for sculpting his bodies, such as using clay to define lines. Fisher, impressed with what he saw, commissioned Earl to design a body for the 1927 LaSalle, Cadillac's brand new companion brand. Earl accepted the task. When it finally rolled onto showrooms it sold in great numbers. Its success landed Earl as the director of GM's new Art and Color Section.
Harley Earl's Car Contributions
In 1937 the Art and Color Section was renamed the Styling Section. GM President Alfred Stone soon promoted Harley Earl to VP, making him the first styling person to ever make VP at a large automotive corporation. In his career, Earl would introduce many iconic vehicles, including the Buick Y-Job in 1939, recognized as the first concept car. He would also assist with Allied camouflage research during WWII and authorized Frank Hershey's 1948 Cadillac design, which would usher the tailfin era. Perhaps his most lasting contribution was starting Project Opel, which would become the Chevrolet Corvette.
Earl retired as a VP in 1958 at 65 years old, then a mandated retirement age. His influence on the automotive industry lasted well beyond that. His own motto of making American cars long and low remained in practice among most major automakers through the 1970s. Earl passed away in 1969 following a stroke. In 1986 the Automotive Hall of Fame inducted him and the Detroit Free Press named him the third most influential Michigan artist of the 20th century, behind Aretha Franklin and Stevie Wonder.