Here's a quick look at 5 classic convertibles for sale throughout the US! Each one is linked to their original ad.
1964 Ford Falcon Futura – $9,800
This 1964 Ford Falcon Futura convertible for sale on Craigslist near Bakersfield, CA appears to be a permanent convertible, citing the large whole in its roof. The seller doesn't say much about the car, but it is equipped with a running V8 and an automatic transmission. Being a California car, it's likely rust won't be much of an issue!
1969 Austin Healey Sprite – $6,000
Here's a fun little car that you can hop in and cruise right away without breaking the bank. If you're near Manhattan, Kansas – yes Kansas – you can find this car on Craigslist where the seller describes it as needing a little love. It needs a bit of cosmetic work inside and out, but there's plenty of parts available for these imports.
1959 Ford Skyliner – $9,500
If you liked the video of that Ford Skyliner's hardtop going down that we posted yesterday, then this car might be for you! The seller says it does run, but needs plenty of work, hence it being on a trailer. This collectible convertible would make a great cruiser with a little bit of work! It's located on Craigslist near Monterey, CA where all those fancy cars once a year.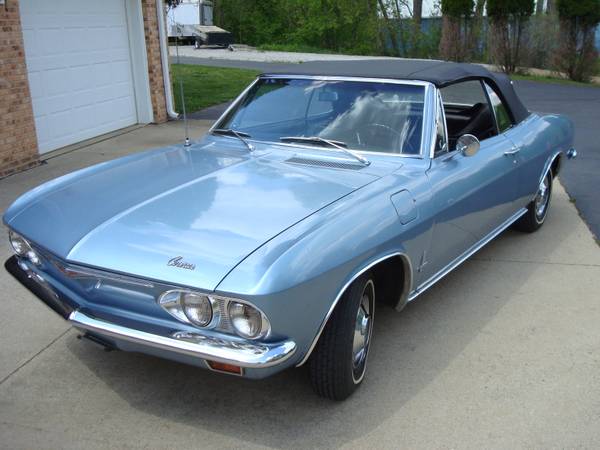 1965 Chevrolet Corvair Convertible – $9,950
Unsafe at any Speed, anyone? We won't get into that, but we would get into this Corvair, located on Craigslist in Western Illinois. The seller is pretty thin on their description, only letting us know it has a "sound body," and also runs well and is equipped with an automatic transmission. The photos make this thing look pretty good! If you're a fan of air cooled engines or just oddballs, go make a deal!
1972 Cadillac Eldorado convertible – $6,500
Let's just put it like this, nobody will NOT see you coming when you're driving this beast. Mechanically sound and just in need of assembly and paint, you can hit the cruise routes immediately. With prices climbing on these luxury land yachts, this is a quality investment if you can make the trek to Tacoma, WA to pick it up!
Which of these classic convertible projects gets you most excited? Sure, some need a bit more work than others, but they've all got their ups and downs. For this author, I think I'd go with the Caddy. I've never had something of that nature and it sure seems like a good time!