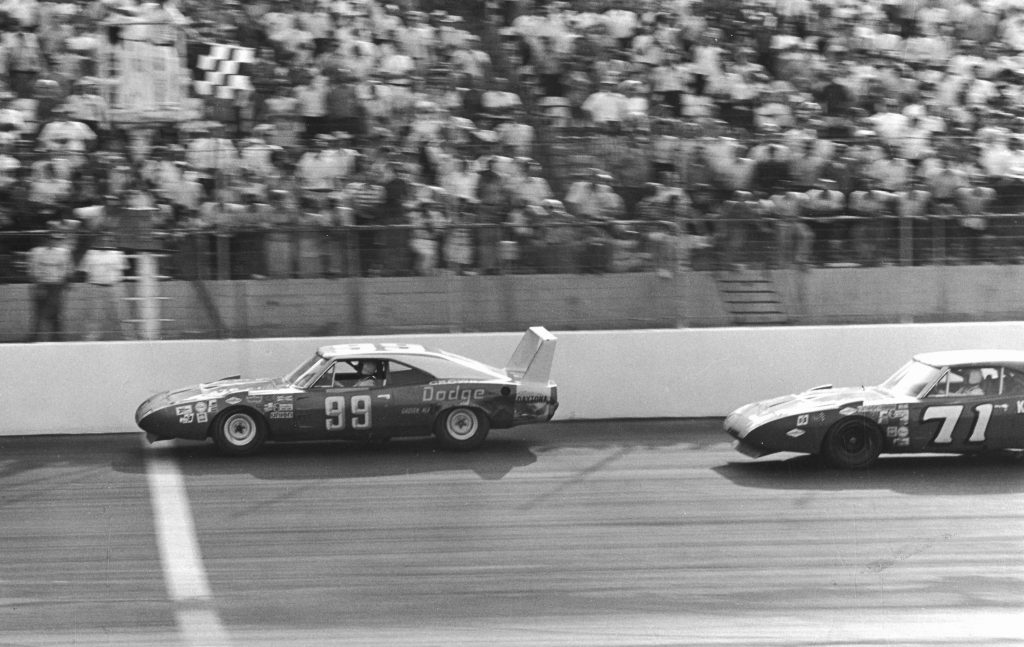 On this day in 1969 the green flag flew at the inaugural Talladega 500, despite many of NASCAR's biggest names skipping the race. Richard Petty, David Pearson, Cale Yarborough, Wendell Scott, Buddy Baker and other members of the Professional Driver Association boycotted the event, due to concerns about tire safety. During Grand National practice at the new track, which held its first auto race just the day before, multiple drivers experienced blowouts. Many believed the cause of the trouble was the track being too fast, resulting in increased tire wear. To ensure the show went on, NASCAR founder Bill France enticed enough drivers from the previous day's Grand Touring event to race the 500 too. Amid the controversy, a brand new car hit the track for the first time, the 1969 Dodge Charger Daytona.
Dodge designed the car to do one thing, win NASCAR races. On the heels of failure with the limited edition Dodge Charger 500, and losing Richard Petty to Ford, the car needed to be an instant hit. It didn't fail to wow. Premiering at the Talladega 500, Richard Brickhouse drove his Daytona to victory. While more controversy followed the race, with the second place winner claiming they had lapped Brickhouse, the Daytona ultimately retained the victory and a legend had been born.
1969 Dodge Daytona Specs
The Daytona, a modified Charger, features a 23 inch tall stabilizer wing, a sheet metal nose cone, window caps and other body modifications to make it more aerodynamic. Per specifications of NASCAR, 500 units had to be built for the car to compete in NASCAR in 1969. A total of 503 Daytonas ended up on dealership lots, giving the car the green light to race for the checkers. Of those 503, only 70 had a 426 Hemi V8 stuffed under the hood.
The 1969 Dodge Charger Daytona fared well on the track, winning twice in 1969. The car enticed Richard Petty enough to draw him back under the Chrysler umbrella the next year to race a Plymouth Superbird, the younger sibling of the Daytona. In 1970, Daytonas won four more races, while Superbirds earned eight wins that year. Also during that season, Buddy Baker broke the 200 mph mark at Talladega in a Daytona, becoming the first driver to do so in the series. By the end of 1970, NASCAR instituted a ban on aero cars with engines bigger than 300 cubic inches, closing the book on the Winged Warriors