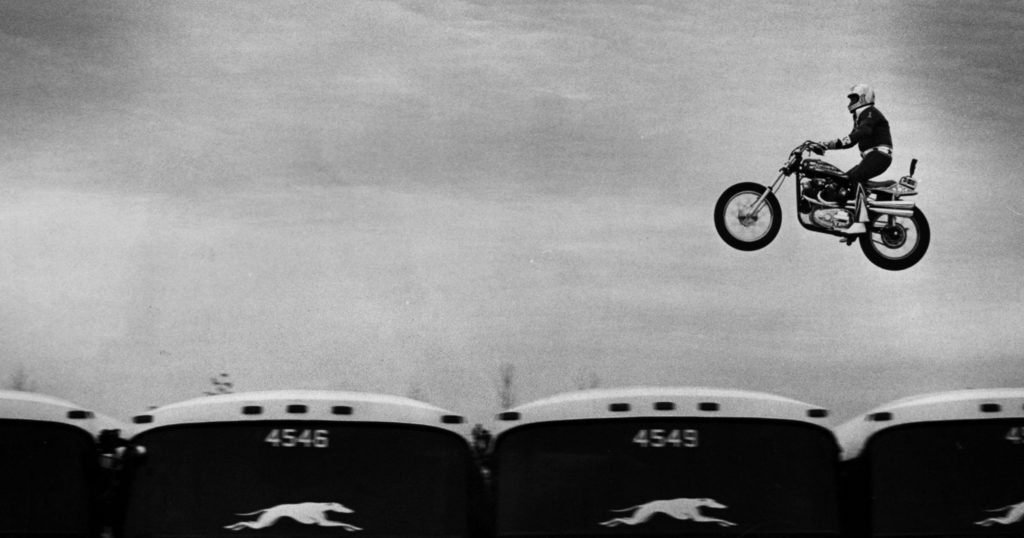 American stuntman Evel Knievel, born Robert Craig Knievel, completed his longest motorcycle jump on this day in 1975, clearing 133 feet over 14 Greyhound buses. The jump occurred at Kings Island, near Cincinnati, Ohio. Throughout his career as a daredevil, Evel Knievel jumped a Harley Davidson motorcycle more than 75 times, flying through the air ramp-to ramp. His profession led to at least 433 bone fractures, earning him a Guinness World Record for most bones broken in a lifetime.

Evel came out of retirement to make the Kings Island jump, which ABC broadcast on its show "Wide World of Sports." Evel Knievel's jump set the world record for jumping the most buses on a Harley Davidson. Bubba Blackwell beat the record just five months later when he aired over 15 Greyhounds. It should be noted that Knievel's famous Caesar's Palace jump was longer in distance, but it ended in a crash, so it could not be counted as his longest jump. Following the Kings Island jump, Evel again announced his retirement.

Evel Knievel comes out of retirement (again)
His second retirement did not last long either. However, all of his future jumps seemed small compared to his previous feats. For example, on October 31, 1976 he jumped 7 buses in Seattle at the Kingdome. While the crowd roared with excitement, he did not feel the same thrill. Believing he let the crowd down, he issues everyone in attendance an apology for the small jump. Evel passed away in 2007 due to pulmonary complications.

Evel's son, Robbie Knievel, carried on the family businesses. While he preferred to use a Honda motocross bike, unlike his father who jumped a much heavier Harley, Robbie did have a relatively successful stunt career. In 1989, paying homage to his father, Robbie attempted to jump the fountains at Caesar's Palace in Las Vegas. Unlike his dad, he made the jump. After landing he proclaimed, "That was for you, Dad."