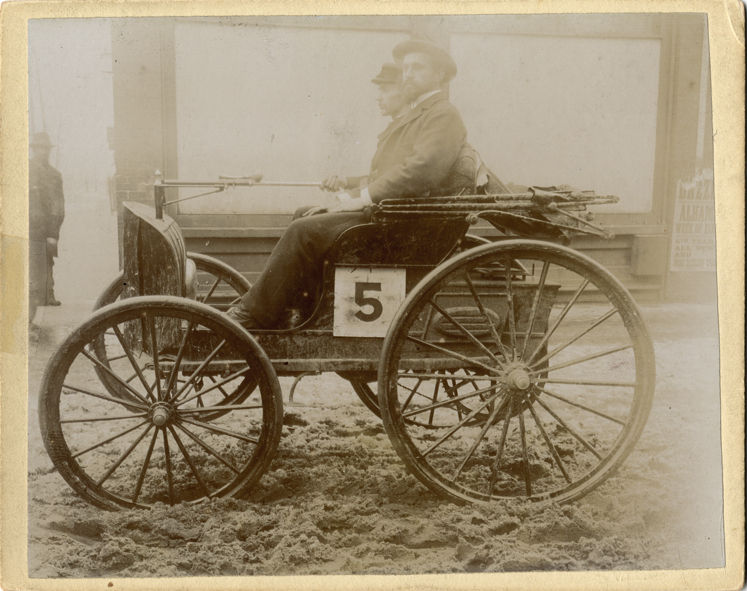 The first organized automobile race in the United States took place on this day in 1895. On July 10, earlier that year, the Chicago Times-Herald announced it would host the race and offered a winning prize of $5,000, about $143,000 in 2017. Astonishingly, the newspaper received 83 entries. When the big day came, only six vehicles managed to pull up to the starting line. The course was originally to take vehicles from Chicago to Milwaukee, but inclement weather altered the route. The final course looped 54 miles from near the current Museum of Science and Industry, up to Evanston, IL, and back. Many of the automobiles scheduled to race were either incomplete or damaged en route to the event. 
A bitter storm passed through the area before the Thanksgiving day race, leaving the roads covered with up to 24 inches of fresh snow. The race commenced with temperatures hovering around 30 degrees. Unfortunately, none of the cars were equipped with cup holders so the drivers had nowhere to put their Starbucks lattes to keep themselves warm and caffeinated. Joking, of course.
Of the vehicles on the grid, two were electric and four were gas powered. The latter including a Benz imported by Mueller & Co and a Duryea Motor Wagon. These two vehicles would be the only ones to finish. The Duryea, driven by Frank Duryea, completed the course first, averaging 7 miles per hour. This gave it a total time time of seven hours and fifty-three minutes. The Duryea took home the prize money, offering much needed capital for a growing automobile business.