On January 9, 1924, the market capitalization of Ford Motor Company would exceed $1 billion for the first time. For non-investors, the market cap equates to the total dollar market value of a company's outstanding shares of stock. The investment community uses this figure, found by multiplying the number of outstanding shares by the current market value of a single share, to calculate the worth of a business to help determine investment risk. Though Ford was not publicly traded at the time, an evaluation of sales, property, material and other data completed by market experts, in possible anticipation of the company going public, determined the proposed value.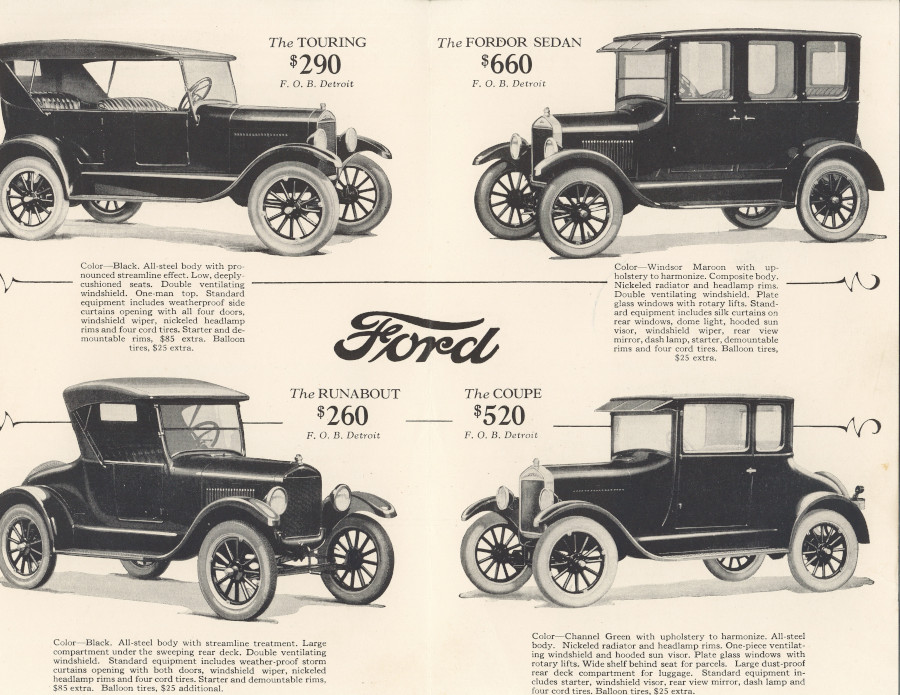 In 1924 Ford's primary product was still the Model T, which was selling at an all time low price thanks to record production numbers. You could have yourself a Runabout for just $260, equal to only $3,790 in 2020 dollars. In 1924 Ford produced a staggering 1,922,048 vehicles, compared to 498,342 five years earlier. Among the 1924 models was Ford's 10 millionth vehicle, marking the first time any automaker accomplished such a major manufacturing feat. This achievement could only happy thanks to Ford Motor Company's early investment into the engineering of moving automotive assembly lines.
1924 Ford Model T Performance
The Model T remained relatively unchanged since its introduction in 1908 to its demise in 1927, aside from minor upgrades to improve body structure, reliability and performance. In 1924 the vehicles received lighter pistons to slightly improve the performance of the standard 176.7 cid four cylinder. Also during this year, all-steel stampings for doors and body panels became standard on closed top cars.

The last Ford Model T rolled off the assembly line in 1927. Company officials claimed this last Ford as the 15 millionth Ford ever manufactured. Production numbers do not reflect accuracy in that claim, but it sounds better that way, right? Ford stock would begin trading publicly in 1956 and the current market cap of Ford Motor Company is $36.64 billion. As of 2021, Ford is worth around 108 billion according to one source, with F stock shares trading for close to $25, the highest they've been since the early 2000s.
Sign up for the This Day in Automotive History Newsletter!