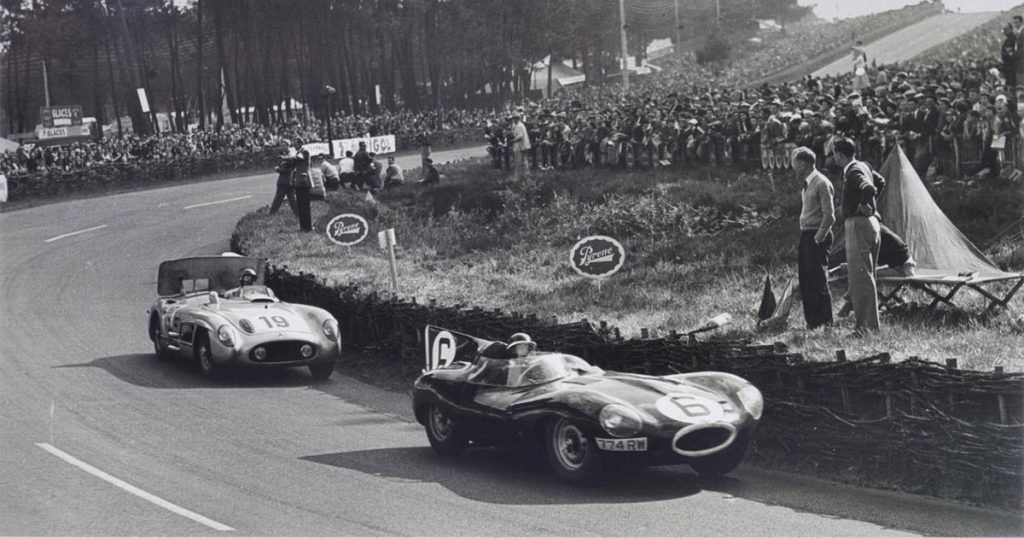 Frank "Lofty" England, who passed away on this day in 1995, began his automotive career as an apprentice with Daimler in the late 1920s and early 1930s before turning to racing. His skills as an engineer and a drive made him attractive to many automakers. He spent servicing vehicles in private garages and for various marques, while also participating in racing events. While working at Alvis, England declared war on Germany. He spent time servicing Rolls-Royce aircraft engines before eventually becoming a bomber pilot and instructor. Soon after his release from service in 1945 he joined Jaguar Cars. There he would lead the racing team to five Le Mans victories in the 1950s. His successes didn't stop there, as he'd eventually climb the corporate ladder to succeed Jaguar Cars founder William Lyons as CEO.
The following snippet of an article about Lofty England is republished from the Jaguar Heritage Trust and can be read in its entirety here.
The Jaguar Years
"Lofty's application was successful and he joined Jaguar Cars at Swallow Road, Foleshill, in September 1946 as Service Manager.  His many other roles of Racing Manager, Exhibitions Manager etc. were all 'additional and incidental!'  He later said, "I think coming into this Company at the time I did was a bit of luck really, because we had a very limited number of people in senior positions, and the net result of all this was that, apart from being Service Manager, you did a lot of other things at the same time because there weren't other people to do them."
As we have noted, Lofty had other duties, including travelling with Jaguar PR officer, E.W. Bill Rankin.  Together they would travel to various international motor shows, set up the stands and sell the cars.  Thus, they met many of Jaguar's overseas owners face-to-face.  When Lofty joined Jaguar, Lyons had told him that motor sport was not something that the Company wanted to get involved in.  Lyons had seen other successful manufacturers lose money by putting racing high on the agenda, he was shrewd enough to realise that enthusiastic investment in racing was not the way forward.  At the same time Jaguar was committed to offer technical advice and assistance to private owners, but that was the limit of their involvement.
However, circumstances forced a change of policy; in 1948 Jaguar had produced the XK engine, the first that they had designed in-house and interest in the unit was high.  When the XK120 was driven by Ron Soapy Sutton at Jabbeke at 132 mph (212 km.hr) the publicity, engineered by Rankin, was tremendous and there was pressure on Jaguar to take the XK120 into competitive motor sport.  Then in 1949 the Daily Express sponsored the production sports car race at Silverstone.  Lofty recalls, "We had to decide whether to enter: it wasn't easy as we were expected to win.  If we did no one would expect anything else and we certainly could not afford to lose.  We entered three cars for Johnson, Bira and Peter Walker, and they came home first and second, although Bira retired.  So we now became involved in motor racing, and it developed from that point.  Again we made use of the people we had already, which was how I became involved.  It was a sort of spare time job."
In reality it was more than a spare time job, but one that Lofty was ideally suited for and one that he clearly revelled in. He was the Jaguar Team Manager, and as such was responsible for the races they entered, hiring the drivers and making all the travel arrangements. He used to attend all the test sessions after the cars had been built, at first in the experimental department, but later in Jaguar's own competition department.
Lofty England had the overall responsibility for the entire operation and ran it in a relaxed but very efficient manner. He would tell his drivers to be at the race circuit on a specified date and time and they would duly appear.
Le Mans
Leslie Johnson won major sports car races in Britain and America in 1950  and took fifth in the 1950 Mille Miglia, the Jaguar beaten only by works Ferraris and Alfa Romeos.  Lofty: "In 1950 we had three private XK120s in the race – for Johnson / Hadley, Whitehead / Marshall and Haines / Clark.  They were virtually standard cars racing against thinly disguised Grand Prix cars, Talbots and so on."  Besides these there were virtually no modern sports cars, and Johnson and Hadley ran as high as second before mechanical failure forced them out when lying third near the end, while the other XK120s finished 12th and 15th.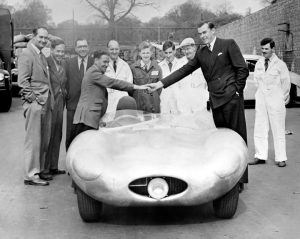 Lofty "So we decided to design a proper aerodynamic body for the 1951 Le Mans. We decided to win Le Mans in June 1951!" Three C-types were driven to Le Mans accompanied by a Bedford support lorry and a team car. "Only one of the three cars finished, but it won!" Jaguar had won Le Mans for the first time and that single car made Jaguar an international household name.
Jaguar entered C-types for the 1952 Le Mans but modifications made to the bodywork caused overheating and all three works cars failed before an hour had elapsed.  In 1952 Lofty  England and several factory mechanics supported a high-speed endurance run at Linas-Montlhéry, where Johnson, Moss, Hadley and Jack Fairman drove a works-modified XK120 coupé LWK 707, the personal car of William Heynes, at an average of just over 100 mph for seven days and nights to break nine speed and endurance records.
Jaguar went on to win Le Mans five times with the C-type and D-type.  While Lofty was still in evidence heading the team, the department had grown and was largely under Phil Weaver.  Jaguar left Le Mans while they were still competitive.  Lofty later explained, "By 1956 we needed to be sure of winning and to do so we had to update the D-type.  So we decided to pull out for a year and develop a potential winner based on the E-Type prototype which was running in 1956.  But then in 1957 we had the great fire at the factory, and all our efforts were put into the factory rebirth.  Sales were going very well, we needed every production car we could make, and there was just no real need to carry on racing.  We continued to support people like Ecurie Ecosse and Duncan Hamilton.  Later we did the Cunningham car as a project for Le Mans in 1960, and we developed the lightweight E-Type from it."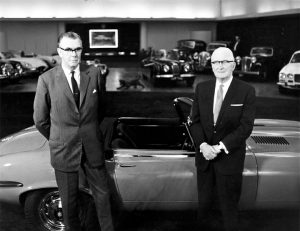 Following Jaguar's withdrawal from racing Lofty returned to his main role running the company's service department, now as Director. In 1958, Guy Vandervell offered Lofty the entire Vanwall F1 team following the death of Stuart Lewis-Evans during the 1958 Moroccan Grand Prix.  If Lofty was tempted we do not know; in the event he refused the very handsome offer and stayed with Jaguar.  He would have made an excellent team manager."