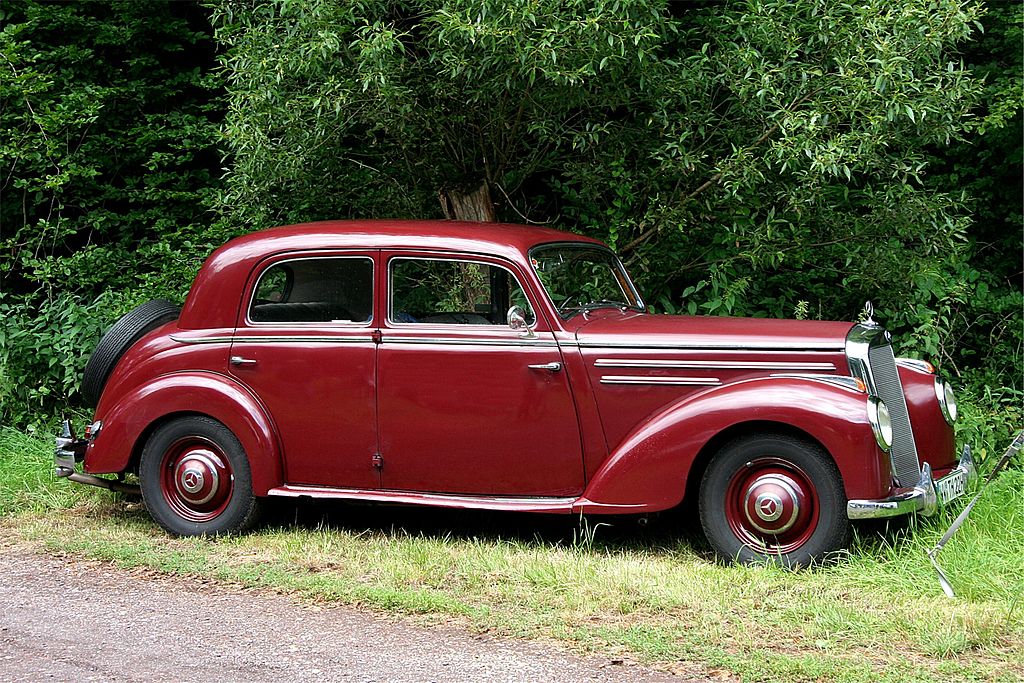 Following World War II, Mercedes-Benz seemed to leave its prestige in the past. In the aftermath of the destruction, dated four cylinder passenger cars were all that rolled out of the automaker's Stuttgart, Germany factory. The cars lacked the power and prominence they once held across the world. Of course, in the wake of the war, there was less of a market for fine automobiles in Europe and beyond. Until, of course, there was. In the midst of recovery, Mercedes-Benz unveiled the W186 and W187, models 300 and 220 respectively, on this day in 1951. The two vehicles were the first postwar Mercedes to come equipped with a six-cylinder engine.
Mercedes-Benz 300 (W186)
The Mercedes 300 became the automaker's flagship model, on par in price and features with the Bentley S1 and Rolls-Royce Silver Cloud, yet offering better performance. A 3 liter straight six topped by dual Solex carbs powered the full size luxury car, which came as a saloon or four-door cabriolet. When series production began in November 1951, a four speed manual gearbox transferred up to 113 horsepower to the wheels.
The 300b, released in March 1954, received new carburetors, increasing horsepower to 123. The 300c followed in September 1955, bringing with it an optional three speed automatic transmission. When production ended in 1957, a total of 12,190 W186 Mercedes had been built, of which 7,646 were Saloons. The last of the model, the 300c, would set a US buyer back by $10,864 for the saloon or $14,231 for the convertible. Only 51 of the latter ever left the assembly line.
Mercedes 220 (W187)
Mercedes-Benz simultaneously released the Mercedes 220, a more sporty option for the wealthy buyer. During its 1951 to 1955 production run, it could be had as a four-door saloon, two variations of a cabriolet, or a hardtop coupe. No matter the model, a 2195cc six cylinder engine sat under the hood, pumping out about 80 horsepower.
Despite the modern drivetrain, some models of the W187 closely resembled Mercedes vehicles of the late 1930s, making them an unattractive buy to many. When production came to a close in 1955, Mercedes had built 18,514, a majority of which were four-door saloons. Only 2,275 Cabriolet A and Cabriolet B models ever left the assembly line, and just 85 people purchased a coupe. The Mercedes W189 succeeded the W186, while the W105 and W180 took over for the W187.