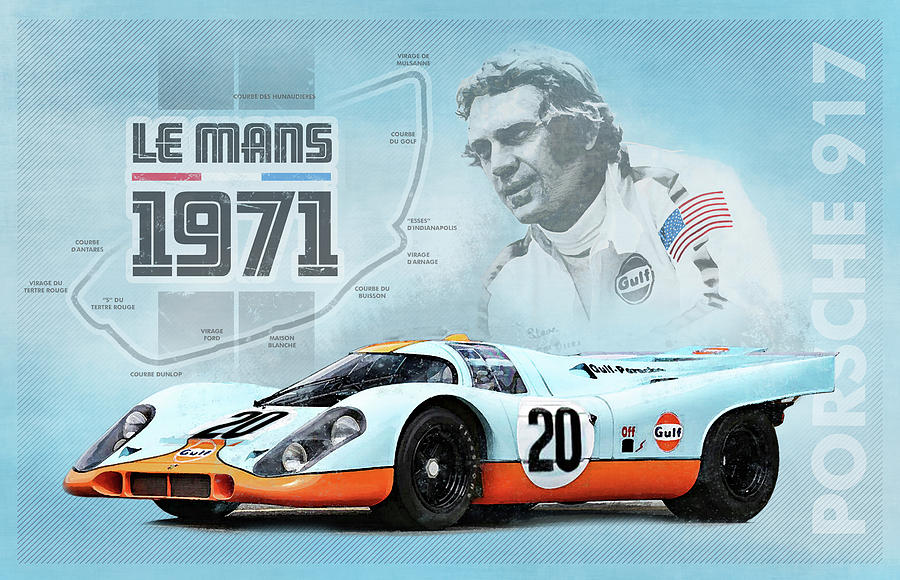 "Le Mans," starring Steve McQueen as a Team Porsche driver, debuted in theaters on this day in 1971. In the film, McQueen's character Michael Delaney drives a Porsche 917K against his rivals, all in the midst of a love story, of course. To enhance the action, the film uses real footage captured during the 1970 24 Hours of Le Mans race. McQueen, a passionate race car driver, was able to add to the realism of the film's driving sequences. The car, a real Porsche 917, certainly didn't hurt either.
Steve McQueen's Porsche 917
From www.porschemotorcarsales.com:
Considered by many as the most famous Porsche 917 ever built, it was last sold at an auction in 2017, bringing in a figure of 14 million US Dollars, making it the most expensive Porsche ever [at that point]. Currently, it takes pride of place as part of the Brumos Collection, a relatively new automotive museum in Florida, where it is on display for all to see.
The 917 gave Porsche their first overall wins at the 24 Hour of Le Mans in 1970 and 1971, with only 25 of the 917 built and then a further 12 of the 917K, which McQueen used in the film. With its rear mid-engine and rear-wheel-drive, this stylish 2-door coupe that developed from a 4.5 to a 5-litre engine was an aerodynamic work of art.
The actual Le Mans film was purely a fictional affair but did feature original footage from the 1970 race. The film focuses on the Porsche v Ferrari battle, which ultimately ends with the desired Porsche 1-2 win. McQueen had intended to try and race in the Le Mans, but the entry was not accepted.
Steve McQueen movies
The "King of Cool," Steve McQueen, born Terence Stephen McQueen on March 24, 1930, starred in many other films, including The Cincinnati Kid, The Thomas Crown Affair, The Getaway, Oscar nominated The Sand Pebbles and Papillon. For automotive enthusiasts, Bullitt ranks among the top of his movies thanks to its wild chase scene through San Francisco.
Outside of acting, McQueen participated in professional auto racing. He even earned a class win at the 1970 12 Hours of Sebring race with co-driver Peter Revson in their three litre Porsche 908/02. They missed an overall first place by just 23 seconds, losing to Mario Andretti, Ignazio Giunti and Nino Vaccarella in a five-litre Ferrari 512S.