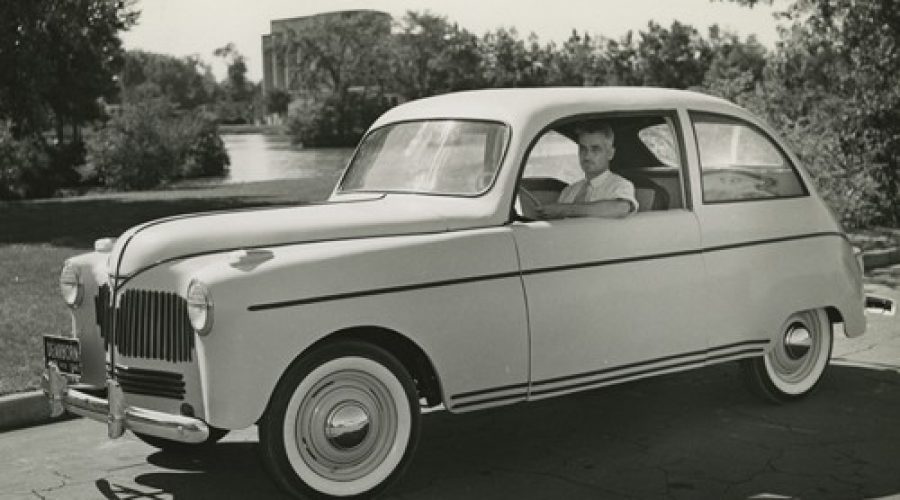 After investing millions of dollars into the development of plastics, the Ford Motor Company publicly debuted its Soybean Car on August 13, 1941 at Dearborn Days. The car earned its name due to its body panels supposedly made of agricultural plastic derived from plants including soybeans, wheat, corn and hemp. Henry Ford and Eugene Gregory originally collaborated on the car, receiving a patent for it on this day in 1942. The patent had originally been filed for in July of 1940.
The car weighed in 30 percent lighter than a normal steel vehicle of the same dimensions, making it highly fuel efficient. Add in the fact its motor ran on hemp fuel, and the vehicle was all but a crop itself. Ford himself claimed he would "grow automobiles from the soil" That said, the car's 14 plastic body panels mounted to a tubular steel frame of unique design.
Why did Henry Ford Build Plastic Cars?
The Henry Ford Museum cites three reasons for Henry wanting to build plastic cars from soybeans. First, Ford wanted to integrate the automotive and agricultural industries; he was a farmer at heart. Second, Ford believed his plastic was safer than common steel. Third, it was his belief that using plastics would circumvent metal shortages caused by WWII.
The war, however, was exactly what ended the experiment. The automaker undertook new duties building war vehicles, leaving little time or resources for experimenting. Now up for debate is what the vehicle's body panels actually consisted of. According to Lowell E. Overly, who took control of the project after Gregory became unsatisfied, it consisted of "… soybean fiber in a phenolic resin with formaldehyde used in the impregnation." One newspaper article claimed Ford's research simply claimed whipped cream as a final product. In any case, Overly later stated Gregory destroyed the vehicle sometime after World War II. With the car no longer in existence, its exact make up is indeterminable, as no records were kept. The war effort stamped out interest in plastic cars, leaving a second prototype unfinished.
Don't forget to sign up for the This Day in Automotive History newsletter.