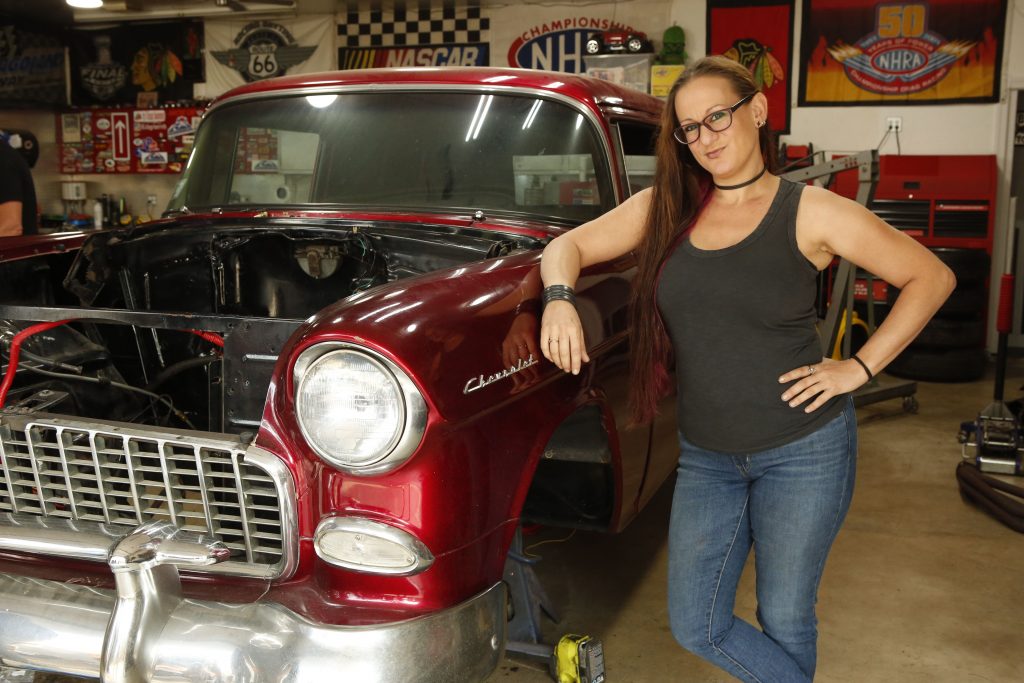 In the late 1990s, when most kids were driving their parents' old minivan to high school, 16-year-old Sarah Lateiner cruised around her New York suburb in a classic Volkswagen Beetle. Though her folks may have preferred a car a bit more reliable, or at least something that didn't have holes in the floor, they weren't the type to dissuade their daughter from trying new, or in this case, old things. And while it literally snowed inside the car each winter, Lateiner couldn't help but become infatuated with her old VW. Not having grown up around cars, she turned to local auto shops for assistance to keep it on the road. Her rather demeaning experiences in those garages, ones she says many women can relate to, would ultimately change the course of her life.
Instead of relying on prying mechanics, she snagged a few VW magazines and began a lifelong journey of learning to work on cars. While flipping through the pages she learned something else: women only appeared in these publications if they wore bikinis and strategically placed grease marks. Determined to change that, she signed up for her high school's auto shop, being just the second girl in her school to ever take it. It didn't take long for the naysayers to start their song.
"You're going to college, you don't need to learn about cars," she recalls her high school guidance counselor saying. "I can go to college and still learn about cars. Maybe this is just what I want to do," she'd respond.
Professional Calling
In fact, she would do both. She wrapped up her high school career by rebuilding her Bug with her shop teacher and classmates and a study abroad program in Hungary. There she adopted the Hungarian name Boglárka, the shortened version being Bogi. The name stuck. Following graduation she headed to Oberlin College with plans of becoming a lawyer. She intended to be an advocate for women's rights and survivors of domestic violence and rape. Throughout her undergraduate studies she counseled many of her peers, finding solace in doing so.
In between classes she often helped friends work on their cars, something she also found intense joy in. After spending so much time under the hoods of her classmates' rides, her true calling became overly apparent.
"I had this crazy idea that I wanted to become a technician and then use the automotive skills as a way to empower women," Bogi says from inside the Garage Squad production vehicle. "I had gotten so much empowerment out of it when I was young, so this could be my way of passing the torch."
In her senior year, Bogi's law advisor posed a relatively straightforward question, "Why do you want to go to law school?" She stared at him for about five minutes before stating she didn't. She went on to explain her new goal. While he praised her for following her dreams, when she headed to Universal Technical Institute (UTI) in Phoenix two months after graduation, many people close to her were less than thrilled with the decision.
Bogi on Becoming an Automotive Technician
Women working in the trades, such as an automotive technician, remains highly uncommon to this day. Bogi says too many people view trades as inferior or something you do if you don't get into college. But they are just different from university, she says, yet are entirely necessary for making the world go round.
Following UTI, Bogi earned her ASE certification while working at various automotive service centers, always being the first female to be hired by them, she says. After spending seven years with BMW as a Certified Master tech, she opened her own general auto repair shop, something nearly unheard of for a woman to do then or now. At the time, female technicians made up only 1.8% of the workforce. For Bogi, female is an unnecessary clause on her professional title.
"I would love to see the day when I am not a female mechanic, when I am just a mechanic, when there is no qualifier," Bogi says. "I would love for little kids to just Google automotive technician and see people of every color, shape, size, gender, sexual orientation, whatever, just everybody doing this type of work. Everybody can because the tools don't know. The car doesn't know."
Her shop offered automotive education for women and provided full-service repair for drivers of all makes and models. While her industry efforts are currently helping close the gender gap in the trades, people labeled Bogi an anomaly in the automotive sector, and several television producers took notice. They started calling her over and over, sharing reality TV ideas. Some wanted to put a group of female mechanics into a house and stir up drama, Bogi says. After all the blood, sweat and tears she poured into getting to where she stood, she had no intent of shining a poor light on women in the trades. Again and again, she said no.
Bogi Joins Garage Squad
One day, she received another call for a potential production. As the woman on the other end of the line explained the idea for an all female automotive show, Bogi nearly hung up. More of the same, she thought. But the producer claimed this would be different. It would be educational and positive. Skeptical still, the producer asked Bogi to check out some of their other television shows.
"Ironically enough, it was one of Bruno [Massel]'s episodes [of TruckU] that I saw and I was like, 'OK, this is legit,'" Bogi says.
Bogi flew out for an audition and nailed it. Fast forward to 2021 and she's celebrating nearly 10 years of All Girls Garage. Now, she's adding to her extensive resume by joining Garage Squad for season 8. After being welcomed with open arms, Bogi soon realized how much collaborative effort goes into each episode. What fans of the show often don't realize, she says, is that these builds occur in just five to seven days by the Squad and vehicle owners.
"Nonbelievers think some army of mechanic gnomes are coming in in the middle of the night and accelerating the project, but that's not what happens," Bogi says with a chuckle. "Despite all the chaos, despite all the stress and pressure, we have fun."
An Advocate for Women in the Trades
Bogi aims to utilize her platform to continue improving access to the trades for women. Though she sold her general repair shop about two years ago, she now runs Girl Gang Garage, which she describes as an empowerment space for women. There she executes on her mission by introducing more women to the trades and connecting women within them. It's also where the All Female Builds take place, the third of which is currently in progress. The first two debuted at SEMA and included a BMW M5 powered '57 Chevy truck and a '56 Chevy truck.
Now Bogi and a crew of more than 100 women, ranging from garage newbies to highly experienced techs, are building a 1961 Volvo PV544, but this isn't your average Swedish fish. The crew is effectively mating the running gear of a 2019 Volvo s60 hybrid Polestar edition, one of only 19 made, with the body of the vintage Volvo. Slated to debut at SEMA 2022, Bogi invites any and all women to join her at Girl Gang Garage in Phoenix if they want to get their hands dirty on the project.
Between wrenching on wild rides, being an advocate for women in the trades, and filming for multiple television shows, Bogi continues to cherish her work as a mechanic and the simple rewards it holds. It's a craft that builds memories, like melted snow dripping through the rusty pans of a Volkswagen; builds friendships, like those formed in auto shop or on Garage Squad; and ultimately, builds awesome cars. With new challenges falling on her every day, Bogi says it's hard to beat the feeling of seeing a vehicle you fixed drive away.
"One of the things I always liked about working on cars is that you're somebody's hero," Bogi says." They're struggling because, whether it's their daily driver they can't get to work in, or a project car, if you do something for them, you're being their hero."
Tune in to all new episodes of Garage Squad on the MotorTrend App beginning October 14 and on the MotorTrend channel October 20 and watch Bogi and the rest of the Squad become heroes to ten more deserving car owners. This article originally appeared on the Squad Blog on garagesquad.tv.