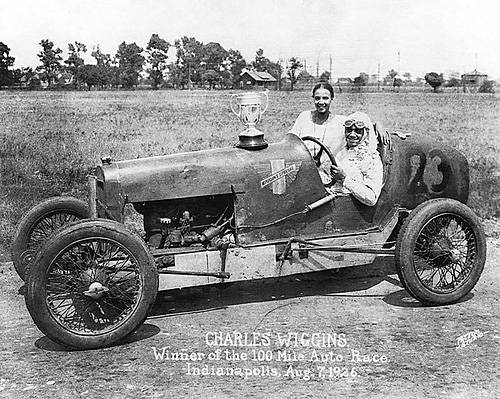 In times of war and peace, it seems that sports are often a way to bring people together. Be it the Olympics, World Cup or the F1 World Championship, people tune in to cheer on their counties' stars, no matter what else is happening in the world. Unfortunately, for Charlie Wiggins, born in Indiana on this day in 1897, racism seemed to be the exception to the rule. As he found himself to be an extremely capable race car driver, the color of his skin prevented him from participating in many events. This held true for the Indianapolis 500, deemed a whites only race. Wiggins had stated that those 500 miles were the ones he wanted to drive the most. Despite the racial barriers placed before him, Wiggins went on to become one of the most decorated drivers who took to the track between the World Wars. While earning trophy after trophy, he continued to advocate for desegregation in racing, something he continued to do long after a wreck took an eye and a leg and ended his driving career.
Who is Charlie Wiggins?
After losing his mother at the age of 9, Wiggins found himself needing to earn money to help support his siblings. The salary of his coal minor father just was not enough. At 11, he began shining shoes outside a car dealership. In between his customers he'd observe the auto mechanics servicing the vehicles that came into the shop. When the US joined World War I, he asked the manager of the place to make him an apprentice. Since most of mechanics had all gone off to Europe to fight, the manager obliged. Wiggins skills with a toolbox soon became apparent. In 1922 he moved with his wife to Indianapolis and became a lead mechanic at a local garage. When the owner retired two years later, he bought the place.
While his breaks as a shoe shiner allowed him to observe the mechanics, his breaks at his shop provided him time to pursue an interest in building a race car. Dubbed the Wiggins Special, he rolled it out of his workshop in time for the inaugural Gold & Glory Sweepstakes in 1925. Put on by the Colored Speedway Association (CSA), this 100 mile dirt track race became the moral equivalent of the Indy 500. Many claimed the grittiness of the track made 100 miles feel like 500. While Wiggins first attempt at the race ended in engine failure, he returned in 1926.
That year, he participated in the entire CSA racing season, dominating most of it. Not only did he win the Gold & Glory Sweepstakes, he won seven of the other nine races. Not only were his skills as a driver on display, but his mechanical prowess as well. His home built racer proved more fuel efficient than other cars, preventing a need for excessive pits.
Wiggins makes it to Indianapolis Motor Speedway
Wiggins went on to race in seven more Gold and Glory races. With each one he'd remind those who would listen that he wished he could race at Indy. At three of those races he took home the first place trophy. Of the ones he didn't win, his worst finish was fifth. His skills as a driver and technician caught the attention of race car driver Bill Cummings. He enlisted Wiggins as a team mechanic for the 1934 Indianapolis 500, a position he couldn't legally hold due to segregation rules. To get him into the pits, they presented him as the team's janitor. While he didn't get a chance to drive on the track, he did work on the vehicle that Cummings drove to victory that race.
Any hope of racing in the Indy 500 was squashed two years later. On the second lap of the 1936 Gold & Glory Sweepstakes, Wiggins got tangled in a 13 car accident. He sustained massive injuries, resulting in the loss of an eye and the amputation of a leg. His career on the track ended right then and there. His desire to end segregation in racing did not.
For the rest of his life, Wiggins suffered from pain related to his injuries. Mounting medical bills left him quite poor in his later life. All the while, he continued to mentor young race car drivers and protest discrimination on the race track. Charlie Wiggins died on March 11, 1979 at the age of 81 due to complications with an infection related to his race injuries. A Black driver would not compete in the Indy 500 until Willy T. Ribbs became the first to do so in 1991. In 2021 Wiggins was inducted into the Automotive Hall of Fame.