Founded in Syracuse, New York, at the turn of the 20th Century, Franklin is best known for its unwavering commitment to the air-cooled engine. From its very first car in 1902 – a runabout boasting a transverse, overhead-valve engine, wooden frame, and fully elliptic springs – Franklin showed incredible promise and engineering acumen. About a dozen Franklins left the factory in the first year, and orders quickly multiplied as the company got off the ground. Such popularity was undoubtedly helped by their record-shattering 1904 transcontinental run, completed in under 16 days. This slashed previous record runs by Winton and Packard nearly in half. Franklin rapidly developed a reputation for quality, refinement, and durability, with legions of fiercely loyal owners.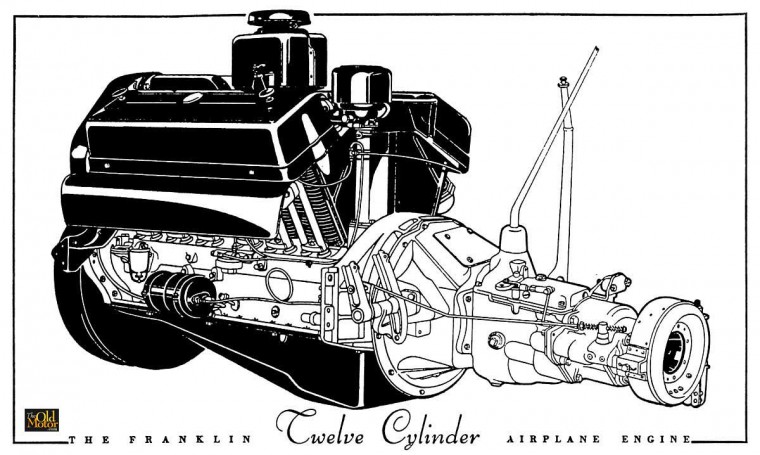 Fast forward to this day in 1932 to find Franklin introducing their new air-cooled V12 engine. What some viewed as a nail in the coffin for the company, which suffered drastically in the beginning of the Great Depression, others saw a light at the end of a fraught financial tunnel. The former eventually rose as the victor of opinion. Less than 200 V12 Franklin cars would be built before the company went belly up. H.H. Franklin, who ran the company since it sold its first car in 1902, watched as it ceased automobile production 1934, but many blame an imported vice president for the company's demise. Though now championed as a stern luxury competitor of the GD era, the V12 proved to be way too much, too late.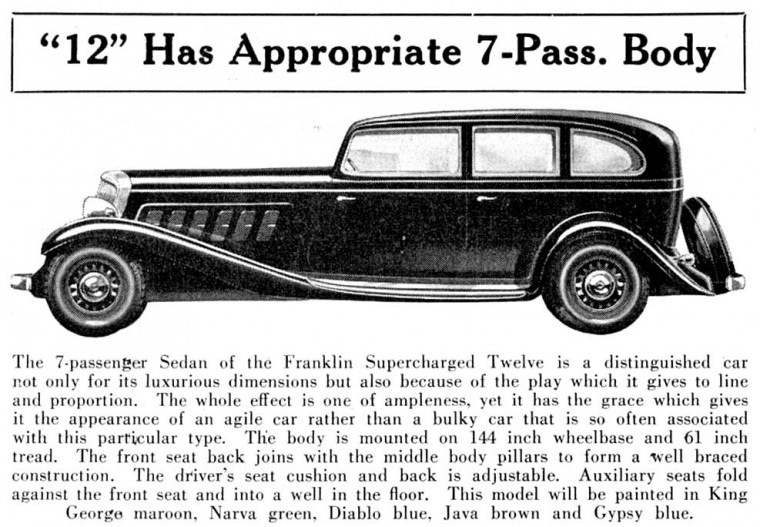 Following the end of Franklin automobile production, the name and assets went up for sale. Franklin air-cooled engine production continued under ownership of Aircooled Motors of Syracuse, NY. Following World War II, Preston Tucker bought the company, eventually using a Franklin flat-six designed fitted with water-jackets in the short lived Tucker 48. Aircooled Motors continued to manufacture Franklin branded engines used in aircraft and helicopters until 1975, when the company declared bankruptcy. The Polish government purchased the designs and continues to build engines based on Franklin engineering. Let's back up to 1909, and take a closer look at one example of a beautiful Franklin.
1909 Franklin Model H
This 1909 Model H Cape Top Runabout, formerly offered by Hyman Ltd., is one of just a handful of surviving "barrel-hood" Franklins and is likely the only 1909 Model H in existence. It was the automakers's largest and most potent offering that year, belting out 42-horsepower from its mighty air-cooled inline-six. With its 127-inch wheelbase chassis and 27-inch wheels, the Model H is an impressively large machine, yet the minimalist 3-passenger runabout body ensures brisk performance.
As offered today, the Model H has lost none of its presence. It is a wonderfully preserved automobile, displaying an appealing patina to the paintwork and extensive brass trim. Brimming with character, it proudly wears badges from the 1957 and 1958 AACA Granville Rallies and one noting its completion of the 1956 installment of the challenging Glidden Tour. Notable features include the wooden chassis rails, distinctive "cape" top, period-correct brass lamps, and the Mother-in-Law seat on the rear deck – reserved for a single courageous passenger.
The ingenious air-cooled six-cylinder presents well, displaying some moderate surface corrosion on the individually cast cylinders. After some time in storage, the engine has been carefully restored to working order. This grand Franklin has proven to be a good runner, with the gearbox and braking systems working respectably well. The lack of a water-based cooling system keeps weight and complexity to a minimum, ensuring brisk performance and reliable running in a wide range of conditions. In fact, Franklin was so confident in their cooling system's effectiveness that they never installed temperature gauges in any of their cars!