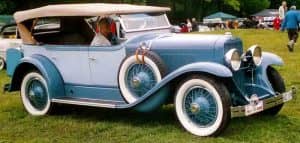 In the late 1920s, Cadillac was already a name synonymous with luxury and quality, but the company saw an opportunity to expand its appeal to a younger and more stylish market. That's when LaSalle, a companion marque to Cadillac, was born. On this day in 1927, the first LaSalle was unveiled to the public. With its sleek and modern design, the LaSalle became an instant sensation. It exuded elegance and sophistication, while still coming in at a price more affordable than a top tier Caddy. The brand's namesake, René-Robert Cavelier, Sieur de La Salle, was a French explorer known for his daring and adventurous spirit, and that spirit was embodied in the LaSalle's design.
Speaking of design, Harley Earl penned the lines of the first model, the 303. He was a visionary who pushed the boundaries of automotive design and would go on to become one of the most influential men in the 20th century auto industry. He saw the potential for the LaSalle to appeal to a younger, trendier audience, and he poured all of his creativity and passion into making the car a reality. The LaSalle was unlike anything anyone had ever seen before, with its distinctive narrow grille, tapered hood, and long, low profile. It was a car that demanded attention and turned heads wherever it went.
The later years of Lasalle
As the years went by, the LaSalle continued to evolve and innovate, with new models boasting even more advanced features and design elements. It was a car that defined an era, a symbol of American ingenuity and innovation. In 1934, the brand introduced the Series 350, which featured a new "streamlined" design that was more aerodynamic than previous models. The Series 350 also featured a new engine, a 322 cubic inch V8 that produced 120 horsepower.
As the Depression continued to grip the US prior to its entry into World War II the automotive industry shifted and changed. Cadillac made the difficult decision to discontinue the LaSalle brand. The last LaSalle rolled off the assembly line in March 20, 1940, marking the end of an era. But even though the brand was no more, its legacy lived on. The LaSalle had forever changed the automotive landscape, leaving an indelible mark on history as a car that embodied the very best of American engineering and design.