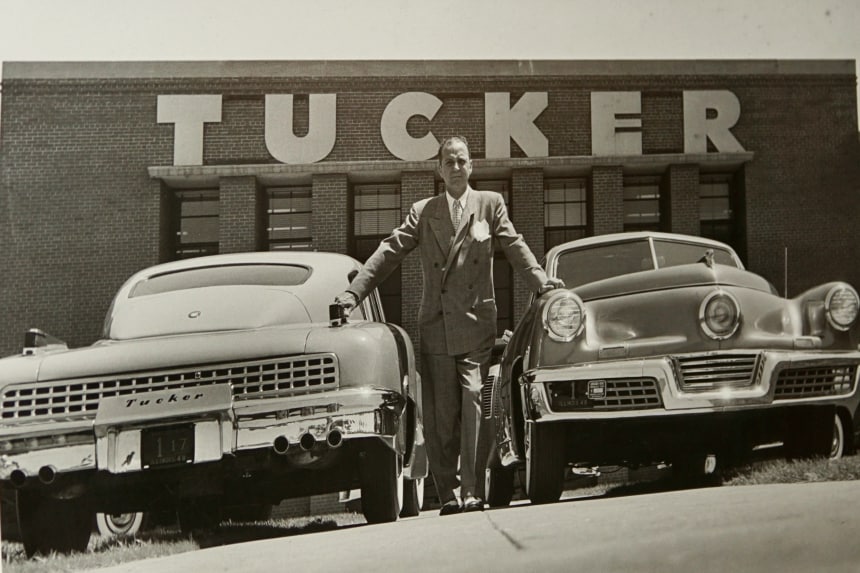 On this day in 1903 American car designer, engineer and inventor Preston Tucker was born in Capac, Michigan. While best known for the Tucker 48, his legacy in the auto industry has a far greater reach. Tucker got his start in the car business as an office boy for Cadillac before joining the local police force at age 19. As a copper he had his first opportunity to drive high powered police cars and motorcycles, sprouting an interest in automobile development. His mother had him removed from the force after pointing out he was below the agency's age limit to be an officer. He then took a job managing a gas station and working on the Ford assembly line. His gas station would later become a small Studebaker dealership before again joining the police force. During his last spell as an officer of the law, his station banned from driving police cars because he used a torch to cut a hole in the dashboard of his car to let engine heat into the cab during winter. His stint with a badge ended shortly thereafter.
His auto sales experience led him to the position of sales manager for Chrysler in Memphis and then regional sales manager for Pierce-Arrow in Buffalo, NY. He later moved to Detroit where he worked in sales for Dodge. Tucker's career began to take off in the 1930s. It was during this decade that Tucker would head to Indianapolis every year to watch the Indy 500, as he had a huge interest in race cars. It was there he met Harry Miller, maker of more Indy 500 winning engines than anyone at the time. The two joined forces in 1935, forming Miller and Tucker, Inc in 1935 to produce race cars.
Preston Tucker's War Vehicles
In 1937 Tucker ended up in the hospital with appendicitis. While bedridden he took a keen interest in news magazines that theorized war in Europe. The threat of conflict inspired him to develop a speedy combat vehicle. Renderings and detailed data of the future war machine garnered interest from the Dutch government. However, by the time the production could begin, Germany had already invaded the Netherlands. At that point the Dutch no longer needed the vehicle. Tucker showed his armored prototype, which featured a patented Tucker Turret, to the US government. The vehicle, which could reach speeds in excess of 115 mph, was simply too fast for them. The heads at the Defense Department did like the mechanical turret he developed, but not for its intended use. Instead it found use on vehicles such as PT Boats, B-17 Bombers and B-29 Bombers. In the years that followed Tucker even worked with American-Bantam on the design for the original Jeep.
Designing the Tucker 48
Following the war Tucker wanted to create a completely new car for a new world, whereas major automakers, such as the Big 3, were in no hurry to change their ways. Tucker's car first appeared in Science Illustrated in 1946, much to the excitement of consumers. After securing a production facility in Chicago in 1947 by raising $17 million in a stock issue, Tucker and his team were nearly set to begin full production. The prototype "Tin Goose" Tucker 48 showed off features and innovations such as a padded steering wheel, safety glass, independent springless suspension, a roll bar in the roof, a center cyclops headlight and a 334 cubic inch aircraft engine. In all, 50 complete Tucker 48s left the factory, in addition to the prototype, before the plant closed for good.
How Tucker was financially able to produce the vehicles became a point of contention. The Security and Exchange Commission placed Tucker under investigation for the way he raised funds, which included selling Tucker accessories and dealerships before the car was ready for production. He eventually faced a grand jury trial brought on by the SEC. In 1950 he would be found not guilty on all charges. The losses were far too much by then. The negative press and numerous lawsuits from people who had purchased dealerships left him riddled with debt. His dream to produce a radically futuristic car was crushed.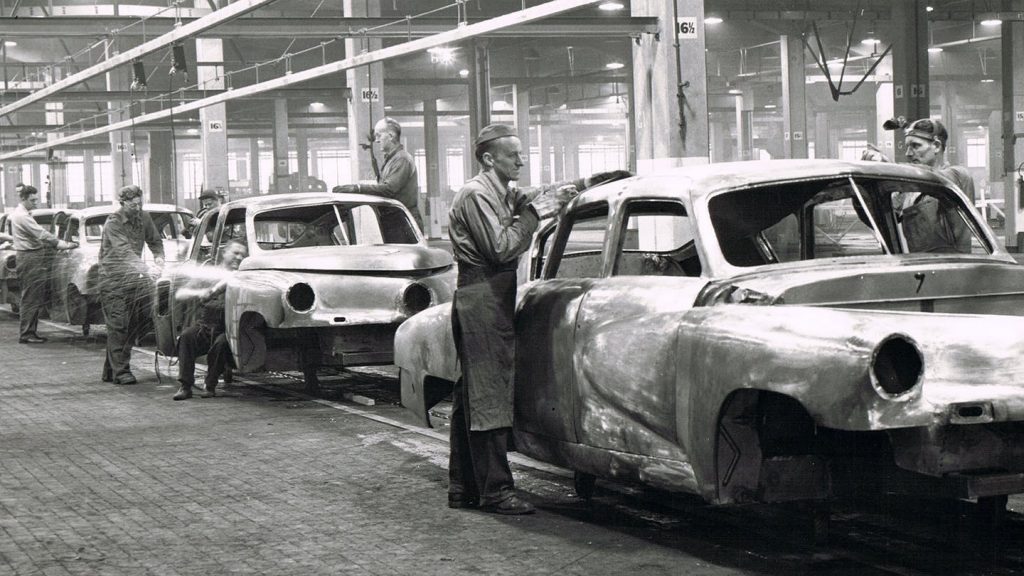 Following the trial, nearly all Tucker Corporation assets fell under the auction gavel. Tucker did receive one of his cars and his mother another. Despite the massive fork in the road, Tucker's time in the auto industry was not over. He soon connected with inventors in Brazil to build a new car he named Carioca, illustrated below. Unfortunately, it never saw production. After returning to the USA from Brazil in 1956, Tucker learned that he had lung cancer. Preston Tucker died of pneumonia as a complication of the cancer in December of that year. He was buried at Michigan Memorial Park in Flat Rock, Michigan. Need more Tucker? Check out this article on the missing Tucker cars.