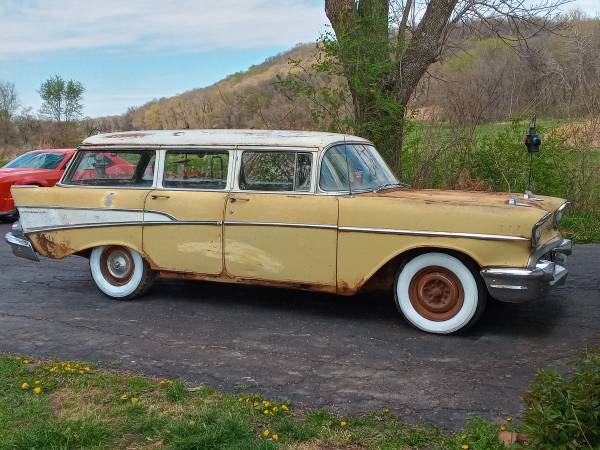 For a long time, Tri-Five Chevrolets were among the most collectible classic cars. While they remain quite popular today, current prices reflect the fact that many gearheads' interests are moving elsewhere (i.e. muscle cars and Fox Body Mustangs?). While that's bad news for people dreaming of a running $10,000 Chevelle, it's great news for anyone still interested in fixing up fabulous fins of the 1950s. That brings us to this gorgeous 1957 Chevrolet 210 Townsman Wagon for sale on Craigslist near Kansas City for just $5,000. No doubt it needs plenty of work, but this car could have gone for double or more just a few years ago. Heck, it even runs.
Yep, the inline six still turns over and will run, just bring gas and a battery! Unfortunately, even if the three on the tree still shifts through all the gears, I don't think this car will move, as the seller calls it "parked running." If you're the restorer type, at least you know you've got an engine that can be saved. It is even numbers matching, if that matters in a six banger wagon. Frankly, throwing a V8 in this thing would probably make it worth a quite few more bucks.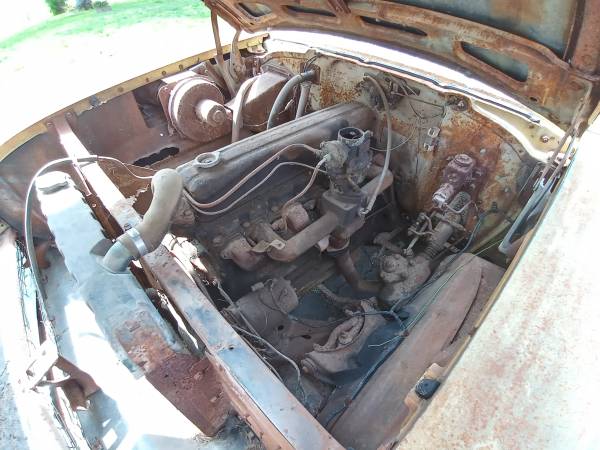 While getting it roadworthy is one challenge, saving it the rust devil is going to be a whole 'notha issue. Everywhere you look on this thing, rust is present. The tailgate is questionable in terms of saveability and the rockers are wrecked. The floors are so holy they're best suited for church. The rest of the body carries a nice, um, patina. Hopefully you're handy with a welder, because taking this to a body shop will easily cost you $20,000 to get this wagon anywhere near "rust free." Heck, we haven't even chatted about the frame. They don't mention it in the ad, but judging by the rest of the car, I think we know.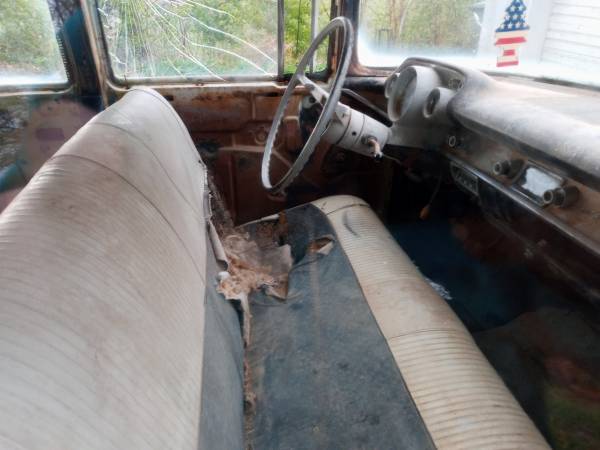 Then we move inside to listen to another sad story. It isn't mentioned why this car ended up sitting, nor where. What's obvious is that it didn't get the love it deserved! The seats are cooked, the door panels non existent and let's not even ask about the carpet. In short, this car is going to need pretty much everything from the tailgate to the dashboard.
The 1957 210 Townsman 4-door wagon was by no means a rare car. Some 128,000 of them rolled off assembly lines for the model year. Dressed in Bel Air trim, that number falls to just 27,882 vehicles. In 1957, Chevrolet built more than 1.55 million cars and wagons, not including the Corvette. With so many examples built and many surviving to this day, it's nice to see prices that are reasonable. At $5,000, is this a project you're willing to tackle?