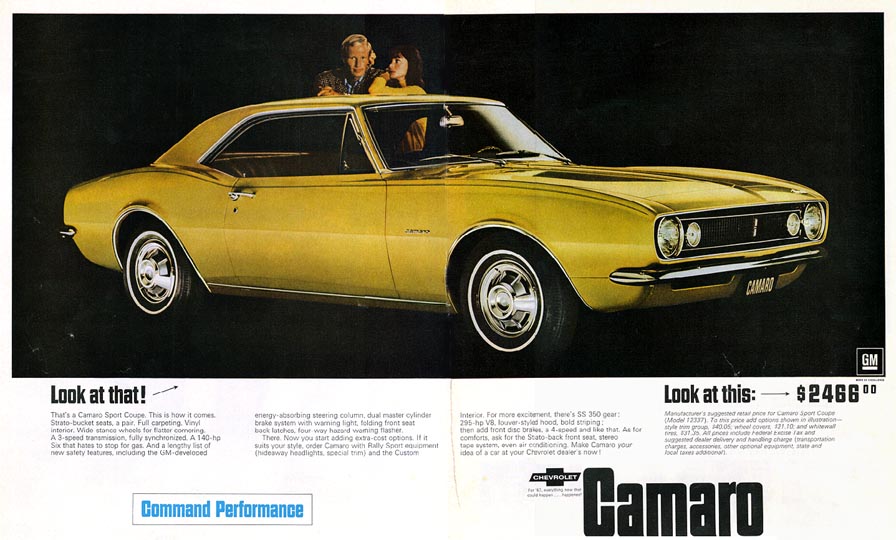 On this day in 1966 members of the press were invited to a special General Motors event to meet the car that would go head to head with the Ford Mustang, the Chevrolet Camaro. The car had already been rolling off assembly lines since August 11, but this was the first time anyone outside GM got an up close look at the "Small vicious animal that eats Mustangs," as described by Chevrolet general manager Pete Estes. The car would officially go on sale as a 1967 model about two weeks later, on September 29.
Available as a 2+2 coupe or convertible, buyers had many options to choose from when selecting their new car. Under the hood alone there were seven options for 1967, ranging from the 230 ci six cylinder up to the 396 ci V8. Buyers could also opt for special packages, such as the Super Sport (SS) and Rally Sport (RS) editions. The latter featured hideaway headlights, wing windows and other niceties, giving the car a more luxurious appearance. Also available in 1967 was a Z/28 model that featured hood and trunk stripes, rally wheels and a 302 ci V8 power plant.
A New Era for Camaro
A redesign for 1970 introduces the second generation of the Camaro, which would last through 1981. A primary design difference was an increased width, giving the car an aggressive stance. In 1971 the 350 SS model won a top 10 spot on Road & Track's list of best cars in the world. The third generation, introduced in 1982, would remain in production until 1992. These years were highlighted by the introduction of the IROC-Z, built between 1985 and 1990. With the reintroduction of a convertible in 1987, Camaro had its first drop top since 1969. The fourth gen Camaro debuted for the 1993 model year. Production continued until 2002, when the Chevy put the Camaro out to pasture due to declining sales.
After an extended hiatus from the market the Chevrolet Camaro returned for a fifth generation as a retro styled car based on its original design. Production had been approved in August of 2006 after the debut of the 2006 Chevrolet Camaro concept car at the North American International Auto Show the previous January. It was well received and was awarded "Best In Show" by AutoWeek. The new 2010 Camaro went on sale in the spring of 2009.

The Chevrolet Camaro has been in its sixth generation since the 2016 model year. Motor Trend named the 2016 Chevrolet Camaro its "Car of the Year." Production of the sixth generation is planned to continue through at least 2022, but a 7th generation Camaro has yet to be guaranteed.