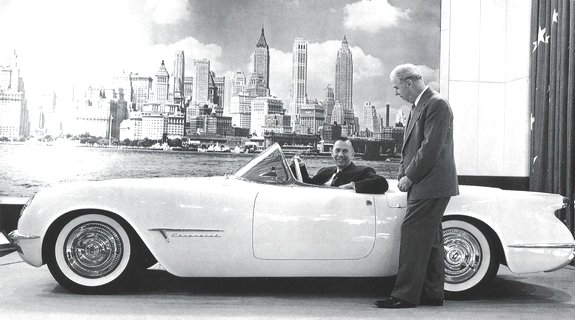 On this day in 1909, General Motors executive Ed Cole was born in Marne, Michigan. The son of a dairy farmer, Cole spent his youth designing, building and selling homemade radios. Later he went to work as a field representative for a tractor manufacturing company. His first job in the auto industry saw him manning the counter at an auto parts store, which he did while attending Grand Rapids Community College. He'd later enroll in the General Motors Institute (now Kettering University in Flint, MI), where he pursued an education in engineering. The GM leadership saw the potential in Cole and decided it best to keep him around after graduation. His consistent quality output at GM led him to being assigned co-head of development, alongside Henry Barr, for the 1949 Cadillac V8 engine.
Ed Cole's Blossoming Career
The success of the Caddy saw Cole promoted to chief engineer of Chevrolet in 1952. In this role he would be driving force in the final engineering of the first Corvette. He simultaneously had another big job on his plate: create a new motor to replace Chevy's Stovebolt Six. His answer was the Chevrolet small block V8, a legendary engine to this day. It was first available as the 265 cubic inch "Turbo Fire" V8 in 1955. Cole and the Father of the Corvette, Zora Arkus-Duntov, teamed up to ensure the new powerplant would fit into the power-lacking Corvette. The additional cylinders helped establish the Corvette as America's Sports Car.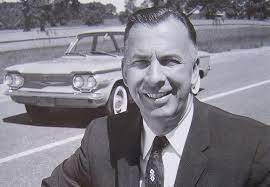 His ongoing triumphs and exciting engineering feats saw Cole promoted to General Manager of Chevrolet in 1956. While sales at Chevy were strong at the time, Cole aimed his sights on the foreign influenced compact car market. He led the charge with the radically designed Corvair. The rear, air-cooled-engine Chevy landed Cole and the car on the cover of Time magazine's October 5, 1959 issue.
Ed Cole's Later Years
In 1961 Cole became the head the GM car and truck group, then earned a promotion to executive vice-president in 1965. Just two years later, in 1967, Cole became president of General Motors. As president, Cole played a major role in weaning GM cars off of leaded gasoline and preparing them for catalytic converters, a government requirement starting in the 1975 model year. He retired before production of this new era of motoring began. Following his retirement from GM in 1974, he decided he wasn't ready to call it quits completely. He became chairman and CEO of Checker Motors Corporation and air-freight company Husky International, but he wouldn't hold the jobs long. Ed Cole died in 1977 when he crashed his personal plane during a storm near Kalamazoo, Michigan. The Corvette Hall of Fame and the Automotive Hall of Fame have both posthumously inducted Cole.