On this day in 1982 Henry Ford II announced he would remove himself from any involvement at the Ford Motor Company. Ford II, grandson of Henry Ford, became president of FMC following the death of his father Edsel in 1943 and the realization that Henry Ford I was no longer capable of running Ford due to his ailing health.  At the time Edsel passed away, Ford Motor Company was losing millions of dollars per month, in large part due to its destroyed European factories. When Ford II took the reins he acquired the mighty task of saving the family business. 
Through reorganization of Ford's manufacturing processes and restructuring its staff, Ford II got things back on track. A huge component of the success starting in the late 1940s was his hiring of the Whiz Kids. Many in this group of ten US Army Air Force veterans skilled in management raised through the ranks to become FMC executives. This included Robert McNamara, who would later be promoted to president of Ford. The Whiz Kids were instrumental in the coordination of management, production and efficiency logistics at Ford, similar to their roles in World War II just a few years earlier.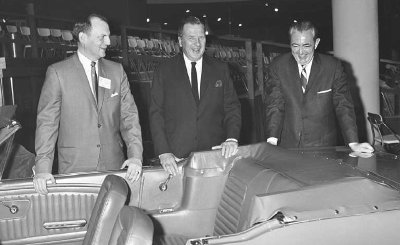 Henry Ford II leaves the family business
Ford II had many success at the head of the company. He was integral to the introduction of the Thunderbird in 1955 and followed that with the Mustang in 1964. However, he was also integral to the development of the Edsel, which turned out to be a major flop. He bounced back from the loss by undersigning the GT40, which left a mark on racetracks around the world. 
Ford II had served as FMC president from 1945 to 1960, CEO from 1945 to 1979, and chairman of the board of directors from 1960 to 1980. Though he had already "officially" retired, Ford tended to keep his hand in the pot. Hank the Duece remained influential at Ford even after announcing his disengagement until he died five years later at the age of 70.