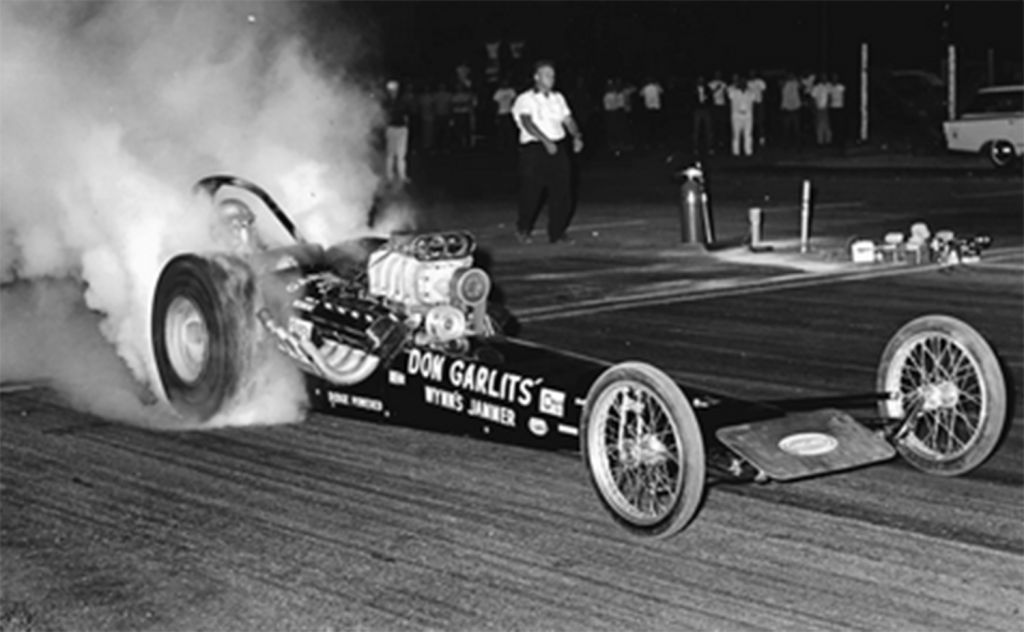 On this day in 1964 legendary drag racer Don Garlits become the first drag racer to break 200 miles per hour in the quarter mile. He did so at a race in Great Meadows, New Jersey behind the wheel of Swamp Rat VI. His innovative dragster pushed the limits thanks to a secret weapon, extra large fuel lines. Learn more about that and why his dragsters carried the Swamp Rat name in this article from encylopedia.com:
Don Garlits (b. 14 January 1932 in Tampa, Florida), legendary drag racer who won the American Hot Rod Association (AHRA) Championship fourteen times and the National Hot Rod Association (NHRA) Championship three times, and is also known for his work to make drag racing a safer sport.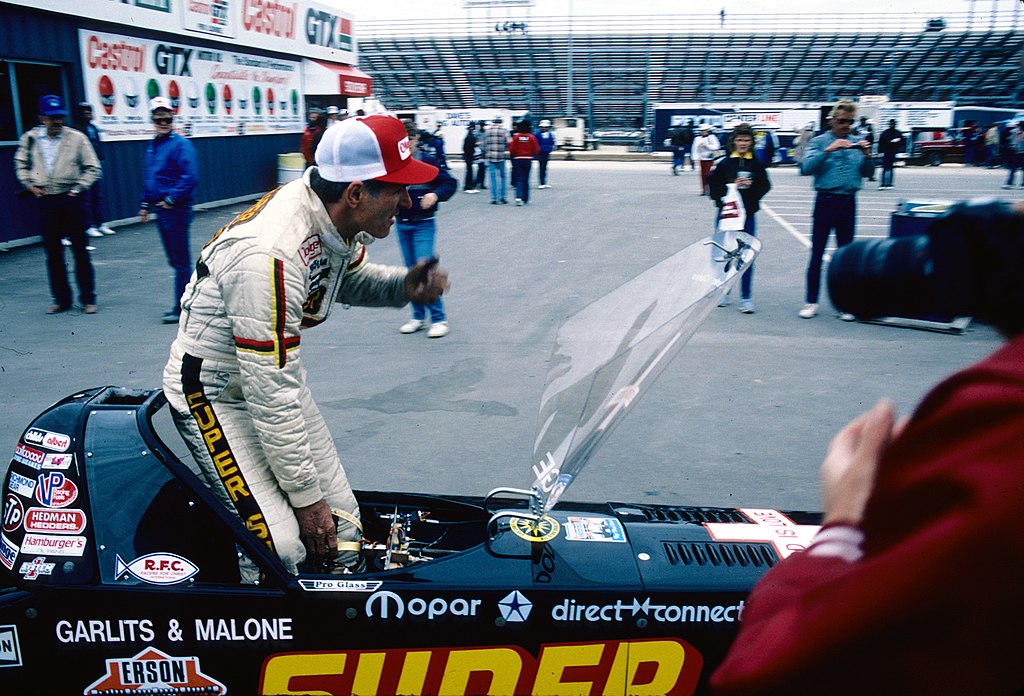 Garlits' father, Edward Garlits, was a Westinghouse engineer in the 1920s. In collaboration with others in his laboratory, he invented both the electric fan and the electric iron. When his health began to fail, he left Pittsburgh for El Paso, Texas, then later opened a health food store and restaurant in New Jersey. As part of his newfound health food religion, he divorced his first wife around 1925 and married Helen Lorenz, a sixteen year old who worked in his store. They moved to Tampa, Florida, where Garlits was born.
Like his father, Garlits had a knack for tinkering with machines. When he was fourteen, he pulled engines out of cars and worked on them with his friends. Garlits graduated from a Tampa public high school in 1948, and his grades were good enough to get him a position in a bookkeeping office. But Garlits was not meant to be a bookkeeper. After only six months, he walked out of the office, never to return.
From there, he returned to his first love, working on cars. He worked for body shops, then for a radiator shop, but Garlits seem to have hit on something when he began working as a race car mechanic. Rather than enthusiastically embracing drag racing, he began doing it because it was the thing to do. Beginning in 1952, Garlits raced others on Tampa's deserted back roads, using a souped up 1927 Model T. Later he switched to a 1940 maroon Ford convertible with a Cadillac V-8 engine.
Taking a break from racing in 1952, he met Pat Bieger, an eighteen year old from Kentucky, while waterskiing. While courting her, Garlits left racing, going to work for American Can Company. They married on 20 February 1953. His passion for racing could not be cooled, though. When he began accumulating speeding tickets from illegal races, his wife first dismissed them as his sowing wild oats, but that all changed when he told her he was going to upgrade the camshaft in their new Ford. Out for a Sunday drive one month after they were married, Garlits "inadvertently" passed the Lake Wales Drag Strip. He promised they would only watch. By the end of the day, Garlits had won his first trophy, an eight-inch plastic model with an angel perched on top. It was the first of many to come.
At the urging of Wally Parks, Hot Rod magazine editor, Garlits entered legal drag racing contests in the Tampa area and began winning races. By the late 1950s Garlits had built his first dragster, Swamp Rat I. Because it was not as well built as some of the cars used by his competitors, he earned the nickname Don Garbage. That attribution soon faded; it was replaced by the nickname Big Daddy, given to him by a track announcer in 1962. His dragster soon bested any competitor and broke records, racing a quarter mile in 12.1 seconds at 108.17 mph and in 1957 at a record speed of 176.4 mph.
Garlits breaks 200mph drag racing barrier
Garlits dominated the East Coast in the late 1950s, but racers on the West Coast refused to believe that he could best their precision-built dragsters. They charged that he ran, according to Tony Sakkis, on "backwoods tracks with inferior timing devices." They even went so far as to his ignore his speed record of 180.00 mph in 8.90 seconds, achieved on 8 December 1958, because it happened in the East. Garlits went West and challenged his detractors at the track. His repeated wins showed them that his records were legitimate. Further evidence of his skill came on 1 August 1964 at a race in Great Meadows, New Jersey, when he became the first racer to break the 200-mph-speed barrier, twice. After that, very few disputed his prowess.
The secret to Garlits's wins was simple—large fuel lines. Bigger fuel lines produce more speed. To keep others from stealing his innovation, he concealed the lines along the rail frames of the car. Each successor to his original Swamp Rat contained improvements that made Garlits a winner in many of his races. Version six, with its improved engine, was the car that allowed him to break the 200-mph-speed barrier; in version fourteen he moved the engine to better protect the driver; version twenty-two, with an even larger engine, allowed him to break the 250-mph-speed barrier; and version thirty included a bubble canopy and Kevlar wheels (later replaced with thirteen-inch airplane tires). Garlits later donated number thirty to the Smithsonian Institution in Washington, D.C.
But all of these improvements and innovations did not come without cost. Version one's supercharger blew up, badly burning Garlits's hands; version thirteen's transmission exploded, taking off part of his right foot; a broken back resulted when one of his dragster's parachutes failed to open; and another time his dragster's opening parachutes jerked the car violently, resulting in a serious bladder injury for Garlits. Each time, Garlits, supported by his wife and three daughters, bounced back and redesigned his car to make it safer. In the process, he made the whole profession a little safer because other racers imitated his cars.
The man who helped mold the sport of drag racing wanted to make sure the history of drag racing and the efforts of its legendary drivers were preserved. Garlits opened his Museum of Drag Racing in Ocala in 1984. The museum contains fifty-five history-making drag racers, including his first hot rod and the first version of Swamp Rat.
Garlits continued racing until 1994. In 1986 he had experienced a hair-raising incident at Englishtown, New Jersey, in which Swamp Rat 30 lifted its front wheels off the ground, spun around, and headed toward the rear staging area. Only because he accidentally applied the throttle did the car reverse itself and head back toward the raceway where he shut her down. Garlits stayed on the sidelines for the 1988 season but came back in 1989 for a limited engagement with his longtime friend and rival Shirley Muldowney.
Three years later, in 1992, Garlits came back to racing with the thirty-second version of Swamp Rat in an effort to break the 300-mph-speed barrier, but during a practice run his deploying parachute caused a detached retina. Following the advice of doctors, Garlits elected to scale back his racing, doing only exhibitions with Muldowney and acting as curator for his museum. Still, the man known for inventing the Top Fuel dragster and a more fire-resistant driving suit continued to race, impressing the audience during his occasional performances. On 2 September 2001, at age sixty-nine, he drove over 300 mph at the U.S. Nationals at Indianapolis—the oldest driver to accomplish this feat.
Garlits wrote two books about his life experiences: King of the Dragsters: The Story of Big Daddy "Don" Garlits (1967), with Brock W. Yates, and Close Calls (1984), with Darryl E. Hicks. Tony Sakkis, Drag Racing Legends (1996), offers biographical material on Garlits; information about Garlits is also in Sports Illustrated (13 Aug. 1964, 27 July 1970, and 29 Sept. 1986).
By Brian B. Carpenter